News and Reviews
A Seasonal Spin: Snow Tires Now Are Winter Tires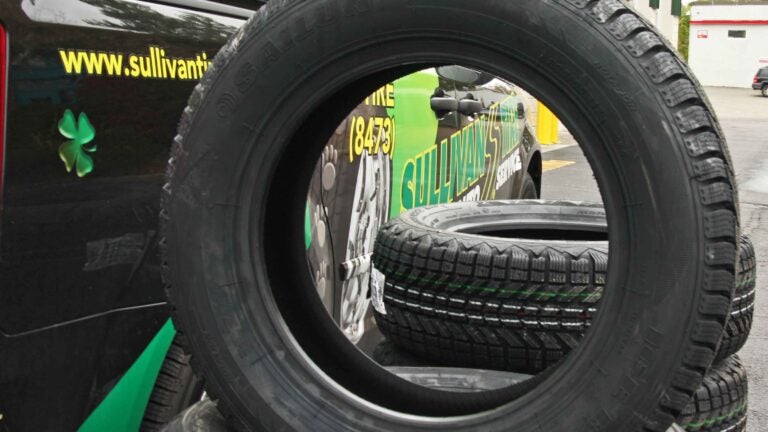 My dad used to have two tire days on his annual calendar.
Veterans' Day (Nov. 11) was the day to put on the snow tires. Patriots' Day (then celebrated annually on April 19) was the day to take off the snow tires.
Although it was an extravagance, he always bought two extra rims to keep the snow tires mounted year-round and make the changeover easier.
Those memories came back when the Sullivan Tire winter tire and car care ads started on local media a few weeks back.
Snow tires have been around a long time. The first patent for a winter tire was issued to a Maine resident in 1921, and snow tires were marketed as early as 1934. That was long before there was a Michelin Man.
Much has changed in the snow tire industry since then.
For starters, there's the name. No longer are they called snow tires; instead, the proper term is winter tires.
"A lot of consumers just look at the white part of winter, the snow,'' says today's Michelin Man, Ron Margadonna, senior technical marketing manager for Michelin.
"But winter tires have another job besides penetrating snow cover and driving on hard-packed snow. They also deal with the non-white part of winter. That's the cold. It's the temperature that matters most to the tire,'' he says.
The evolution of the tire is ongoing.
Early snow tires had big lugs. The intent was for them to penetrate the snow and take a big bite out of it. But those big lugs were noisy. "You could hear the tires when a car passed, and it was hard to have a conversation inside,'' says Margadonna. "Besides, today's drivers rarely drive through virgin snow. Most of it is slush or hardpack.''
Today, tread design has changed. Lugs are smaller, with many more cuts in the tread for mechanical grip, and the tires are a lot quieter on the road.
"We've pretty much come to the limit of the number of cuts we can put in the tread,'' says Margadonna. "If I look into my crystal ball, I see future advances coming in the chemical composition of the tire.''
Margadonna first learned about something called the "glass effect'' on rubber in a chemistry class.
"The professor took a length of rubber garden hose, which was flexible at room temperature and really pliable when he heated it with a Bunsen burner. "Then he took it away from the heat and put it into a really cold freezer, much as a car tire would be subjected to hot roads in the summer and below-zero winter conditions.
"Later, after he took the hose out of the freezer, he tapped it on a table and it shattered as if it were glass.''
That physical change happens to a lesser degree to today's all-season tires and is a reason for drivers to move to winter tires, he says. "All-season tires lose flexibility and don't perform as well in cold temperatures such as you have all through New England.''
Michelin has videos on its websites—michelinwintercenter.com and winter101.michelinman.com—that show that all-wheel-drive and four-wheel-drive isn't the be-all for winter driving.
"They help handling and cornering, but it can be a false sense of confidence,'' says Margadonna.
"The video of our testing shows how a front-wheel-drive Mini with four snow tires actually outperforms an AWD Subaru with all-season tires in cornering through a slalom course and stopping,'' he says. "Combining AWD and winter tires is the best situation.''
Today's recommended winter tires carry a 3PMSF (Three-Peak Mountain SnowFlake) label along with a logo of a snowflake in, yes, a three-peaked mountain.
This label signifies a true winter tire that was developed to meet tougher testing standards starting after the turn of the century. Then Quebec mandated the use of winter tires with that symbol starting in 2009,'' says Margadonna.
He also dispels the myth about the expense of winter tires. "On average, over the life of your vehicle, you likely will need to purchase at least one replacement set of tires,'' says Margadonna. "Equipping the vehicle with winter tires during the first winter season will represent the same cost in the end and also optimize the performance year-round.''
Instead of Veterans' Day, the AAA recommends that motorists use the end of daylight savings time as a day to not only change clocks but replace smoke alarm batteries and check their vehicle for winter readiness.
Margadonna adds a few of his own tips.
1. Don't wait until the last minute to get ready for winter.
2. Remember that tires lose a pound of pressure for each 10 degrees the temperature drops.
3. Check your tread depth. The legal minimum is 2/32nds of an inch, meaning if you're barely legal at the start of winter, you might want to replace tires then.
4. Carry a winter kit: flashlight, blankets, first-aid kit, jumper cables, warm clothes, snacks, bottled water, and a bag of traction aid (salt, sand, or clay-based cat-litter).