News and Reviews
Mercedes Makes Compact SUV into Road Rocket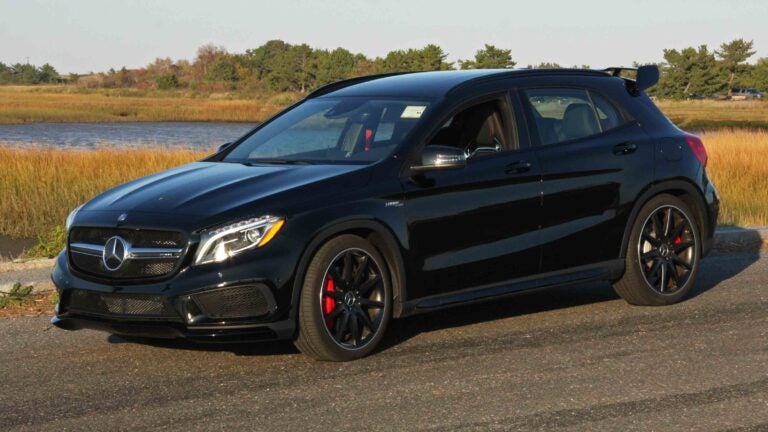 We bring this report to you from the intersection on the automotive landscape where SUVs, crossovers, wagons, and hatchbacks all converge.
Today's test car has the uber-confusing name of the 2015 Mercedes-Benz GLA45 AMG. The vehicle is the performance version of the GLA45, which, in Mercedes-Benzspeak, is called AMG.
On the evolutionary tree of automotive design, this appears to be a new branch: a mutant luxury-performance compact SUV. On the road, it truly is a something special.
It's got luxury, and the price (roughly $61,000 with every available option package) reflects that. The AMG version starts at $49,225 (including destination) while the regular GLA45 should run in the mid-$30,000s.
Our test car was fitted out with with:
•AMG aerodynamics package: larger front splitter, additional side flics on the front fascia, and rear roof spoiler that doesn't quite look proper on a Mercedes. On the side of the fascia are tiny aero wings used in open-wheel racing cars—design features that just beg to be scraped off in tight parking quarters.
•Red-painted AMG brake calipers.
•Night Styling package: high-gloss black front splitter, exterior mirrors, window frames, roof rails, side sill panel insert, rear fascia trim, twin black chrome tailpipes with black rectangular trim.
•Interior package with carbon fiber trim.
•Upgraded multimedia system.
•Driver assistance technology systems.
The car didn't have an official window sticker so we're guessing a bit; our math gives us a bottom line of $60,905.
This Benz is pretty much alone in its marketing segment, but judging from the interest it got on the street, there will be buyers.
We're talking a small car with a turbocharged 2.0-liter four-cylinder engine producing 355 horsepower and 332 pound feet of torque. It puts the power to the ground via a seven-speed automatic transmission and an AMG performance-oriented version of the Mercedes 4Matic all-wheel-drive system.
Still, what is a GLA45? It's an all-new, five-door vehicle for 2015, one that's been reworked from the CLA class chassis. Mercedes really wants us to classify it as a compact utility vehicle (CUV). Because there's no definitive definition of a CUV, you wouldn't be wrong to call it that. You also can make an argument that it's a crossover or a sturdy hatchback.
At times like this, the reviewer is glad the editors run photos of the test car. From the front, the star and grille design are unmistakably Mercedes, but the sides and rear are standard CUV stuff, and the top-mounted rear spoiler is a "what's that?'' eye-catcher.
One neighbor opined that the GLA45 AMG must be a juiced-up Nissan Rogue—a breeding-shed product from the Mercedes-Nissan-Renault alliance—and an answer to Subaru's WRX rally cars. Unfortunately for WRX fans, that vehicle's latest version only is available in sedan form these days. However, the silhouette of our test car sure resembles the last WRX hatchback.
The normal GLA45 looks to be a useful little CUV-crossover-hatchback with that starting price in the low $30,000s. Because wagons and hatchbacks aren't big sellers in the United States, and crossover is starting to carry a negative connotation, Mercedes has branded this a compact utility, one market segment that Americans are embracing with their pocketbooks.
We drove it on a foliage ride at sunrise on the back roads of New Hampshire. Driving the curving roads was every bit as much of a pleasure as the peak foliage in the early sunlight.
The driver has the option of three engine mapping modes: normal (Eco), manual, and sport. Sport mode and manual both offer faster shifts. The lack of a manual transmission option makes one think that there's a new generation of drivers brought up on X-Boxes who will never include a clutch pedal in their driving experience and be perfectly happy using the paddle shifters.
Our AMG version sat only 4.8 inches off the ground and had a sports suspension, high-performance braking, and agile handling. Mercedes says the front axle has stiffer steering knuckles and new "elastokinematics,'' which we believe improves the suspension's action as the wheel-tire assembly reacts to bumps. Translation: It handles as if it were on rails.
The exhaust tone is spectacular, including a race car-like growl when the engine starts. There's a variable "vane'' inside the exhaust that's continually adjusted along by the engine computer, reflecting the driver's performance demands, load condition, and engine speed. Translation: Put your foot into the accelerator and the exhaust tone is exhilarating.
An ECO stop/start function shuts the engine down when the brake pedal is engaged at a traffic light. Starting up, there's a notable lag as the engine starts, then accelerates slowly until the turbo kicks in enthusiastically.
Mpg ratings are 23 miles per gallon in city driving, 29 highway, and 25 combined. Our two-tank driving resulted in a 28.2 mpg return. Looking at the remaining driving range display on the instrument panel, it was amazing how rapidly that number dropped after a few minutes of spirited, gas-gulping driving.
Inside, the GLA45 AMG continues the luxury-with-performance theme with red seat belts complementing the red stitching on the dark gray MB-Tex man-made leather upholstery and sport seats.
The leather wheel (also with red stitching) has multifunction controls and the large paddle shifters. There's a nicely styled two-tube instrument cluster, a row of brushed aluminum air vents, and a logical center stack for audio, climate, phone, and navigation controls.
Rear seat space is snug, and the rear seats fold to provide a nearly flat cargo area.
Usually, Mercedes is able to integrate the color display screen into the dashboard, whether it's built in or retractable. Not this time. The display is plunked onto the center of the dash, looking like a political sign that was tossed in at the last minute.
So now we can see who elects to buy it.
2015 Mercedes-Benz GLA45 AMG
THE BASICS
Price, base/as tested (with destination, estimated): $49,225/$69,905. Fuel economy, EPA estimated: 23 city/29 highway/25 combined. Fuel economy, Globe observed: 28.2. Drivetrain: 2.0-liter turbocharged 4-cylinder engine, 7-speed dual-clutch sports automatic transmission, all-wheel-drive. Body: 5-door hatchback/CUV.
THE SPECIFICS
Horsepower: 355. Torque: 332 lb.-ft. Overall length: 174.9 in. Wheelbase: 106.3 in. Height: 58.2 in. Width: 71 in. w/o mirrors/79.6 in w/mirrors. Curb weight: 3,428 lbs.
THE GOOD
Performance, luxury appointments, one-of-a-kind appeal.
THE BAD
Turbo lag in some conditions, navigation screen placement, big price for small car.