News and Reviews
A Tale of 2 Pickups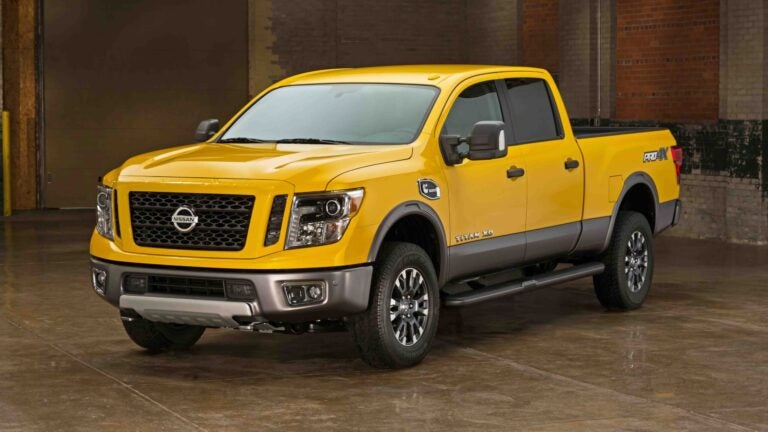 This year's North American Car and Truck of the Year award winners are the Volkswagen Golf and Ford F-150.
The awards, in their 22nd year, are the result of a year-long judging and voting process by a jury of 57 automotive journalists representing magazines, newspapers, television, radio, and websites. (Disclaimer: this correspondent is not part of the process).
Voting is based on a points system, factoring in innovation, comfort, design, safety, handling, driver satisfaction, and value for the dollar.
This year's winners project to be strong-selling vehicles; after all, the Ford F-Series has been America's best-selling truck for 38 years and the Golf is a great handling and performing car.
Caution says we should view the winners with a disclaimer similar to those used with financial investments: "Past performance is no guarantee of future success.''
However, past performance tells us the jurors have done a good job. In fact, just making the final three in each category should be considered a marketing tool for manufacturers.
This year's runners-up in the car category, the redesigned Ford Mustang and Hyundai Genesis, should do well in the showroom. So should the truck/SUV finalists: the GMC Canyon midsize pickup and Lincoln MKC compact SUV.
For the curious, we dug up the No. 2 and 3 vehicles for the past four years. The list represents 16 vehicles, most of which I'd be happy to have in my garage.
2014: Chevrolet had both winners: the Corvette Stingray and Silverado full-sized pickup. The other finalists were the Mazda3, Cadillac CTS, Jeep Cherokee, and Acura MDX, all of which have sold well.
2013: Cadillac's ATS sedan and the Ram 1500 pickup were the winners. The other finalists have all been significant vehicles: the Honda Accord, Ford Fusion, Mazda CX-5, and Ford C-Max hybrid.
2012: Hyundai's Elantra and Land Rover's Range Rover Evoque won in a field with four strong finalists: the VW Passat, Ford Focus, Honda CR-V, and BMW X3.
2011: Winners were the Chevy Volt and Ford Explorer. Hyundai's Sonata and the Nissan Leaf EV were the car finalists and the Jeep Grand Cherokee and Dodge Durango were truck/SUV finalists.
The results are an interesting mix, which is why most of us who attend the auto shows, make it a point to try to stop by each manufacturer's display. And that's a reminder that the New England Show continues today and tomorrow at the Boston Convention and Expo Center.
Tacoma & Titan
Two Japanese pickup trucks. Two very different histories when Nissan and Toyota did an unveiling in Detroit last Monday.
While the Detroit 3 has owned the full-size pickup truck segment, Toyota's Tacoma has ruled the midsize market, selling more than 3 million units in its 20-year history with a 60 percent share of that market segment.
Now, with new competition coming from GM's Chevy Colorado and GMC Canyon siblings, Toyota rolled out the third generation Tacoma.
Tacoma will retain a four-cylinder engine but also offer a new 3.5-liter V-6 Atkinson Cycle engine mated to either a six-speed manual or new six-speed automatic transmission.
Tacoma's revamped exterior leaves the truck instantly recognizable with a new-look, hex-shaped upper grille and skid plate-styled lower front fascia. There's also a taller hood, a lifted look all around, and "Tacoma'' stamped into the base of the tailgate. That tailgate also features a slow-lowering feature and now is lockable.
A first look at the interior shows a nice straight dashboard with a curved handlebar look at the edges and four large circular vents.
Technology includes a smart key, Qi wireless charging, blind spot monitoring, and cross-traffic alert.
Meanwhile, Nissan is taking another shot at cracking the US full-size market with a totally redesigned Titan that its chief designer calls more macho than stylish.
According to Automotive News, sales of large pickups rose 8 percent to 2.07 million in 2014. Titans accounted for just 12,527 of that number.
Looking for a big turnaround, Titan is seeking to exceed the 86,945 units it sold in 2004, its second year on the market.
The new truck will be available with a 5.0-liter Cummins diesel V-8 that produces 310 horsepower and 555 lb.-ft. of torque at 1,600 rpm.
Also coming are a V-6 and V-8 gasoline engine. There will be two cab configurations and three bed lengths.
Rather than get involved in the Detroit 3's full-size pickup torque, towing, and payload competition, Titan is aimed at a middle ground between light and heavy duty.
"Every year there's a set of customers that has to make a compromise. They buy a truck with more capability than they need,'' says Phil O'Connor, Titan marketing manager, who estimates that number of potential customers at 150,000.
2014 Scoreboard
Automobile sales numbers are a lot like TV ratings: They measure both total sales (or number of viewers) and audience/market share.
No matter how many cars the industry peddles in a year, companies are just as interested in their market share number.
For 2014, the Top 10 in market share, as compiled by Automotive News: 1) GM, 17.8 percent; 2) Ford, 14.9; 3) Toyota, 14.4; 4) FCA (Fiat Chrysler Automobiles), 12.7; 5) Honda, 9.3; 6) Nissan, 8.4; 7) Hyundai-Kia, 7.9; 8) Volkswagen, 3.6; 9) BMW, 2.4; 10) Daimler AG, 2.2.
The Top 10 models (2014 sales in 100,000s, rounded off): 1) Ford F-Series, 754; 2) Chevrolet Silverado, 530; 3) Ram, 440; 4) Toyota Camry, 429; 5) Honda Accord, 388; 6) Toyota Corolla, 339; 7) Nissan Altima, 336; 8) Honda CR-V, 335; 9) Honda Civic, 326; 10) Ford Fusion, 307.