News and Reviews
Boston's Space-Saving Tradition Explained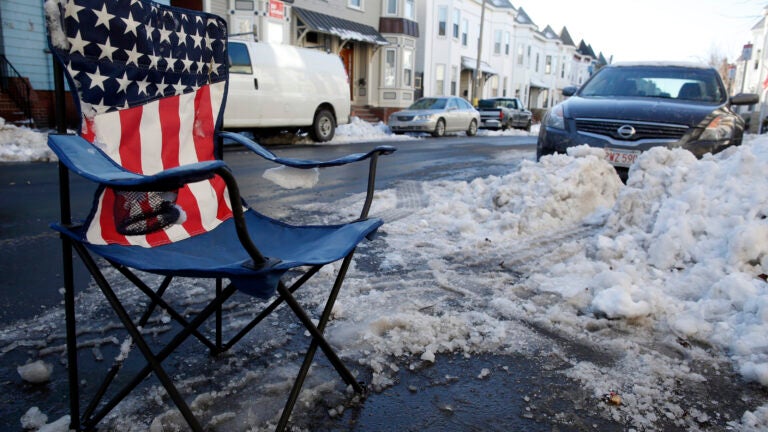 When the snow comes down hard in South Boston — and I mean, hard — you will see the seasonal return of cones, pots, pumpkins, beer kegs, beach chairs and other paraphernalia littering the streets.
You might also see people throwing punches, keying cars, and slashing tires. And for what? Bostonians are willing to go to great lengths to score parking, especially in a New England winter, when snow shrinks the already-scarce amount within the city.
Space-savers — and that's the "official'' term for it — is any object used to claim a shoveled parking space on a public street. Think cone, bicycle, or even an Elvis bust. Former Mayor Tom Menino enacted the official rules that are still in effect today: space savers can remain in a shoveled spot for up to 48 hours after a city-declared snow emergency.
"If you use manual labor to get your car out, I think for 48 hours, a couple days, you can have it,'' said Mayor Marty Walsh. "But they don't own it.''
But what happens when, so often in unpredictable weather, there's only a light dusting after the mayor declares an emergency? Or when cones show up before it even starts snowing? Or when people claim spots that haven't been shoveled?
A lack of hard-and-fast rules is part of this hotly debated, yet time-honored tradition. The laundry basket or trashcan remains a subtle threat and the people who place them are willing to back it up.
Every winter, there are numerous police reports of vandalized vehicles or public disturbances resulting from space saving. It's gotten to the point where the South End has officially banned space-savers on its streets. And while Philadelphia police have begun a "#NoSavesies'' campaign, the practice is still common in snow-ridden cities like Chicago and Pittsburgh.
Almost everyone says it signals a larger problem in Boston (one we're well aware of): There's just not enough parking.
How It All Began
Though it's spread to other parts of Boston, legend has it the decades-old phenomenon originated in South Boston.
Brian Mahoney, a lifelong Southie resident and retired police officer, pinpoints the start date to the Blizzard of '78, which hit Boston with 27 inches of snow. In the 70s, there was only about one car for every four or five houses, Mahoney estimates. In fact, friendly neighbors came out and helped each other shovel out their cars.
"People didn't have to put things out, because everyone would know whose parking spot it was. We were all generational. We knew everybody on the street.'' Mahoney continued. "But after that blizzard, people realized [shoveling] was such a chore it started a trend.''
That trend gathered steam in the 80s, when a neighborhood-housing boom began. With more new developments in Southie, people moving in may not have known the rules of the land.
"South Boston has changed dramatically over the last 15 years. What had been triple deckers with three cars each are now condos with more people sharing them and everyone has a car,'' said Robert Allison, chair of the history department at Suffolk University.
When did this all start? "Probably when people have more cars than street parking could accommodate,'' Allison said.
Menino began the 48-hour rule in 2005. Coincidentally (or not) a man was arrested for smashing a car window with a plunger during a parking argument the same year. Neighbors were resistant of the rule at first, replacing markers right as trash trucks chucked them away.
"People who shovel themselves out have a moral right to that spot. They have invested their sweat equity,'' James Kelly, Southie resident and longtime City Council member, told the Washington Post that year.
The Unofficial Rules
"People moving [to South Boston] think they can shovel the space and keep it for eternity,'' said Allison, himself a resident. But there are rules to follow and consequences when they're violated:
•You actually have to shovel the space in order to save it. Never put a cone in a shoveled space if you didn't work for it.
•Don't put the snow you shoveled into someone else's space or on the sidewalk.
•Don't steer an all-wheel-drive SUV out of a space and then put a cone in it.
•When you dig out a space, you have to expose the pavement.
•It has to be snowing. Don't put a cone out when the weatherman says it's going to snow.
Solutions?
Others, though, advocate for another unspoken rule: love thy neighbor.
Former Mayor Raymond Flynn, also from South Boston, doesn't think the 48-hour rule is a very sound policy. "It's not a city policy that, even me as former mayor, would have put into the law books. It's a basic sense of decency and common sense,'' he told Boston.com.
"Parking is chaos on the streets. Most people play by the rules, but it also brings out the worst in a small number of people,'' he continued.
Help the elderly or the handicapped shovel out their parking spaces, he advised. Appeal to the good judgment and values of citizens.
In February, the South End decided to be a "space saver free pilot neighborhood.'' Trash trucks will dispose of any cones and objects on the streets, whether or not 48 hours have passed since the storm.
"Neighborhood associations universally view the practice of 'saving' a parking spot after it has been shoveled by one individual as a significant contributor to reduced on-street parking inventory … and as an avoidable trigger … to unnecessary and avoidable hostility, confrontation, intimidation, and acts of criminal vandalism,'' read a statement from the South End Forum, which represents the neighborhood groups in the area.
Still, many say the underlying problem is there's not enough street parking in the city. In Southie alone, there are over 15,000 cars with resident stickers and far fewer spaces available.
"Parking is a huge issue in Southie anyway … we need parking lots, or limit the number of cars people can have,'' Allison said.
"Or, if people would actually learn how to parallel park, so they're not taking up two spaces.''