News and Reviews
Reporting Potholes: There Are Too Many Apps For That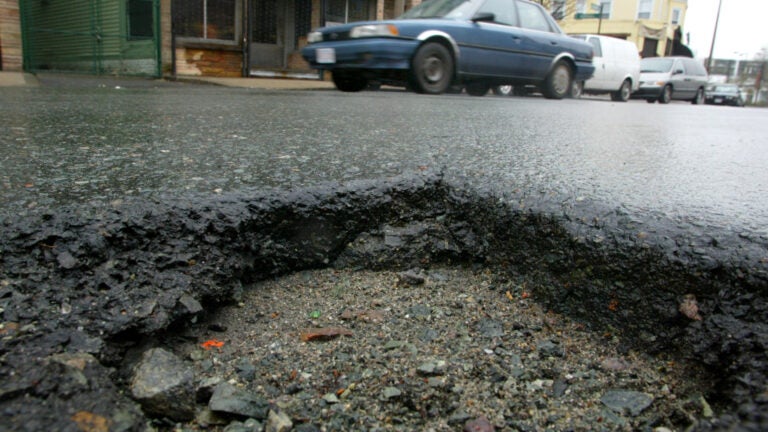 If you're driving on a Boston road and you see a pothole, you could call the mayor's 24-hour hotline at 617-735-4500. You could also download the Citizens Connect mobile app, or find an online form to submit the complaint.
If you cross over into Cambridge, you could download the iReport app, which lets you report potholes or other issues with traffic signals or roads. You could also fill out a form online or call 617-349-4800.
In Somerville, people are encouraged to call 311. Or the Department of Public Works. Or the Mayor's Office.
But if you're driving on a state road, report the nuisance to MassDOT (1-857-DOT-INFO).
Were you taking notes?
We're now in prime season for potholes, which form on roads due to rain and snow seeping into cracks. As the moisture freezes and expands, it breaks open the road even more and creates headaches for drivers. AAA predicts that potholes set US motorists back a total of $6.4 billion a year in damage to tires, wheels, shocks, and struts.
Cities are encouraging residents and commuters to report potholes that they encounter, but that could get difficult when there are so many different phone numbers to remember and mobile apps to download.
Boston filled over 19,000 potholes in 2014 (a 50 percent increase from 2013). About 16,000 of those reports came from city employees and the City Worker app (the city employee counterpart to the Citizens Connect app), city data show. Only about 3,000 reports came from the Citizens Connect app or website reports or phone calls from drivers.
Other cities have had more luck with mobile apps.
Cambridge's Commissioner of Public Works Owen O'Riordan said the city's iReport app has seen a lot of success. The app allows commuters and residents to take photos and geo-tag the location of the complaint, whether it's a pothole, an un-shoveled road, or a defective streetlight.
Using iReport will "get the most effective response from us,'' O'Riordan said. Last winter, Cambridge responded to 1,200 pothole complaints through the app, he said.
In Newton, people can call the city hall, fill out an online form, or download the Newton 311 app. Of the 2,500 pothole reports in 2014, 46 percent came in through the online reporting system, 43 percent through calls, and 9.5 percent through the mobile app. Less than one percent of the reports came from city employees.
Aaron Goldman, director of performance management, said Newton is pleased with the online and mobile app portals. "We've tried to incorporate a variety of options for people [to make things more convenient],'' he added.
Citizen reporting can be highly effective, but only if it's convenient for citizens.
An attempt to consolidate the number of apps you need to download, Commonwealth Connect is an app that spans across 60 towns and cities, including Boston, Quincy, Reading, and Woburn. Users in those municipalities can report potholes and other public issues through the app, which will forward the complaint to the appropriate municipality based on the location of the issue.
Commonwealth Connect is expanding into more cities — Amherst, Worcester, Newton, among others, are reported to be coming soon.
Boston's Office of New Urban Mechanics — the city's in-house think tank — has been building an app called Street Bump. It uses the phone's accelerometer to detect bumps in the road and automatically reports them to city officials. The app was introduced in 2012, but is still considered to be in the research and development stage.
Chris Osgood, a co-chair of the Office of New Urban Mechanics, said in an earlier version of the app, most of the bumps found were manhole covers and cast-metal lids on the roads, not potholes. The office recently partnered with researchers at Boston University to help determine whether your phone can differentiate between detected bumps that are fixable (potholes) and un-fixable (manhole covers or railroad tracks).
Ultimately, Osgood hopes Street Bump will seamlessly feed into the city's pothole database and be used in cities around the world.
Apps like Commonwealth Connect and Street Bump are a good step toward making things easier for drivers and commuters. But they are still apps, after all, and there's still the hurdle of getting people to sign on.
Even though Street Bump saves a lot of work for drivers in reporting potholes, next phases of the project will include studying human incentives. "How do we get people to run the app? How do we frame it in a way that the average person would want to run it on their phones?'' Osgood said.
By the way… did you hear about the new mobile apps for refilling a parking meter and paying a parking ticket?