News and Reviews
In Honor of Paul Walker: Brian O'Conner's 7 Best Fast Rides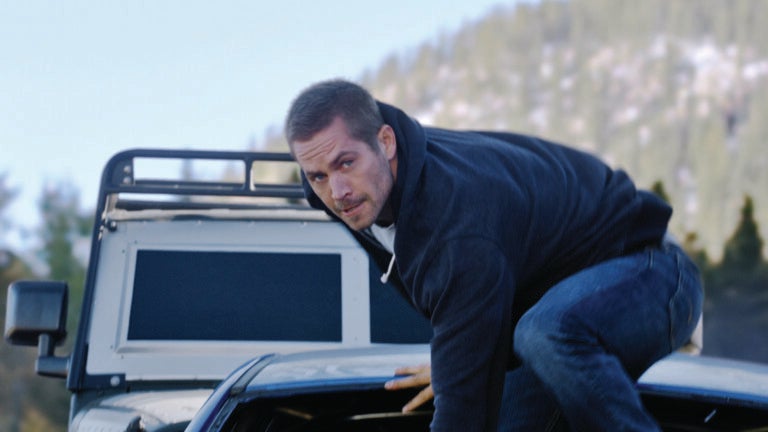 My khaki Mudd shorts had barely passed the parental-approval test and I was rethinking my fashion choice as a patio chair slowly left a semi-permanent wire imprint on my thighs.
I tried to concentrate on the tasks at hand — keeping my legs elevated in an effort to not get further disfigured, all while eating a TGIFridays bacon cheeseburger. But my mind wouldn't stop thinking about what was happening post-dinner.
On the other side of the Cape Cod Mall, past Sears and Olympia Sports, I would soon be sitting in a movie theater to see The Fast and the Furious.
It was June 22, 2001 and it felt like the trailer for the film had been out for years. In reality, it had probably only been clogging up MTV commercial blocks for a matter of a few months, but I had memorized each variation nonetheless.
As my younger brother, dad, and I walked to the theater, 13-year-old me ran the scenes through my head as if I would be filming the movie myself.
The lights went down and for a solid half of the film's 106 minutes, I quoted scenes I had memorized from the previews.
Braces-clad and car crazy, I was about to start high school — but that movie made me feel like I could take on the effing (I was 13, remember — no swearing) world. I was hooked on the Toretto saga.
Some flock to Star Wars screenings, Others turn out in droves for marathons of James Bond flicks. Me? I'll watch anything with Fast or Furious in the title.
Fourteen years later, there's still nothing that beats the sweaty-palmed, heart-thumping joy I get from those movies. The sound of revving engines still send chills down my spine.
I think Michelle Rodriguez, who plays Letty Ortiz in the films, may have best described the reason for the Fast movies' successes when she said "The attraction to the Fast and the Furious franchise began because a lot of people can relate to having a vehicle and wanting to press the gas on that vehicle and take that vehicle as far as they could.''
I wanted to redline a tuner, but I was too young. So instead, I watched my VHS copy of The Fast and the Furious so many times that my in-TV VCR burned out the tape. I can't watch any of the movies with friends because it's too hard not to quote scenes in the seconds before they happen. Now, I own at least one copy of each film (if not two, thanks to Blu-Ray).
If there were a night for Fast and Furious trivia, I'd put money on my winning. And I'm not the betting kind.
Twelve years after the first Fast movie came out, Paul Walker died in a car crash.
My mom texted me to ask if I had heard the news. I was at dinner with a girlfriend, regaling her with my dating woes and reminiscing over college parties when I got the message. Somehow, my mom had beaten Twitter to the punch, because I couldn't find much about what had happened on social media, outside of mass speculation.
Sitting in the car on the way home, I refused to believe that a 40-year-old man who had become synonymous with street racing could die at such a young age.
"He was too smart to speed,'' I thought to myself. "It must be a mistake.''
But it was true.
Walker had been the passenger in a 2005 Porsche Carerra GT driven by business partner Roger Rodale on November 30, 2013. Rodale lost control of the vehicle while driving through a California business park, crashing and killing them both.
At the time of his death, Walker had begun filming Furious 7. After pausing production of the movie for several months, Walker's younger brothers, Cody and Caleb, stepped in to help finish the Walker's scenes in their brothers likeness. A stunt double rounded out the three Brian O'Conner fill-ins.
The film was made in tribute to and in honor of Walker.
After seeing it on Tuesday, I'll admit Furious 7, which hits theaters nationwide Friday, isn't my favorite of the franchise. I won't say it isn't partially due to the fact that I was sitting there waiting to see how they'd write off Brian's character for the better part of the film (some of it had to do with Kurt Russell and Jason Statham stealing the family's thunder).
But even though it didn't top my list, the movie had enough of the franchise's edge-of-your-seat action to keep me dialed in for all of its 137 minutes.
I didn't know Paul Walker personally, but I grew up with the sound of The Fast and the Furious on in the background as I did my high school homework. I memorized Brian's driving sequences, his cheesy Mia pick-up lines, and his 10-second-car promises.
Now, 14 years after that night in Hyannis, I still know that no matter how bad my day is, I can turn on a Fast film, and Brian will be there tearing up the streets of Los Angeles (or Mexico, London, or Rio), his exhaust pipe helping to drown out everything else.
So, thank you Paul, for bringing one of my favorite characters (yes, you can quote me on that) to life.
In honor of Brian's last ride, I've come up with a ranking of the seven best cars he's driven in his six Fast films (he wasn't in The Fast and the Furious: Tokyo Drift). Feel free to chime in with your favorites in the comments.
Brian O'Conner's 7 Best Drives
7. Dom's 1970 Dodge Charger in Fast & Furious (2008)
This car isn't technically Brian's, but he drives it at the end of the Fast & Furious and it's one of the strongest, most common threads throughout the entire series — so it made it onto the list. I won't spoil the end of the fourth film for you if you haven't seen it (check out this clip at 3:00 for proof), by telling you why Brian is driving the 900-hp beast, but I will lay out the details of the monster. The Dodge classic was introduced in the first film when Dom tells Brian that his father was killed while driving it after hitting a wall doing 120 mph. At that point, Dom has been too scared to drive it, but that changes and the hits the streets for one of many L.A. chases throughout the series. The 9-second quarter-miler has made the most repeat appearances in the films, including one in Furious 7.
6. Brian's Dodge 2010 Dodge Charger SRT-8 in Fast Five (2011)
Brian gets the chance to return to his police roots in Fast Five — by sticking it to corrupt Brazilian cops on the force in Rio. In one of the most incredible stunt sequences in all of the seven films, Dom and Brian lead the team (surprise) in the theft of a heavily guarded vault, stashed in police headquarters. The duo blast through the walls of a police fortress, hook the vault up to their twin matte black Chargers, and drag the thing through the streets of the city (in tandem), swinging it through buildings and over cars as it goes. Dodge supplied "almost half a dozen'' of the Hemi-packed beasts for the film, according to its blog. According to a Vulture post, which included tons of mind boggling calculations written to prove whether or not the "like a waterskier'' vault scene was plausible in real life, the Chargers packed "6.1L V8 engine, 425 horsepower (317 kilowatts), and weighs approximately 1900 kilograms.'' Although the behemoths may not be the sexiest car on the list, they are definitely up there in terms of badassery.
5. Brian's 2009 Subaru WRX STi in Fast & Furious (2009)
During an interview before the fourth installment in the series, Walker called the WRX Subaru's "latest and greatest'' and their "best STI yet.'' He put the car through the ringer, or should I say cars, barreling through Mexican border caves and cavernous desert scenes in the film's finale. According to Edmunds, Subaru gave the Fast crew seven of the rally sport cars to use in the film — five of which were destroyed in stunts. "All the Subies had their interiors stripped, all were fitted with straightforward tuner-style modifications from Perrin, Cobb Tuning and Veilside, and then they were sent out to work on the set,'' Edmunds states. The hatchbacks were Subaru 2.5-liter turbocharged flat-4s and had Veilside body kits to boot. Walker drives a very similar WRX in Furious 7, but the Fast & Furious model wins top marks.
4. Brian's 1995 Mistubishi Eclipse in The Fast and the Furious (2001)
The droning techno that accompanies Brian's first on-screen attempt at racing is forgettable. What's not is his The Fast and the Furious lime green Eclipse — the one that he attempts to race Dom in ("I almost had you.'') and then later rescues Dom with — that was reportedly rented for the film from an L.A. tuner. The Buster's car ends up getting blown up by an angry Johnny Tran on the duo's ride back to 1327, but it is an icon of the film series nonetheless. The Eclipse went up for sale in January 2014, according to Complex, which couldn't authenticate the vehicle but did say, the "Eclipse's modifications include a nonfunctional roof scoop, RoboCar Aero Armor Eclips body kit, ARP GT2 wing, 1997-spec Eclipse headlights, and Se7en 180 Axis Sport Tuning rims.''
3. Brian's 1999 Nissan Skyline GT-R in 2 Fast 2 Furious (2003)
After giving up his 10-second-car to Dom in the final moments of The Fast and the Furious, an on-the-lam Brian resurfaces in 2 Fast 2 Furious driving a silver Skyline of street racers dreams. The 1999 Nissan GT-R, equipped a C-West body kit, Toyo tires, and a House of Kolor paint job, according to TopSpeed, easily digests the competition in a standard 4x race at the beginning of the movie. It's the first of many GT-R appearances in the film series, but easily the most memorable.
2. Brian's 1995 Toyota Supra MK-IV in The Fast and the Furious (2001)
Dom has little faith in Brian when the then-undercover cop delivers a torched Supra to the Toretto garage on a flatbed. But when Brian gets his future brother-in-Furious-arms to examine the 2JZ-GTE engine hiding under the hood, the crew (while collectively gawking) realizes the car "will decimate all'' after he puts $15,000 into it, as Jesse puts explains. According to a TopSpeed write-up on the actual car, which was used to race Dom's Charger and smoke a Ferrari in the film (scene shot, right), "The long list of tuner parts on this Supra is just mind-boggling.'' After additions of "Greddy intercooler,exhaust, oil coolers, intake, cam gears, APEXi blow-off valves, polished throttle bodies and cylinder head, Turbonetics T-66 ball-bearing turbocharger and Delta II wastegate, custom headers, and more,'' the 1995 tuner reportedly wound up pumping out 544 horses at 6,800 rmp. It had a 0-to-60 time of 4.3 seconds and a top speed of a whopping 183 mph. Yahoo says that more than $50,000 was dumped into the Supra alone.
1. Brian's Ford Escort in Furious 6 (2013)
This might seem like an unlikely candidate for No. 1 but let me break down my reasoning for you. The Escort, which Edmunds notes is smaller than a Honda Fit, emerges in one of the most hair-raising scenes of Furious 6. While Dom screams down a European highway in a '69 Dodge Charger Daytona in pursuit of Letty (who has climbed out onto a maniacally driven tank), Roman uses a '69 Ford Mustang Fastback as a chew toy for said tank, in an attempt to slow it down. On the other side of the highway, Brian runs out of road because the tank (driven by villain Owen Shaw) has blown up everything in his path, so he shifts the '70 Ford Escort RS1600 as he launches it over a pile of concrete blown-up bridge rubble. He lands the thing (albeit with a missing headlight and gaping right-hand driver's side door), closes the door, downshifts, brakes, and somehow comes up alongside a leaping Rome who makes it from the disintegrating Mustang's hood onto the rally icon Escort's roof.
That is why it comes out at No. 1.