News and Reviews
New gadget blocks drivers from misusing phones
DriveID limits phone use to navigation, music, and emergency calls.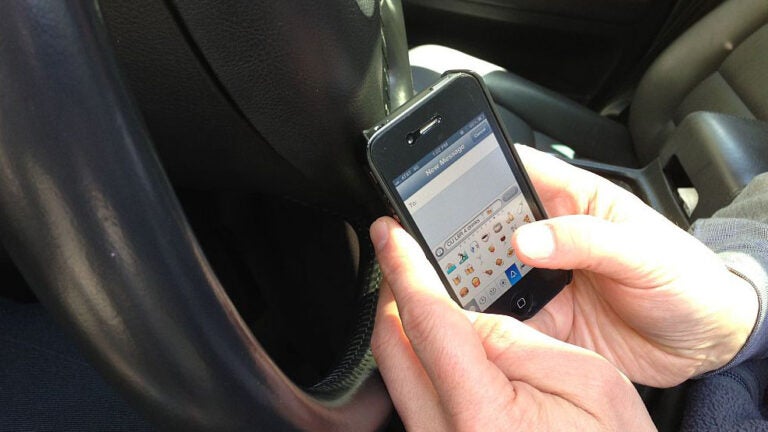 A new gadget called DriveID hopes to stop people from texting, tweeting, and taking selfies while driving.
Designed by tech company Cellcontrol, the solar-powered device sits on a vehicle's windshield and integrates with Bluetooth technology to prevent drivers from using their phones for anything other than emergency phone calls, music, or navigation.
Texting while driving has long been an issue that a number of devices and phone apps have aimed to curb. But despite those efforts, the National Safety Council estimated Monday that crashes from texting drivers rose to 6 percent of all crashes in 2014, up from 5 percent in 2013.
[fragment number=0]
[fragment number=1]
[fragment number=2]
Beyond texting and driving
And a recent AT&T survey showed many motorists do more than just text and drive. According to the survey, 27 percent of drivers age 16 to 65 report using Facebook, while 14 percent report using Twitter. Another 17 percent report taking selfies behind the wheel.
DriveID is somewhat different from other devices that aim to solve the same problem, according to Cellcontrol. While many apps and gadgets restrict phone usage regardless of who is holding the phone, DriveID's module can sense whether the mobile device is on the right or left side of the moving car. The sensors then block phone usage accordingly, allowing passengers to continue using their phones.
The gadget can also track driving habits like speed and harsh braking, providing drivers or their parents with feedback on performance. DriveID is customizable so that the driver or parent can choose what is and isn't allowed while driving through a password-protected page on Cellcontrol's website. If someone calls the driver while the cellphone is in "safe'' mode, a text will be sent saying the driver is unavailable.
The only glitch?
Consumer Reports states that a rear-seated passenger sitting behind the driver is also blocked from using their phone.
DriveID is compatible with over 1,500 mobile devices, tablets, and computers, and has been recognized for its safety by the National Traffic Safety Institute and Consumer Reports. It goes on sale this fall, with DriveID protection for one car starting at $129.