News and Reviews
The story of the first cross-country road trip by a woman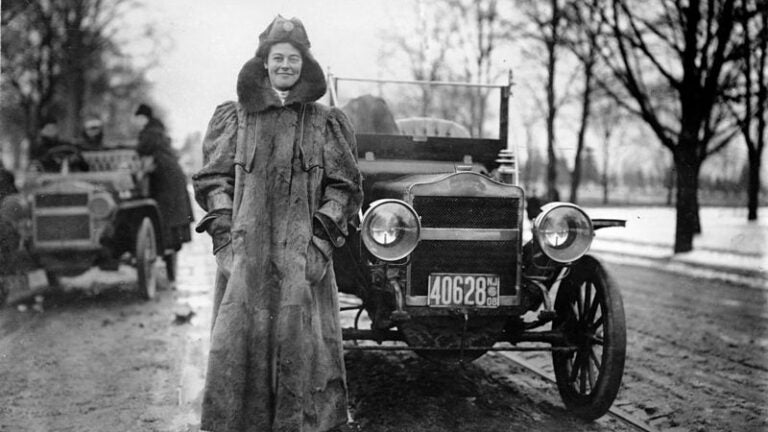 In the early 20th century, at a time when many women were not even operating vehicles, Alice Ramsey took on quite the task.
She drove 3,800 miles across the country from New York to San Francisco in 59 days, with three other women as her copilots.
According to Smithsonian Magazine, Ramsey drove "a dark-green, four-cylinder, 30-horsepower 1909 Maxwell DA, a touring car with two bench seats and a removable pantasote roof.''
Her husband had purchased her a car in 1908, and during her first summer with the vehicle, she drove a total of 6,000 miles, according to Vassar College's archives. (Ramsey went to Vassar for two years before leaving to marry her husband. Her daughter later graduated from the school.)
During one of Ramsey's long drives, Carl Kelsey, a sales manager at Maxwell – Briscoe Automobile Company, suggested she drive across the country as a way to prove his car could make the trip.
At the time, the American people were not yet convinced that cars were a reliable mode of transportation.
She decided to do it.
Because many of the roads out West were not paved or flat, Ramsey and her companions often became stuck and had to figure out ways to get out, according to Smithsonian's Museum of American History "America on the Move''exhibit.
But her ultimately successful trip helped catapult the automobile into mainstream American culture.
The Museum of American History writes:
"In the first decades of its existence, the automobile was expensive, fragile, and subject to regular mechanical and equipment failures. A number of well publicized early cross country trips, as well as endurance and speed tests, helped make the American public believe in the efficacy and usefulness of this new mode of transportation.''
Also during this time period, childrens' books featuring cars were becoming popular, most of which followed traditional gender roles. In 1911, Katherine Stokes published The Motor Maids Across the Continent, which doesn't mention Ramsey by name, but closely tracks the journey she took.
Ramsey published a book of her own called Veil, Duster and Tire Iron and eventually, according to the Smithsonian, took 30 more cross-country road trips.
Ramsey was the first woman to be inducted into the Automotive Hall of Fame in 2000, as "her courage and determination have inspired countless women to pursue automotive-related goals and dreams.''
10 Best Road Trip Cars
[bdc-gallery id="1428781″]