News and Reviews
Imagining a world of self-driving cars that nobody owns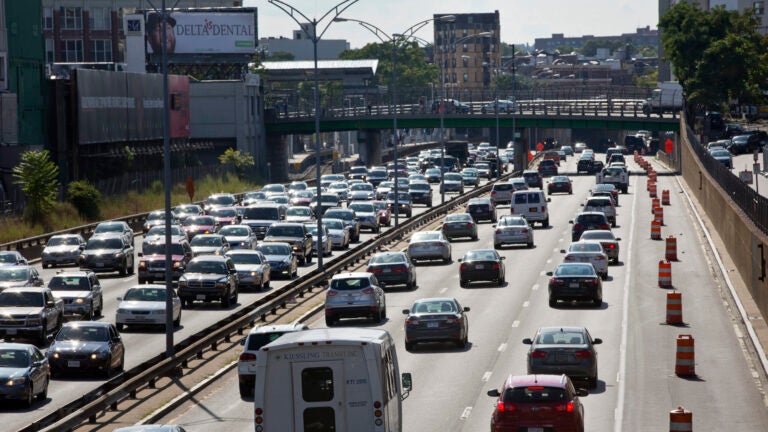 If there were electric, autonomous taxis roaming around Boston, instead of gas-powered, human driven cars, the per-mile greenhouse gas emissions could decrease by 90 percent.
That's the finding of a new study from Berkeley Lab, published on July 6th in the journal Nature Climate Change:
"The analysis found that the per-mile greenhouse gas emissions of an electric vehicle deployed as a self-driving, or autonomous, taxi in 2030 would be 63 to 82 percent lower than a projected 2030 hybrid vehicle driven as a privately owned car and 90 percent lower than a 2014 gasoline-powered private vehicle.''
The envisioned scenario may seem pretty far-fetched: Essentially, there would be a variety of all-electric, driverless taxis roaming around your area and you could call one that would fit your needs. This would eliminate the need for privately-owned cars (not to mention taxi drivers), allowing vehicles to move a lot of people around more efficiently.
But it's important to note that such a world is feasible. Car technology is making progress quickly.
The Ford Edge is one example of an advanced parking assist system, which basically parks the car without driver interaction. Audi's A6 Avant has "Piloted Driving,'' which will drive for you in traffic.
[We think you'll like: Our review of the long-awaited redesign of the Volvo XC90, click here.]
Google has already launched its driverless car into the testing phase and Uber has been seen trying out similar technology, potentially pursuing a driverless fleet of on-demand vehicles similar to what Berkeley Lab researchers have in mind.
On the electric-car front, Tesla continues to improve its vehicles' range and recharging capabilities. And BMW recently tested a hydrogen fuel-cell car, which has the potential to be just as clean as an all-electric engine.
Story continues after gallery
20 of the most popular cars for sale near Boston:
[bdc-gallery id="1421182″]
Even so, Berkeley Labs's numbers aren't guaranteed. Much of these estimates have to do with something the researchers call, "right-sizing.''
Right-sizing means making sure that one person is not travelling in a car that fits seven – the taxi you call, if you are by yourself, would fit one person.
"Most trips in the U.S. are taken singly, meaning one- or two-seat cars would satisfy most trips,'' Jeffery Greenblatt, one of the scientists that worked on the study, said in a statement. "That gives us a factor of two savings, since smaller vehicles means reduced energy use and greenhouse gas emissions.''
The research showed that though these theoretical electric, driverless vehicles would be more expensive than current cars for individual people to own – because they travel an average of only 12,000 miles per year – they would be much cheaper for taxis, which travel 40,000 to 70,000 miles per year and therefore can take advantage of the long-term savings of not having to buy gas.
To see a breakdown of the 20 most popular cars for sale near Boston, click here.