News and Reviews
What Keith Richards did in the backseat of this Bentley changed the Rolling Stones forever. Now it's for sale.
The car, nicknamed "Blue Lena,'' has a reputation just as notorious as its former owner.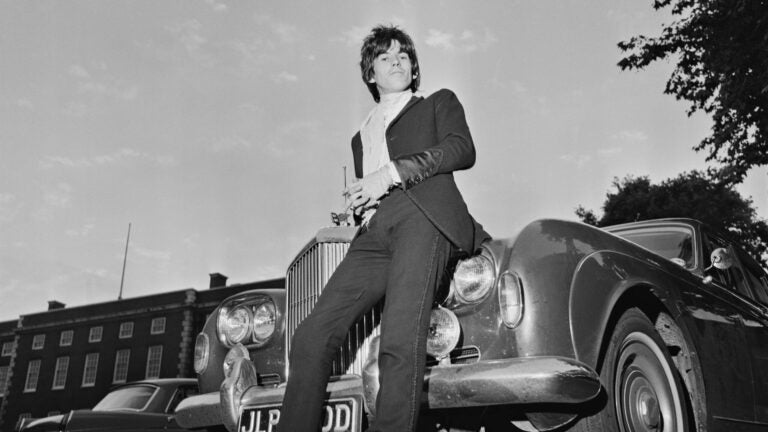 A Bentley nicknamed "Blue Lena'' once owned by the Rolling Stones's Keith Richards is going up for auction later this year.
Bonhams auction house will bring the 1965 Bentley S3 Continental Flying Spur to the auction block in West Sussex on September 12. Bonhams estimates the car is valued between £400,000 and £600,000, or $620,000 to $930,000.
But this is more than just a car once owned by a rock legend. The car was present at a significant turning point in the Rolling Stones's history.
Richards purchased the car in 1965 and nicknamed the car "Blue Lena'' after jazz singer Lena Horne. Richards later had the car fitted with a hidden compartment in order to hide the Stones's illegal narcotics stash.
"Having this car was already heading for trouble, breaking the rules of the establishment, driving a car I was definitely not born in to,'' Richards said in his 2010 biography Life. "'Blue Lena' carried us on many an acid-filled journey.''
Story continues after gallery
Take a closer look at the Bentley S3 Continental once owned by Keith Richards
[bdc-gallery id="1426165″]
The most notorious of those journeys occurred after authorities raided Richards's home in 1967 while the band was "high on various illegal substances.'' As a result of the raid, Richards was charged with illegal possession of narcotics.
Leading up to his court appearance, Richards proposed the band take a trip to Marrakech, Morocco, a place where drugs were more freely tolerated. Mick Jagger and his then-girlfriend Marianne Faithfull flew down, while Richards arranged for Brian Jones (the band's founder and original frontman) and his girlfriend model Anita Pallenberg and friend Deborah Dixon to drive to North Africa with him in Blue Lena.
At the time of the journey, Jones and Pallenberg's relationship was on shaky grounds. During the journey, Jones came down with a bout of pneumonia and had to remain behind in France to seek treatment. Dixon was next to fall ill and was forced to stay behind in Spain.
With no company to run interference between them, Richards and Pallenberg initiated a relationship in the car's back seat "somewhere between Barcelona and Valencia.'' Their relationship would last 23 years and result in three children.
But the relationship also fractured Richards's ties with Jones, who spent the rest of the trip to Marrakech in a drug-induced state. The band would eventually leave him behind in Morocco.
Two years after the fateful trip to Marrakech, the band replaced Jones with Mick Taylor. Jones drowned in his swimming pool a month later.
In 1976, Richards crashed the Bentley into a tree after falling asleep at the wheel. His nose struck the dashboard so hard that it left an indentation.
In 1978, Richards sold it and it has changed hands several times since then.
"Following a five-year restoration, Blue Lena has been returned to its former glory,'' said Bonhams Group Motoring Director James Knight in a statement.
Knight added that the auction will take place at Chichester, West Sussex, very close to the 1967 raid that would forever change the band's history.