News and Reviews
5 things you learn when you sell a car to Rob Gronkowski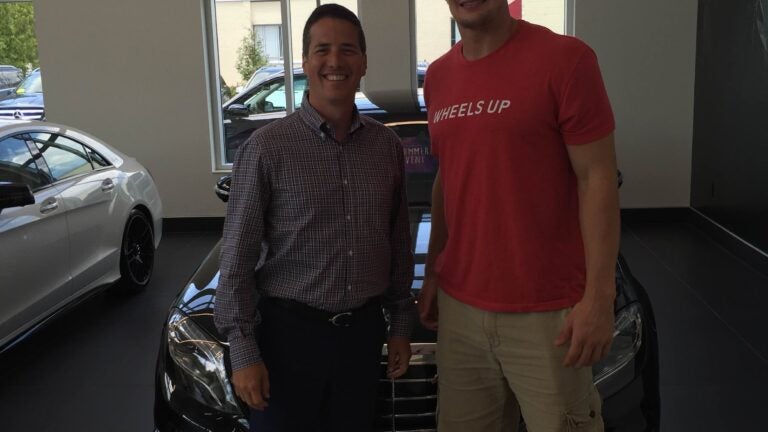 New England Patriots tight end Rob Gronkowski has a reputation as a rather excitable young man – a reputation he lived up to during a recent trip to a local car dealership.
"He was like a kid in a candy store,'' Bernie Moreno, president and owner of the Mercedes-Benz of Burlington, told Boston.com about the 26-year-old party boy. Here are a few other things Moreno told us about his day with Gronk.
1. Gronk goes car shopping with his Dad
"He didn't know what he wanted,'' Moreno said of the Patriots star, who had apparently looked around at a few other dealerships before landing in Burlington.
Fortunately his dad, Gordon Gronkowski, fresh off his performance in "Celebrity Family Feud,'' was in town to help out.
[fragment number=0]
2. Size is an issue
Moreno said Gronkowski primarily wanted a car that he was comfortable in, and one in which someone could sit comfortably behind him. That can be difficult for someone who is 6 feet 6 inches tall and weighs 265 pounds.
"There's a challenge of putting someone of that size in a car that fits him,'' Moreno said. "He's a big dude. I wanted to stand on a chair to take a photo with him.''
Story continues after gallery.
The best cars for tall drivers:
[bdc-gallery id="1422182″]
3. Gronk attracts a lot of attention
His size, and his popularity in the area, also made him stand out in the dealership. When asked if anyone noticed him, Moreno replied with a laugh and said, "Did anyone not notice him?''
"Gronk sticks out a little bit,'' Moreno said. Plenty of clients in the dealership stopped him to take photos.
4. Gronk likes his perks
Other than comfort, Gronkowski was very interested in what tech the car had to offer.
"He's a young guy,'' Moreno said regarding Gronk's preferences to have Bluetooth, a good stereo system, and serious performance.
After some looking, Gronk chose a 577-horsepower, all-wheel drive S63.
"He settled very happily and he loves it,'' Moreno said.
5. He really is as friendly as he looks
"He is the nicest guy and he's exactly what you would expect him to be,'' Moreno said. "He is fun, young and energetic.''
As Gronk left the dealership in his new ride, Moreno said another customer was pulling in and did a double take. He motioned for Gronk to roll down his window (which he did) and said, "Are you Rob Gronkowski?''
Gronk said yes.
"Did you just buy that car?'' the new customer said.
And in typical Gronk fashion he responded, "Yes! Go in there and get one!''
[fragment number=1]