Imperial's Kevin Meehan aims to be best of the best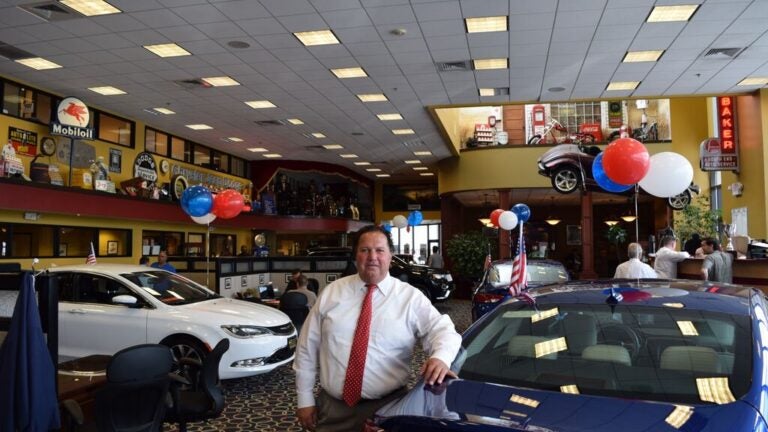 Walking into one of Imperial Cars' three dealerships in Mendon, isn't like walking into any ordinary dealership.
At Imperial's Ford dealership, customer service awards and the coveted Ford Presidential award for customer satisfaction hang from the ceiling like World Series pennants. At the company's Chrysler dealership, an antique car hangs from the ceiling. An old Texaco gas station, pump and all, is mounted to the wall. Antique Valvoline signs and headlights adorn the showroom.
Most impressive is Imperial's Chevrolet dealership, where David Ortiz's Red Sox jersey hangs in a glass case. The jersey, which was unearthed from Yankee stadium in 2008, was auctioned off on eBay. Imperial's owner Kevin Meehan, was the winning bidder on that jersey— $175,000, which was donated to the Jimmy Fund.
Meehan, who founded Imperial in 1991, still remembers his first attempt at selling a car. It was at his father's used car dealership in Worcester, where he worked washing cars on nights and weekends while in trade school. "One day a guy came onto the lot and my father told me to go talk to him. He was looking at a 1975 blue Chrysler Cordoba,'' Meehan recalls. "Three months later I saw him driving the car, but he had bought it from another salesman.'' Despite that first failure, Meehan stuck with the car business and opened his first dealership, Chevrolet, several years later.
Meehan likes to entertain his customers, so each of his dealerships has a theme, all of them reflecting Meehan's interests: sports, auto memorabilia, and rock 'n' roll. "People have had so many bad experiences at dealerships,'' he says. "It can be a grueling experience. We wanted to lighten it up.'' The auto memorabilia was the first addition to his sales floor, and the Meehan family loves sports, so that was also a natural choice. Of rock 'n' roll, Meehan notes that music transcends all age and gender barriers—a personal touch with which everyone can connect.
Meehan and his team at Imperial are committed to making the car buying experience a little less stressful and a little more fun. Driving on Rt. 16 in Mendon, you can tell that Imperial is unique the minute you catch a glimpse of it. Amid the rows of gleaming cars, a diner, ice cream bus, jewelry store, barbershop, and hair salon appear. "We thought we could be more than just a dealership. When the barbershop is busy and the diner is flying, it's quite the place,'' Meehan says.
Story continues after gallery
New cars for under $300 a month
[bdc-gallery id="1425794″]
On a hill above the cars is the dealership's gas station, where nuts and bolts sit on shelves next to Twinkies. The attendants wear dress shirts and red bow ties. The idea was to create an old school gas station feel. "We really want to do something unique,'' says Meehan.
"When I came here seven years ago, none of this was here,'' says General Manager Mike Penner, referring to the diner, jewelry store, and barbershop that are within the auto plaza. The diner was relocated from Worcester, and every customer of the dealership receives a gift card.
It's all about attracting customers says Meehan. "We want to become a destination. Someplace that people will travel across the country to see.''
Since the internet has changed the way people buy cars, Imperial sees its attractions as a novel way to meet the growing competition. People are doing more research and visiting more and more dealerships. "On average, people visit 1.75 dealerships before making a purchase,'' says Penner. "We want to make sure they check US out, and that they come back. On your way home from work, you can stop by to get your car fixed and get your haircut at the same time, or pick up something for dinner.''
There's a banquet hall above the Chrysler dealership equipped with a full bar and popcorn machine. They rent it out, but more often than not, donate it to local groups to use for their events. Penner also uses the hall to host weekly customer service meetings where he reviews company goals and the mission statement. "At the end of the day, a customer can walk off of our lot with a car, but if they're not happy, we haven't done our job.''
The final parts of the recipe for success, according to Kevin Meehan, is giving back and taking care of employees. Meehan recently ended a nine-year term on the board of Trustees at the Milford Regional Hospital. He's also chairman of the board at Tri-County Medical Associates. Imperial helps fund local football, baseball, and softball teams. "There's not much we don't get involved with,'' he says. He bets that at least 50 percent of his 400 employees started with the company in the early 1990s. "If they don't still work here, they probably retired,'' he jokes.
Meehan spent 18 months deciding on a name for his new dealership. When someone suggested "Imperial,'' Meehan looked it up in the dictionary. "It said, 'to be the best of the best,' and as an arrogant young entrepreneur I thought, 'well that's us.'''
Selling nearly 600 cars per month and with plans to open another dealership in the next two years, Meehan is making sure his business lives up to its name. And as the banners hanging from the ceiling show, their clients are pretty happy as well.