News and Reviews
Newburyport ready to cruise the '50s; Misselwood's Best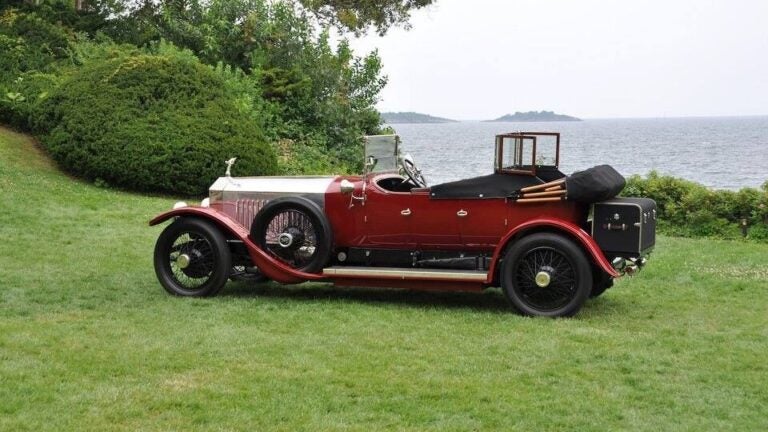 Newburyport conducts its 4th annual "Cruisin' the '50s'' downtown cruise night on Thursday, Aug. 13. As local shows go, this is a big deal, drawing an estimated 10,000 to 14,000 visitors to the city between 5-8 p.m.
The invitation-only event features more than 200 cars in a downtown setting of brick buildings, trees, and music.
It illustrates that key ingredients to a first-class car show is to find a special venue and make it an annual event.
"I sent out invitations for the first show back in 2012, and it seemed like only the next night I ran into Shirley Ellison at Liberty Tree Mall,'' says show organizer Wes Pettengill. "She was the first with her form and entry fee.
"She's been No. 1 ever since. It's become a show tradition. Others have asked if they can be No. 1, but I tell them they're 1A.''
Her car is a customized 1950 Mercury built by her late husband Bob.
After Bob's death, Shirley began driving the couple's 1950 Mercury "lead sled,'' a car that he built from the frame up and is powered by a 351 ci supercharged Ford Windsor engine.
Driving it was a way for her to stay connected with car people and the couple's friends.
She credits many of those friends for helping keep the car in good shape.
But she's made one change: She added "Girl Power'' to the driver's door where someone else might put their name or initials.
"Young girls love it. They get their phones and take pictures,'' she says.
She also loves the "normal people'' who go to shows. "They're so respectful of the cars.''
And there should be a lot of them in Newburyport.
The show is co-sponsored by the city's Chamber of Commerce and radio station WNBP "The Legends'' (1450 AM and 106.1 FM).
On this night, says WNBP general manager Carl Strube, "The cars are the stars.''
This year's show will highlight several themed displays. A separate "British are Coming'' grouping features MG, Austin Healey, Triumph, Jaguar, and even a Sunbeam Tiger.
The Institution for Savings will be featuring a grouping of "Woodies''—the wood-paneled cars and wagons from the 1930s until the 1950s.
Shedding bankers' conservative image, the Newburyport Five Cent Savings Bank will be displaying what it calls "Righteous Relics,'' a collection of vintage barn-find motorcycles and Ford Model A's in front of its State Street building.
Taking advantage of all the downtown space available, the event's experienced parking team will be setting up micro and mini cars on Inn Street, normally restricted as a pedestrian and shopping mall.
For the second straight year, M.K. Benatti Jewelers on State Street will showcase a special car. This year's selection is a 1913 Rolls-Royce with lots of red paint and brass from the Owls Head Transportation Museum in Maine.
Story continues after gallery
Iconic Fords through the years
[bdc-gallery id="1419084″]
The Rolls has the additional mission of spreading the word about the museum's annual classic car auction, scheduled for Aug. 22.
Ann Ormond, president of the Greater Newburyport Chamber of Commerce, has worked with the radio station since the beginning to establish the show.
Newburyport is a major day-trip destination that features an annual 10-day Yankee Homecoming celebration that runs from the last weekend in July through the first weekend in August.
The Cruisin' the '50s show stepped in to fill a gap between that mid-summer event and the city's many fall downtown festivals.
"It's a fantastic way to spend a summer night in our historic seaport,'' she says.
Misselwood's Best
The best-in-show winner at the July 26 Misselwood Concours d'Elegance was a 1913 Rolls-Royce Silver Ghost Alpine with an American-made Brewster Touring body. The Alpine designation means the vehicle was built with a larger radiator and four-speed transmission to facilitate Alpine driving. Owners Norm and Molly Shanklin use the vehicle for touring, averaging 5,000 miles a year. It's not the same Rolls that will be on display at Newburyport … Today should bring a good crowd to the Larz Anderson Auto Museum grounds in Brookline as the BMW Car Club of America hosts BMW day, sponsored by Turner Motorsport of Amesbury. The show runs from 9 a.m.-2 p.m. … Next Friday and Saturday is the 10th anniversary Northeast Chevelle (and El Camino) Regional at the Holiday Inn in Boxboro … Next Saturday, the Massachusetts Cruisers hold their 24th AutoFest at Wrentham Fair Grounds … Also Saturday is a Behind the Scenes automotive collection tour at Heritage Museums and Gardens in Sandwich with curator Jennifer Madden. The tour is from 11 a.m.-noon. Contact Julie Raynor at 508-888-3300, ext. 175 for information … Next weekend is a rare Larz Anderson doubleheader, with British Car Day and MG Day on Saturday with American Car/Truck Day on Sunday.