News and Reviews
Infiniti's Q50S points to a high-tech future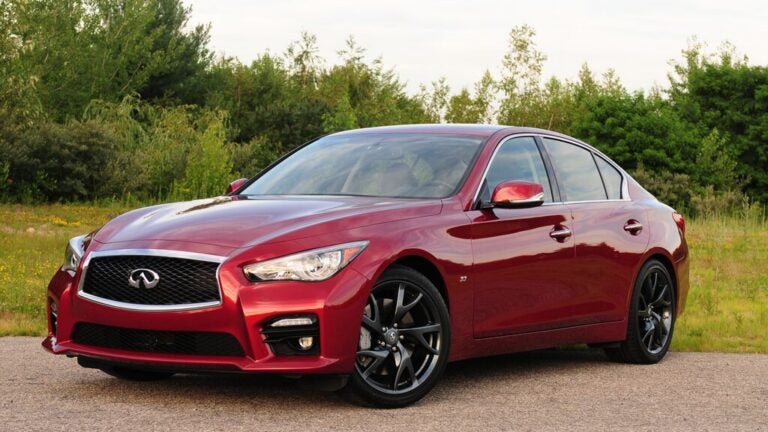 I can't decide whether the 2015 Infiniti Q50S is a sports car dressed in a luxury suit or an updated G37 that's moved into the high-rent district.
Perhaps it's both.
This sedan, while remaining a sold choice for diving through New England winters, is a more refined edition with more electronics, improved economy, and an extra topping of luxury. The cost of this dolled-up model is a cool $48,000.
Infiniti has mastered crafting an athletically appealing car. There's a front sloping hood with a wide nose, tight lines, 19-inch alloy wheels shod with summer performance tires (run flats are optional) tucked under arched wheel wells, and a backside that rises like a coiled sprinter at the starting line. Athletic appeal? Check.
Attention to detail is abundant inside where leather, creased edges, smoothed surfaces, the latest electronics and creature comforts are expected and reside. Techies will like the two large touch screens that hog the center IP. That last time I saw two screens that large in the same place was at a Milford, N.H., drive-in.
Story continues after gallery
The most fuel-friendly luxury cars according to Kelley Blue Book
[bdc-gallery id="1426850″]
Thankfully the necessary heat, fan and other icons are found on buttons that bookended the two screens. The transmission shifter and a knob to tune the radio are the only non-touch screen devices. All radios, including this Bose superior sound version, are still best designed with conventional tuning and volume knobs.
Chrome accents on the center console and atop the pedals were the only exception to an all black, leather interior that underscores the car's black-tie, upscale image.
Luxury and connectivity gadgets galore? Check.
All this technology is viewed from tall-backed bucket seats that aren't NASCAR stiff nor plumped up for Gramps. The rear seat welcomes three real-world adults.
Paying homage to the car's past is the 3.7 notation on the front fenders, indicating the motor size that was popular with the G37. One constant between the old and the new is the 3.7-liter, 328 horsepower, V-6 engine that's tied to a 7-speed manu-matic with paddle shifters for sportier interaction. It also generates 269 lb-ft of torque to move the 3,700-pound car with aplomb in shifts that almost defy perception. The resulting spool up in a hushed leather cabin is surprising for its stealth-like movement. The Q50 is available in rear-wheel and Intelligent All-Wheel Drive.
A drive selector allows the choice of standard, sport, eco, snow, or personal settings with technology respectively changing the car's mood.
The enthusiast, who might better appreciate the visible brake calipers through the spoked wheel, will opt for sport, engage the paddle shifters, and move through his Walter Mitty world to fashion a spirited ride that rewards with audible downshifts, linear steering input, and a throaty dual exhaust note.
With a double wishbone front suspension and multi-link rear setup, the Q50S handles speed easily, seems to seek out the corners and surges out of them easily. Cruising down our local highways–– at speed –– the tach managed just over 2,200 rpms and barely moved when power was goosed to pass.
Techno fans will delight in such offerings as Intelligent Cruise Control, Forward Emergency Braking, Distance Control Assist, Blind Spot Warning, Blind Spot Intervention®, Backup Collision Intervention®, Lane Departure Warning, Lane Departure Prevention with Active Lane Control™, and Adaptive Front lighting System (AFS). What is called the world's first Predictive Forward Collision Warning (PFCW) system can warn the driver of risks that lie beyond the driver's field of view.
Two other technologies include Direct Adaptive Steering and Active Lane Control are perceived steps towards autonomous driving. With DAS, a more precise steering input can be tuned by the driver for input and steering gear ratio. A manual backup system is ready if needed.
Active Lane Control is part of the Lane Departure Prevention system, reading the lines on the road and staving off lane drift, adjusting to the steering input angle for minor road surface changes or crosswinds (as detected by the camera-based, lane marker detection system). Reducing steering adjustments is hoped to reduce the driver's effort and fatigue.
This isn't hands-free autonomous driving like Will Smith showed off in iRobot; it's neither meant to allow your hands nor eyes to wander from the task at hand. Unless you're in an open stretch of road in, maybe Wyoming, there's little chance to show off and say "look Ma, no hands!''
Customers will also appreciate the inclusion of an optional spare tire in the spacious trunk. Too often it seems buyers find out the hard way that the spare was replaced by an air compressor and a can of fix-a-flat. If you hit one of the many potholes this spring without backup, there's no way to hobble home without a wrecker.
The Q50S is a dark-horse luxury sedan that will surprise and delight with its ability to combine an athletic, luxurious and quiet cabin at a competitive price in a style that won't quickly be dated.
2015 Infiniti Q50S 3.7
THE BASICS
Price, base/as tested (with destination): $43,650/$48,205. Fuel economy, EPA estimated: 20 city/29 highway/23 combined. Fuel economy, Globe observed: 25.48. Drivetrain: 3.7-liter V-6, 7-speed automatic, rear wheel drive. Body: 5-passenger sport sedan.
THE SPECIFICS
Horsepower: 328. Torque: 269 lb.-ft. Overall length: 188.3 in. Wheelbase: 112.2 in. Height: 56.8 in. Width: 71.8 in. Curb weight: 3,574 lbs.
THE GOOD
Unending power supply, luxurious interior, wealth of technologies, spare tire, 10 option packages for the seven model trims.
THE BAD
Dual information screens, no true manual in rear-drive but paddle shifters and choosing manual mode may suffice for motoring purists.
THE BOTTOM LINE
A dark horse in the luxury sport sedan segment that proves growing up isn't a bad thing.
ALSO CONSIDER
Audi A4, Mercedes-Benz C-Class, Lexus IS, BMW 3-Series, Cadillac ATS