News and Reviews
Using B.R.A.K.E.S.; Nissan on campus; Swedish Car Day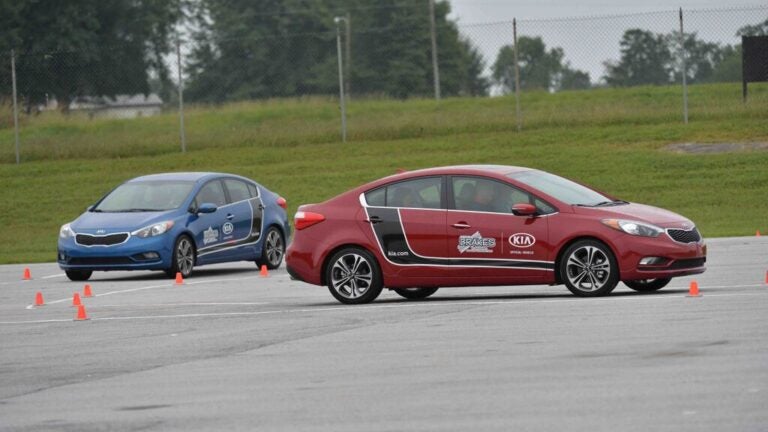 Back to school means busy fall schedules for a lot of teenage drivers.
We keep reading that fewer teens are getting their licenses. People point to new driving regulations and the fact that driving isn't "fun,'' nor is it considered the rite of passage it used to be.
But the truth is that thousands of teens are getting their licenses and most all will "have'' to become drivers at some point.
Most teens are responsible, have goals, and realize that learning to drive well is a good thing. However, the sad truth remains that motor vehicle crashes are the leading cause of death for 14- to 18-year-olds.
That's where local advanced driving schools try to be proactive.
Kia has a program called B.R.A.K.E.S (Be Responsible and Keep Everyone Safe). It's coming to the New England area for the first time on the weekend of Oct. 31-Nov. 1 at New England Dragway in Epping, N.H.
There will be four sessions available: 8 a.m.-noon and 1-5 p.m. each day.
There's a sad irony in the New England location being at New England Dragway.
It was National Hot Rod Association's top fuel drag racer Doug Herbert who started the Brakes program in Charlotte, N.C., after his two sons, John and James, were killed in a traffic accident in January, 2008.
"Across the country, 15 families a day get the call that my wife and I got, that their child was killed in an accident,'' he says. "That's almost 6,000 young people per year. But the story doesn't stop there. Another 400,000 wind up in the emergency room or hospital.''
The lessons, taught by professional instructors, are invaluable and include skid avoidance, distracted driving awareness, panic stops (with ABS), drop-wheel (one wheel off a highway shoulder).
I've taken one of these courses—and am ready for a refresher.
You can't go wrong being reminded how heavy the vehicles we drive today are, how they react to sudden weight shifts, how important it is to know how to brake and how to coordinate braking and steering.
The course is free, though a refundable deposit is required to hold your space. Registration is available online.
Story continues after gallery
New additions to the list of safest cars of 2015
[bdc-gallery id="1424668″]
Marketing 101
Nissan is teaming with Enterprise's CarShare arm to enable affordable car rentals, using Nissan vehicles exclusively, on more than 80 university campuses. In Massachusetts, Northeastern, Boston University, and UMass/Amherst are participating in the program.
For Nissan, the advantage is that positive rental experiences have a powerful influence on later car-buying decisions, especially among younger age groups.
The car-sharing experience appeals to urban-dwellers, especially in Greater Boston, and, for Nissan, can lead to its college grad purchasing program.
Basic requirements are to join the club ($25), be 21 (18 with parental consent forms), have a valid driver's license and major credit card.
Reservations, for as short as an hour, are made online. Your membership card then is used to unlock the vehicle which is stored in a lot or garage by the campus. When the vehicle is returned, the keys are left inside and the driver scans the membership card to end the rental.
There's an EZ-pass in each vehicle for tolls (billed to the driver's credit card). Gas is free, though there's a company card to refuel if the tank is less than a quarter full.
Faculty and staff also are eligible for the program, but it sounds like a hands-on lesson and opportunity in real life for undergrads.
Online buying?
Toyota last week announced plans to let customers buy new Toyotas online. The format sounds like a program already in place—Pure Product Plus—at the company's Scion dealers.
However, that's what people are doing today anyway. The average buyer spends most of the car-shopping process online, deciding what brand and model to buy. Then they work out their desired trim level and research pricing.
Theoretically, in the program, they then "find'' their desired car at a dealership participating in the program and pay the online agreed-upon price.
But that's already happening.
"It used to be that a customer would visit just shy of seven dealerships before buying,'' says Dan Leahy, GM of the Village Auto Groups South Shore Audi, Porsche, and Volvo dealerships. "Now they visit 1.7. They've spent the rest of their time online. They come in ready to buy, often referencing a specific vehicle's stock number. Still, sometimes they'll come in for one car and wind up driving out in something different.''
A Swede Ride
Today is the 16th Swedish Car Day at Larz Anderson Auto Museum in Brookline. Anders Robertson, brand manager for the Volvo XC90, will be a featured guest as will Thomas Sundstrom, executive vice president of Saab parts. "Those are both big deals for us,'' says Pierre Belperron, former service manager at Charles River Saab and now at Volvo Village in Danvers.
"We've also made some adjustments to our raffle and gotten some great donations, including a one-year SCCA membership, a $550 pass for two for a one-day InControl driving session, and a $1300 gift certificate for a one-day session at the Team O'Neil Rally School.''
Swedish car collectors arguably are as passionate as any group and yearly bring an amazing array of classic vehicles to the museum grounds. The show runs from 10 a.m.-2 p.m.
Also today, the East Coast Camaro Club has its 34th all-vehicle show in Hudson, N.H., and the Aleppo Shriners are putting on their inaugural show at the Shriners Auditorium on Fordham Road in Wilmington.