News and Reviews
Auto dealer Raymond Ciccolo is a 'lucky man'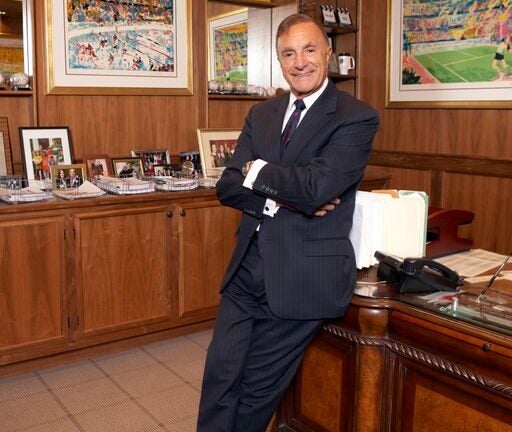 If Hollywood ever decides to film a sequel to its classic "It's a Wonderful Life,'' Cambridge native Raymond Ciccolo should have the leading role.
The 77-year-old is the president of Village Automotive Group, which encompasses eight dealerships selling eight different automotive brands: Volvo, Porsche, Audi, Nissan, Honda, Hyundai, Saab, and Cadillac (see Auto Notes).
But for the auto baron who lights a room with more energy than an Eversource generator, his real jolt is the benevolent arm of his business.
The well-funded Ciccolo Family Foundation, which he created 20 years ago, is the sponsor of many charitable endeavors that include orphanages in China and Haiti, the Global Smile Foundation (25th year) in Ecuador, a local scholarship to his alma mater Suffolk University, and another in the works for Northeastern University, where he received his MBA. "It's a gift to give back,'' Ciccolo said.
He is the original owner of the Boston Lobsters tennis team (which Bob Kraft later took over), the father to three daughters, and grandfather of seven. He has photos on the outer office wall standing next to three different Presidents of the United States, and he recently celebrated his fiftieth wedding anniversary with his wife Grace.
The largest Volvo dealer in New England, who in 2016 foresees an increase in the sales of cars with diesel engines, built his 450-employee empire on a simple formula: hard work with a large side order of risk taking. "I was always entrepreneurial,'' he said.
And his life is a classic American Horatio Alger story. "It [the 1950s] was a sweet, innocent, nice time to be growing up,'' Ciccolo said.
In the Village Headquarters located at Boston Volvo on North Beacon Street in Brighton, Ciccolo settles into a brick-colored leather chair in his teak-walled office, which is adorned by a pair of signed Leroy Neiman prints.
The tanned and fit president, who works out five days a week, and is nattily attired in a custom-tailored, olive-colored suit, casually mentions that he is a little stiff from last night's softball game. "I catch, and play a little second base for the GoodTimers in the Lexington Men's League.'' said Ciccolo, who is also a ballroom dancer and sings as a tenor with the Boston Minstrel Company.
Despite his business accomplishments, nothing was handed to the guy who once sold a new Volvo to chef extraordinaire Julia Child, who just like one of her fallen or dropped soufflé's, immediately got into an accident after pulling out of the dealership lot.
In fact, his circuitous entrée into the automobile world occurred by way of a bread factory and a Laundromat.
Blessed with a strong work ethic, Ciccolo landed his first job at Boston's original grande dame, the Ritz-Carlton, while still in high school at Cambridge's Rindge Tech, then an all-boys school.
Among his many menial tasks was one that involved breaking glass whiskey bottles into a barrel. "It was for space, not an environmental thing, Ciccolo explained. "I used to come home covered in glass and smelling of alcohol.''
After graduation, he enrolled at Suffolk University (class of 1959), and worked the "dead-shift'' at his father's place of employ, the Ward Baking Company of Cambridge, which made, for those old enough to remember, Tip-Top Bread.
When the company shut its doors, his dad needed a new line of work and opened what was thought to be the first coin-operated Laundromat in Cambridge, Thrifty's. "I was still in college and I got to see how the business worked, so I opened one also,'' Ciccolo recalled. "In fact, I opened up three of them while I was at Suffolk.''
One day he was visiting a friend, Hal Rosen, who was the general manager of a small Newton dealership, Gene Brown Motors. It sold Nash (American Motors Ramblers) and Volvos. Rosen told his buddy that the business was in trouble. "Then he suggested that I should make an offer on the business, so I did, and that was how I got my start in the car business.''
It was 1963, a year before the Beatles came to America, when Ciccolo sold his Laundromats, raised some additional money, and "signed my life away,'' as he put it. "Even though I didn't know a thing about the automobile business, I was 24, single, so in my mind, it wasn't any big risk.''
About a year into ownership, Ciccolo had an epiphany when his office manager informed him that all his expenses were from Nash, and all his income was from the small, relatively unknown foreign import, Volvo. "So, lo and behold, I gave up a domestic for an import. Back then, that was a risk; it was unheard of.''
Ciccolo, who said that if he could do it all over again he would have loved a career in theater production on Broadway, never have an ambitious plan for expansion. "I never had a grand vision. I'm kind of an opportunist. I look around, see what's selling, and what dealerships might be available,'' he explained.
Outside of his family and the seven grandchildren, Ciccolo's greatest satisfaction is generated from the family's charitable foundation.
"It's a gift to give back. It's terrific. There isn't any material possession that can make you feel as good as helping someone in need. I am very lucky. I think the Warren Buffets of the world have set a great example for people who have been blessed with means. If, and when, I'm no longer sitting here, a significant amount of my estate will go into our charitable foundation and my family will continue to make sure it runs in perpetuity. But if you are lucky to give some of it back during your lifetime, that makes you even luckier,'' he said.
"If you love what you are doing, it's not work, it's a ball. Each day I can hardly wait to get here and do what I can to help people,'' Ciccolo said. "And it's the same at the end of the day, rushing back to be with my family.''
If Hollywood should ever film that remake, Ray Ciccolo is their man.