News and Reviews
The way we buy cars is bound to change. How?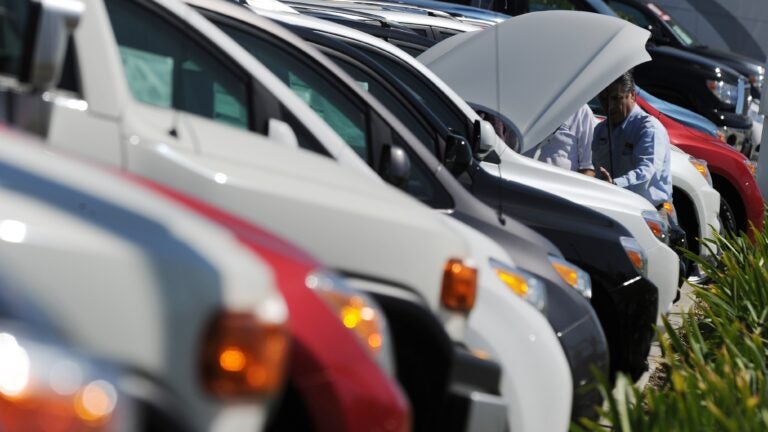 The internet has made it easier for consumers to get whatever they want, whenever they want it, with just the tap of a smart phone. But drivers who want to get behind the wheel of a new or used car still need to get to a dealership.
That's why consultant Max Zanan predicts consumers will eventually experience more control and convenience when it comes to buying a car. Zanan is co-founder and CEO of IDDS Group, a New York-based consulting firm that specializes in automotive retail.
Specifically, he predicts a greater portion of the car-buying experience will, like many other acts of commerce, from pizza orders to Uber rides, occur online.
"Uber teaches the consumer that instant gratification is out there because they can get a car within two minutes'' said Zanan in a phone interview. "This shift is going to carry over into automotive retail.''
Story continues after gallery
Check out the best and worst cars of the year according to Consumer Reports
[bdc-gallery id="1429206″]
Sales moving online?
While many consumers can already conduct research on cars online, Zanan envisions a day when consumers may request a test vehicle to be delivered to their door with a click, or can complete the necessary financing paperwork from their laptops, smartphones, or tablets. Zanan's company IDDS advises car dealerships on how to implement online services.
There is already evidence that some of the changes are underway. Some websites, including CarFax and TrueCar, provide a database of what others have paid for similar cars.
Meanwhile, new business models like Beepi and Vroom offer to buy or sell cars and deliver them to the consumer's doorstep, instead of requiring them to take a trip to a dealership. Another company called Shift, based in California, promises consumers a "no-obligation test drive'' within 45 minutes of their location.
"From the perspective of a consumer, it's a phenomenal proposition to shop for the car of your choice from the comfort of your living room,'' said Zanan. "If you can do this online or go to a local dealership, I have a feeling more people will go with the online option.''
Smarter phones, smarter shopping
Steve Halloran, chief editor of Cambridge-based car-search company CarGurus, believes smartphones will play a bigger role in the car-buying process.
"We agree that convenience is the most important thing poeple are seeking [when car-shopping],'' said Halloran in a phone call with Boston.com. "We believe people want to shop for cars the way they shop for most other things.''
Halloran points out that CarGurus is seeing an increaese in consumer traffic from mobile devices. Allowing consumers to conduct more research on vehicles and communicate quickly with dealers will make smartphones and tablets much more important in future car-buying transactions.
"Shortening or lowering hurdles between a user who is looking at an online ad and a car dealership's salesperson is going to be increasingly important,'' said Halloran. "Transparency is about openness and increasing dialogue between merchants and shoppers. We would love to see more of that if possible.''
(Disclosure: CarGurus is a Boston.com technology partner, powering the Cars section search functionality.)
More Geniuses, please
Meanwhile, electric automaker Tesla continues to receive accolades for its high-performance vehicles and unique business culture. Last month, Tesla was named the most innovative company in the world by Forbes.
But Zanan points out that Tesla has also changed the experience of car-buying for consumers.
"The difference between going to Tesla versus a regular dealership is they don't try to sell you a car, they sell you a story,'' said Zanan. "A tech person knowledgeable about the product conveys to the customer why they should get an electric car.''
Because tech-heavy vehicles like Teslas require in-depth expertise, Zanan likens the experience to getting help from the Apple Genius Bar. He predicts more automakers will employ in-house "geniuses'' to help consumers become familiar with their car's technologies.
Some automakers, like BMW, are already moving in that direction. The German automaker launched its "Genius Everywhere'' initiative, including at local Massachusetts dealerships, last year to address consumer's questions about their cars.
"Cars are getting extremely complicated and it's difficult to understand how to use all the technology built into them,'' said Zanan. "We need a dedicated person, similar to someone at the Apple Store, to show us how to use a stereo, the navigation system, or connected apps.''
Future of the car dealership
Zanan's advice to traditional car dealerships is to look for new ways for consumers to conduct their car-shopping business from the comfort of their homes.
"If you've ever bought a car at a dealership, you know how long it takes to call your bank, check your credit, or call your insurance company,'' said Zanan. "If we cut that time and allowed them to do some of the work online, that's something most customers would welcome.''
Another way dealers can focus on maintaining loyal customers is to invest in their service departments, says Zanan. This could mean offering ancillary services like a spare car so the consumer can run errands or get to work. Some dealerships already offer on-site manicure, pedicure, or barbershop services.
"Dealers need to do whatever it takes to change the perception that their service department is less convenient than a local mechanic,'' said Zanan.
Meanwhile, Robert O'Koniewski, executive vice president of the Massachusetts State Automobile Dealers Association, said he believes car dealers will be able to accommodate consumers' changing car-buying habits. He points out that several local dealerships already offer financial tools online, including credit applications and loan calculators. Some also offer to deliver cars to consumers for a test-drive and at least one auto manufacturer, Buick, is pushing the 24-hour test drive in its latest advertising campaign.
"I think the dealers are always very adaptive in the marketplace and are always jumping on the latest tool that will make the process that much more customer-friendly,'' said O'Koniewski.
But while he sees the internet changing the game, he does not think the car-buying experience will go entirely digital anytime soon and still sees dealerships as an important process of the car-buying process.
"I don't think you can equate buying a book or sweater or a computer online with buying a car online,'' he said. "Maybe it's my old-school thinking, but you still want to get behind the wheel [of a car], take a test drive, see how it feels and reacts on the road before you pull the trigger and buy it.''