News and Reviews
Scion's new hatchback could jumpstart the brand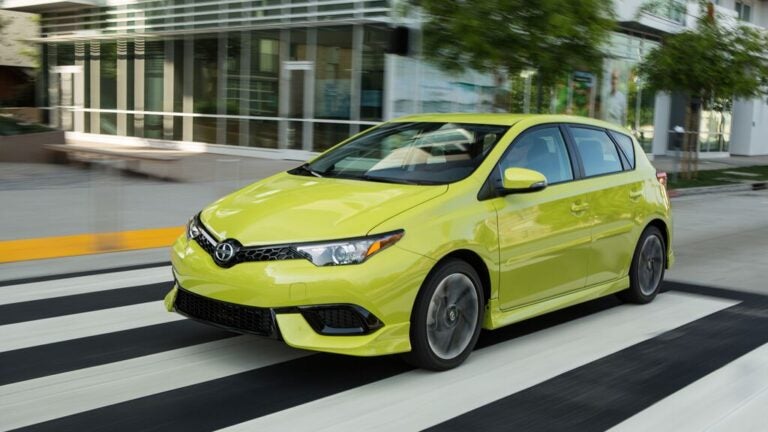 Scion, a division of Toyota, has been struggling as of late to get its footing. It may find its way back, thanks to the engaging iM hatchback. It could be the car that makes the brand relevant again.
Let's be frank. It hasn't been for the last few years. Sure, the Scion FR-S is a fun sports car but it's not a reason to walk through the dealership door. The 2016 Scion iM will get people's attention because it's unlike anything Toyota currently has to offer in the United States. (The iM is based on an overseas Toyota called the Auerlius.)
The Scion iM has its work cut out for it because the segment has some strong competition, including the Ford Focus, Hyundai Elantra, Mazda Mazda3, and Volkswagen Golf. While the iM doesn't do any one thing better than its competitors (except exterior design), the total package is quite satisfying.
In some ways, thanks to its hatchback design, the Scion iM might actually be going against a vehicle like the Honda Fit. As Scion execs like to point out, it's a Swiss army knife vehicle. It is versatile.
The Scion iM is powered by a 137 horsepower 1.8-liter 4-cylinder engine with 126 lb.-ft. of torque at 4,000 rpm. On paper, that looks like an unsatisfying number, but in test drives in and around Philadelphia, the iM never failed to deliver. Sure, more grunt would be satisfying but this is a well planted car that is pleasing to drive, especially when equipped with the CVT. Engage the sport mode and you have the makings of a hot hatch with more responsive steering and better performance in and out of corners.
As time goes by, I'm becoming more of a fan of continuously variable transmissions, also known as CVTs. The Scion iM is equipped with an optional CVT sport that replicates shift points of a traditional automatic transmission with seven simulated shift points and a sport mode. It's a much better choice over the six-speed manual transmission that has a clutch with a high engagement point.
What's also interesting about the CVT is its price of only an additional $740 over the base price of the six-speed manual transmission. That's a bargain when most automatics are going to run you at least $1,000 to $1,500 over their manual counterparts.
Story continues after gallery
Scion and other reliable car brands, according to J.D. Power
[bdc-gallery id="1426308″]
It probably has to do with Scion's desire to keep the iM below $20,000. With a $795 destination charge, you're looking at $19,995 for the CVT-equipped model. The base with the manual transmission is going to cost $19,255 with destination. Invest the additional $740. It's the better choice and improves its ultimate resale value.
The Scion iM comes nicely equipped with limited opportunities for add-ons. Scion said this is done to ease complexity at the dealership and the factory (i.e., it keep costs down). Among the standard features are: 7-inch Pioneer display audio unit with standard HD Radio and Aha (no satellite radio available, which could indicate where satellite radio is headed); rear-view backup camera; Scion's first 4.2-inch color TFT multi-information display; dual-zone automatic A/C control; and, color-keyed, heated, power-folding exterior mirrors.
The only real option would be the TRD package that adds an air intake system, sway bar, lowering springs, and oil cap. Complete pricing information isn't available yet on the TRD options. The Scion iM just went on sale at the beginning of September.
Fuel economy for the Scion iM is good. It is rated by the EPA an estimated 28 city/37 highway/32 combined for the CVTi-S model and 27 city/36 highway/31 combined for the six-speed manual. It should be better from its smallish engine, with 40 mph not being an unrealistic expectation. That's a number reached by the Mazda3 hatchback with a 2.0-liter engine mated to a six-speed manual.
This is a nicely designed car. Some critics think it blends in and isn't distinctive enough. But I think they're off base. During the media introduction, I had a lot of time to drive behind and in front of similar models. The large wraparound taillights give the rear fascia a distinctive flair while the projector beam headlights upfront give the iM a distinctive face.
The interior has a nice, intuitive design. Passenger room in the rear isn't great but folks 5'9'' and less should be more than comfortable.
2016 Scion iM
THE BASICS
Price, base (with destination): $19,255. Fuel economy: 27city/36highway/31combined. Drivetrain: 1.8-liter, 4-cylinder engine. Body: Hatchback.
THE SPECIFICS
Horsepower: 137 @ 6,100 rpm. Torque: 126 @ 4,000 rpm. Overall length: 170.5 in. Wheelbase: 102.4 in. Height: 55.3 in. Width: 59.6 in. Curb weight: 2,943 lbs.
THE GOOD
The styling is sharp and the performance from the 1.8-liter is healthy, especially when mated to the continuously variable transmission (CVT) with sport mode.
THE BAD
The six-speed manual has a high clutch point, which takes getting used to. Also, fuel economy could be better with 40 mph not unrealistic.
THE BOTTOM LINE
Scion has made a bold step forward with the 2016 Scion iM. It's an engaging hatchback that consumers should find practical, yet fun to drive.