News and Reviews
Boston-based GPS company wants to give directions like a local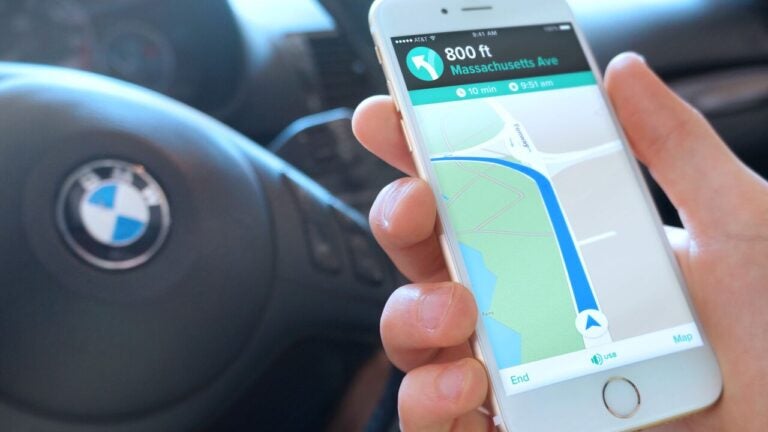 As a certain NSFW meme points out, driving around Boston can be confusing. It helps to have a local as your copilot.
A new startup named Mapkin aims to make sure you always have that copilot, even when you're driving alone. The company has recently released an app that gathers data from locals, going beyond basic routes and turning instructions to provide specific landmarks and insider knowledge that can come in handy for drivers who are unfamiliar with Boston's sometimes confusing terrain.
Mapkin co-founder Marc Regan explained why he believes his company's app will be able to guide drivers in "a more human way'' than a conventional GPS device.
"The way I think about a GPS is it has two jobs,'' said Regan in a phone interview. "The first job is to choose a route. The second job is to act as a guide while you drive…Most [GPS devices] do a good job at the first task, but not the second one.''
Instead of robotic instructions like "in 300 feet, turn right'' or "keep left onto Storrow Drive,'' Mapkin will offer instructions like "turn right after the Shell gas station'' or "turn left just past the CVS.'' Regan hopes the app will simulate the experience of driving with someone who really knows how to move around an area.
Story continues after gallery
The best MPG cars for city driving
[bdc-gallery id="1431259″]
Regan is also confident that Boston will be a great testing ground for a friendlier GPS.
"If you can make it work in Boston, you can make it work anywhere,'' he said. "When you talk to people who aren't from Boston, it's so harrowing for them…Mapkin has the potential to make driving less stressful, and that's a worthwhile goal.''
Users are also invited to include their own tips for navigating around their most common routes. To offer tips, you must be willing to join the Mapkin community. Because the directions are crowd sourced, they should become more useful as more people use the app.
Boston.com took a few trips using Mapkin. It was certainly refreshing to hear instructions like "We're going to stay on this road for about 3 miles,'' or be told "nicely done'' or "sweet'' after going through a busy route where traffic lanes merged. The app even warns if you an area is busy and encourages you look out for pedestrians.
But while it was sometimes helpful in avoiding routes where traffic was heavy, it isn't clear if the routes were truly saving any significant time.
And while Mapkin's goal is to create a "more human'' driving experience and to "give directions like a local,'' the voice that speaks through Bluetooth still delivers them in a robotic-sounding voice that resembles Siri.
Regan says the company's current priority is to gather the correct routes. After that, the building up a more diverse roster of voices for directions could follow.
"We definitely want more variety and better text-to-speech options,'' said Regan. "Now our focus is more on what it says than on the voice. That's something that I'm sure will improve as we go on.''
Our suggestion? Give the "sea monstah'' guys a call.
Tip of the hat to the Boston Herald for pointing us to this story.