News and Reviews
Watch the newest Tesla do its (awesome) thing for the first time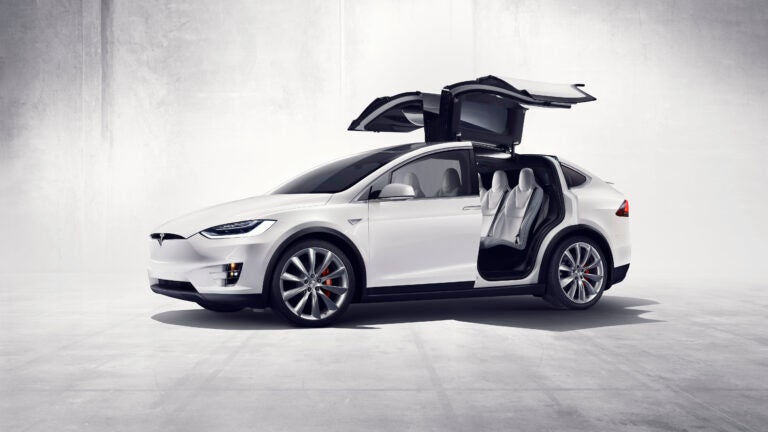 After many years of waiting, Tesla's CEO Elon Musk last night unveiled the Model X – an electric, zero emissions SUV – and distributed it to the first six buyers in California.
With a range of 250 miles and a top speed of 155 miles per hour, the car is also designed to be "the safest car on the road,'' Tesla says. The space usually dedicated to a gas engine is instead a large "crumple zone'' for high impact accidents.
But the safety features aren't what people are buzzing about after Musk's stage show last night.
Instead, that would be the Model X's "falcon wings,'' which open upwards on their own.
As a video from Mashable shows, the doors are more than just a flashy addition. They're made for getting in and out of your car when you're stuck in tight parking spots.
[fragment number=0]
Despite all the perks of the Model X, it will be hard to beat the 2015 Tesla P85D, a performance version of the Model S, which Consumer Reports just crowned the highest rated car they have ever tested.
But Tesla is trying. Other Model X perks are the panoramic windshield, which Tesla claims is the largest piece of glass ever put on a car, a massive touchscreen display, and a low center of gravity because of the battery in the floor, which helps prevent the car from rolling over in an accident, according to Mashable.
So what's the catch? (Other than the high starting price of around $130,000)
Musk said that his engineers actually did too much.
"I think we got a little carried away with the X,'' he said, according to the Wall Street Journal. "If we had known the true engineering costs and complexity, we would have done fewer things.''
Bummer. For them.
New and improved cars of 2016:
[bdc-gallery id="1424836″]