News and Reviews
Prime Motor Group is out to turn the business upside down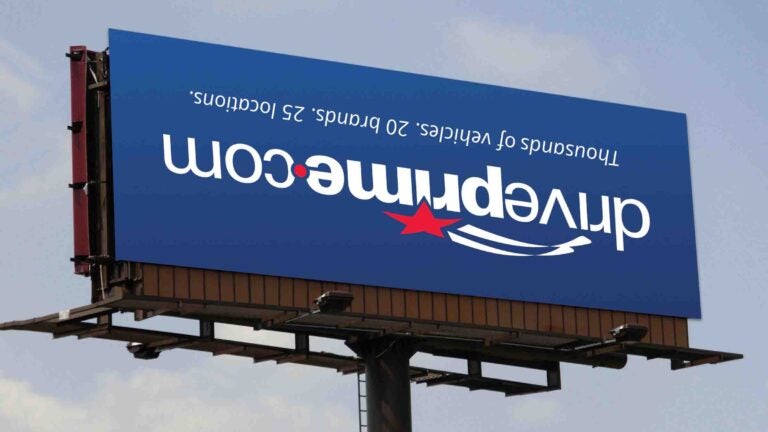 In case you didn't notice during the past week, the Prime Motor Group is doing its best to turn the automotive sales experience upside down.
It began with Prime's billboard messages along major highways in the group's footprint area—Rte. 128, Rte. 93, Route 1 South of Boston—being turned, well, upside down.
If that didn't get your attention, look at the banners on the company website, driveprime.com, also being flipped.
The same thing is happening at Prime's 20 brands over 25 locations where a lot of signage is going downside up, too.
This isn't a Columbus Day Weekend gimmick but rather a major effort to call attention to Prime's ongoing efforts to make the car-pricing and selling process transparent.
Story continues after gallery.
New and improved cars of 2016
[bdc-gallery id="1424836″]
"It will be a new kind of car-buying experience,'' says Adam Stone, Prime's marketing director. "David and Matt's mission is to differentiate ourselves.'' That was a reference to Prime's co-owners David Rosenberg, president, and Matt McGovern, vice-president.
"It started at least two years ago,'' says Stone, "as each of our dealerships began to use credible on-line research sources such as Edmunds, Kelley blue book, AutoTrader, or any legitimate site the customer may be using.
"We embrace using the fair market price from those sites to simplify the negotiating process,'' says Stone.
Indeed, it's been a trademark of Rosenberg's ownership style.
Check out the Prime website or search for his "how-to'' videos on You Tube. Good dealerships yearn for educated customers.
Groundbreaking Strategy
Anyone who predicted in recent years that automotive dealerships would disappear couldn't have been more wrong.
Instead, growing dealership groups are always on the lookout for prime (pun intended) pieces of real estate to house new franchises or relocate existing ones.
The latter is the case in Prime's $50 million expansion project to house its Acura, Hyundai, Audi, and Porsche dealerships in Westwood and Rockland.
Prime broke ground this month for a $40 million project on 12 acres at 411 Providence Highway (Rte. 1) in Westwood for side-by-side Acura-Audi-Porsche dealerships alongside its existing Mercedes-Benz building.
The project, scheduled to be finished in July, will add approximately 25 jobs, bringing the employee base to 180 among the three businesses.
"Customers in search of a luxury vehicle will have four outstanding brands to explore, all within easy walking distance of each other,'' says McGovern. "We're creating a setting where customers can test drive and compare luxury brands at one location.''
At the same time, Prime began construction of a new Hyundai "store'' at 1020 Hingham street in Rockland (Rte. 228), just off Rte. 3.
The dealership, scheduled to open in May, is a $10 million project that reflects the latest in Hyundai's architectural design. (And we thought that automotive 'architecture' referred to a vehicle's platform.)
When the building opens, Prime will have five franchises in a concentrated area as Hyundai joins Buick, GMC, Infiniti, and Mercedes-Benz.
"They'll all be within two highway exits,'' says Rosenberg. "We're part of the South Shore's version of the Automile.''
Words from On High
Rosenberg grew up in the automotive business, learning from his dad, Ira Rosenberg, who built the Ira Motor Group. He was in the process of buying the group from his dad when the auto business took a downturn, his mom got sick, and forecasters were predicting the demise of the dealership business system. He wound up selling the group.
Q.Do you ever wonder what might have been if you didn't sell?
A. With 20-20 hindsight, I wish I'd kept it, but it worked out for the best. I worked for the buyers (Group One) and learned a lot of good things about publicly traded companies and also what not to do. Matt and I have tried to maintain a family-oriented and operated feel.
Q.What are the possibilities for future growth?
A. I'm sure we'll find more opportunities; however, the market is so strong that any potential sellers want the moon for their franchises. The new-car business is terrific right now, interest rates are low. So, yes, we'd like to be buying now, but it's difficult.
Q.You started in a recession; how does that affect your planning during the good times?
A. Good habits are made during bad times (and vice versa). We've been through enough cycles to be able to be successful in both. We make every decision with a long-term view.
Q.You have a 30-day, 750-mile satisfaction guarantee. Do many customers bring back a vehicle?
A. They don't because we're so open about pricing. Instead, we spend most of the time making sure the customer is choosing the right car. There's little buyer's remorse when the focus is on choosing the car rather than negotiating the price.
Q.How important is your presence online, your Prime tutorials, your radio segments, and your advice to people to 'do their homework'?
A. This business hasn't always been transparent but now people are doing their research, and they appreciate it when they see we're using the same data bases and have the same numbers. The tutorials come about when something pops into my mind that will be useful.
Q.Are you into collecting cars yourself?
A. I have a small and funky collection. I'm not into exotic cars. I've got a 1976 Toyota Celica GT, a 1975 Toyota Land Cruiser, and just added an iconic FJ Land Cruiser resto-mod.
Q.How important is inventory?
A. Once people decide on a car, they usually want instant gratification. On brands where we have multiple stores (Acura, Mercedes, Toyota, Honda, Ford, Hyundai) we can share inventory. At our one-franchise brands we make sure we have different configurations available with colors and trim levels.
Q.How important are your real estate decisions?
A. Everyone's heard it a million times, me included, but I grew up hearing my dad say "location, location, location.''
Q.I saw a 'Talk to the Owner' link on your website. Do people use it?
A. They do, and they get answers. Everyone appreciates hearing from someone high up in the company. I make sure they get answered. We also look at our reviews and reach out to resolve any issues.