News and Reviews
Lexus gets stylish with 2016 RX gas and hybrid designs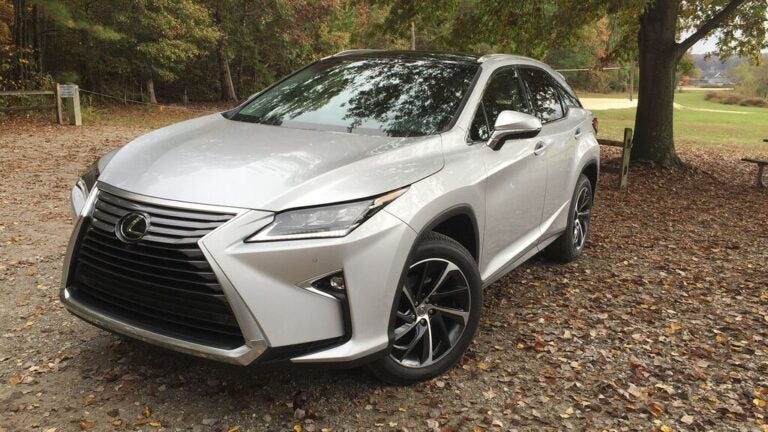 For the last 10 years or so, Lexus has sold cars that were technically brilliant but creatively uninspired. You were glad to own this excellent driving machine but weren't inclined to rave about it to your friends.
It seems like the company had a Goldilocks strategy when it came to their cars: not too hot, not too cold, but just right.
Not anymore. There's a change under way and it's ably demonstrated with the 2016 Lexus RX 350 and RX 450h. How so? There's the fact that Lexus has created a RX450h F Sport model. When executives were asked why, their reply was, "Why not?''
Lexus saw that the RX 450h created 308 horsepower and the company knew the midsize crossover needed a handling package commensurate with that power. You can be both green and make your neighbors green with envy.
The 2016 Lexus has a roomier interior thanks to an increase in the wheelbase of 1.6 inches. Overall, the RX is 4.7 inches longer and gets a touch wider with four-tenths of an inch more space. Statistically, it's bigger but it doesn't drive bigger.
The good news for New Englanders is that both Lexus models have all-wheel-drive systems. Each is tailored to its particular powertrains. The RX 350 AWD uses dynamic torque control AWD. According to Lexus, it processes information from a number of sensors, including wheel-speed sensors and steering-angle sensors, and routes engine power to the rear wheels to help maximize tractability on varying surfaces and road conditions.
The Lexus E-Four system is integrated into the RX 450h hybrid. This system also allows for reduced energy and fuel consumption by limiting the use of the all-weather-drive to only when necessary and allowing the rear electric motor to act as a generator to charge the battery when the vehicle is in regenerative brake mode.
The all-wheel-drive premium for both models is $1,400. You're going to see a 1 mpg difference in combined mileage on the RX 350 AWD and no difference in combined mileage on the RX 450h.
Story continues after gallery
Take a closer look at the 2016 Lexus RX 350
[bdc-gallery id="1425035″]
The exterior of the Lexus RX line makes a bold statement with the gaping maw that is the front fascia. That spindle grille is going to get noticed on the road—and that's a good thing, as more car companies move towards a general sameness in their exterior designs. There's no doubt this is a Lexus. Bland is no longer acceptable.
The Lexus RX features lots of curves and concave spaces. Take a moment to see the artistry in the door design. Lexus has also created a floating roofline design. Nissan did it first with the 2016 Murano but a slight edge has to be given to Lexus for a better design.
Other stunning design elements are the LED lamps both front and rear. The development of LED technology has freed designers to do so much more with the look and technology of the lamps. The RX even offers an optional triple-beam LED headlight on the premium trim level that features LED cornering lamps to illuminate in the direction of steering wheel turn.
Probably the biggest change is noticeable in the interior. At a media drive event in Cary, N.C., Lexus invited us to drive the 2015 model. I had already driven the 2016 model and was struck by the older car's blandness. It's almost a cliché, but the difference is night and day. There is an abundance of soft-touch materials and a focus on the driver that seems to place everything just where it belongs. It all seems so intuitive.
Fuel economy for the RX 350 is 20 mpg city and 28 mpg highway for a combined 23 mpg. The same model in all-wheel-drive is rated at 19 mpg city and 26 mpg highway for a combined 22 mpg. Both models run on regular gas.
The RX 450h is rated at 31 mpg city and 30 mpg highway for a combined 30 mpg. The RX 450h AWD measures in at 30 mpg city and 28 mpg highway for a combined 30 mpg. Both models run on premium gas.
There's a big price gap in RX models. The base model starts at $41,900 and runs all the way up to $57,045 for the AWD RX 450h F Sport. After spending time behind all variants, we're comfortable recommending the RX 350 with all-wheel drive, starting at $43,300, as the right choice. It has all the oomph and handling one would expect from a midsize crossover as well as a stunning interior.
2016 Lexus RX 350
THE BASICS
Price, base (with destination): $42,840. Fuel economy: 20 city/28 highway/23 combined. Drivetrain: 3.5-liter V6.
THE SPECIFICS
Horsepower: 295 @ 6,300 rpm. Torque: 267 @ 4,700 rpm. Overall length: 192.5 in. Wheelbase: 109.8 in. Height: 67.7 in. Width: 74.6 in. Curb weight: 4,222 lbs.
THE GOOD
The Lexus RX line has taken a good but bland medium-size luxury crossover and made it compelling through strong interior and exterior design work. Handling and performance have also been upgraded to deliver a more premium experience.
THE BAD
The Lexus RX 350's front fascia can take some getting used to. Also, the price tag of the RX 450h F Sport can be hard to justify.
THE BOTTOM LINE
The redesigned 2016 Lexus RX lineup demonstrates that the Japanese automaker is willing to strike a distinctive pose with an outstanding product.