News and Reviews
New Leaf offers 107-mile range; U.S. News's picks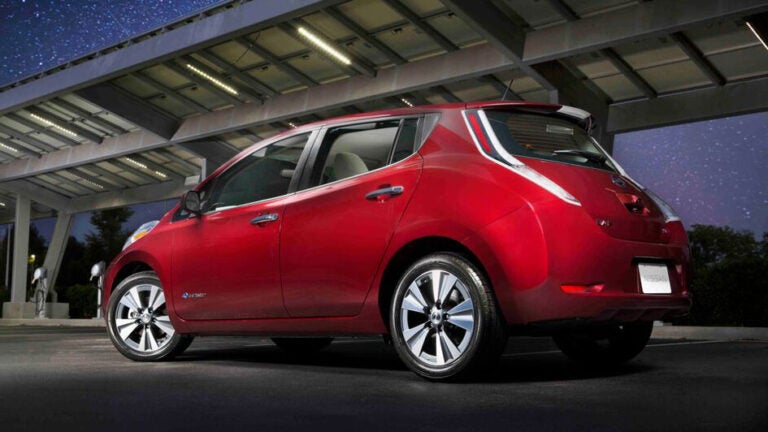 You know you've been raking too many leaves when your mind starts wondering:
1. How many Leafs must Nissan sell before we can begin referring to them as Leaves?
2. How many single-person households or two-car families are willing to buy a Leaf and plot out who will drive the Leaf each day, factoring in its 84- to 107-mile range?
The answer to question No. 1, of course, doesn't matter, but question No. 2 is serious. Just chatting with folks at social gatherings indicates to me that the answer is that a lot of people are at least considering an EV.
The common EV (electric vehicle) question is: Does it feel like driving a regular car?
My answer is always yes. It feels light, quick, nimble, and secure on the road. The electric motor is rated at the equivalent of 107 horsepower and 187 lb.-ft. of torque. Increasing the power is as smooth as turning the rheostat on a dimmer switch or fan.
Drivers generally are impressed with the instant response of the direct-drive electric motors.
Often, the next question is, "Would you buy one?''
For us, the answer is not in our present circumstances, but our circumstances aren't normal circumstances.
By default, the test vehicle of the week gets the most use. But we can't take that to Florida or a road trip to Montreal, for example.
So our family vehicle is something we have to be able to jump into at a moment's notice and drive long distances.
Living with a Leaf, to me, would require having a 220-volt charger in the garage or, in our case, on an outside post in our parking area.
While Tesla has made a big splash in the news, the stock market, in customer service, and with a flashy vehicle, the Leaf quietly has been the best-selling, 100-percent EV in the United States with more than 84,000 US sales and 188,000 worldwide.
Nissan brought a variety of 2016 Leafs to town last week for an informational evening with the New England Motor Press Association.
Paul Minihan Sr., manager for EV sales and marketing, did a walkaround of the new vehicle.
The major advance is that the two upper trim levels, the SV and SL, will now have a 30 kWh battery and a 107-mile EPA-estimated driving range. The base Leaf S retains the 24 kWh batter rated at 84 miles on a full charge.
MSRPs (including destination) are $29,860 for the S, $35,050 for the SV, and $37,640 for the SL.
Pretty daunting, but then you realize that Massachusetts offers a $2,500 rebate for this EV, and the Leaf (with either battery) should qualify you for a $7,500 federal tax credit.
That, plus two years of free charging at the major malls in Eastern Massachusetts, should drop the Leaf back into a competitive price range with gas-powered vehicles.
The battery packs carry an eight-year or 100,000-mile warranty against defects, plus excessive capacity loss protection of 8 years/100,000 miles (30 kWh) or 5 years/60,000 miles (24 kWh).
Multiple drive modes for the Leaf include Normal, Eco, and B-Mode. The latter engages regenerative braking more aggressively while accelerating.
U.S. News Best Brands
Each year, U.S. News & World Report rates individual vehicles in each market segment, but they also choose a best brand (manufacturer) in four overall categories: cars, SUVs, trucks, and luxury vehicles.
This year, Mazda was named Best Car Brand on the strength of well-made interiors and spirited driving dynamics. The Miata and Mazda3 both were No. 1 in their individual segments.
Honda, with the redesigned Pilot, CR-V, and new HR-V, won SUV honors with editors citing their interior comfort, utility, and family-friendly features.
Ford, with its sales-leading F-150, won the truck category on the strength of its connectivity (once a drawback), fuel-saving engine, and chassis features, plus the number of available configurations.
Porsche took Luxury honors with its expanded lineup of Panamera (large car) and Cayenne and Macan SUVs. The company has maintained its performance heritage, combined with opulent interiors and connectivity.
"Consumers have an overwhelming number of factors to consider when comparing cars. These awards help simplify one part of the shopping experience by highlighting the top brands in specific categories,'' says Jaime Page Deaton, managing editor of Best Cars at US News.
Story continues after gallery
Best cars of the 2016 Best Vehicle Brand winners
[bdc-gallery id="1427967″]
Etc.
Today is the last day of a Veterans Day special at Honda Village of Newton. All week, Honda has been offering a free car wash and an 11 percent discount on service work for veterans. In addition, for every car sold during the week (new or used), Honda Village is donating $200 to American Legion Post 440. "It is our honor to offer a small token of appreciation to veterans during this time,'' says Village Group president Ray Ciccolo … GM plans to begin production of its Bolt (not Volt) EV about this time next year. It's projecting a 200-plus mile range, which would be a giant step forward into the land that the Leaf isn't expecting to occupy until its next generation. Chevy is collaborating on electronics suppler LG on the project.