News and Reviews
Tire chains: You probably shouldn't use them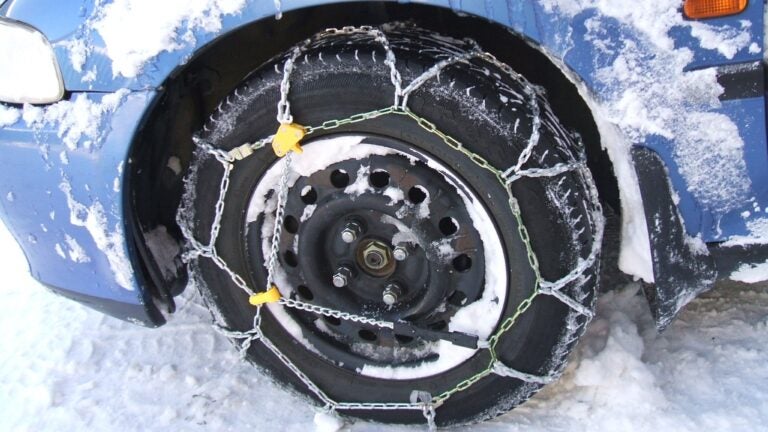 If you're still recovering from the toll last year's record-breaking snowfalls took on local cars and roadways, we completely understand.
You might have a jarring memory of skidding around in your vehicle when the roads were layered with snow.
If your car doesn't have all-wheel drive, you're probably considering taking preventive measures to make sure your vehicle's tires don't fail you when it counts.
Tire chains, sometimes referred to as snow chains or snow tire chains, are a common choice. A brief search of "snow tire chains'' on AutoZone's website produces options that range from $30 to over $450 in price.
But if you're considering wrapping your tires with chains to get better traction in the snow or ice, experts say you probably shouldn't.
Story continues after gallery
Cold weather driving tips from AAA:
[bdc-gallery id="1427469″]
John Paul, public affairs director for AAA Northeast, also known as the "Car Doctor'' here at Boston.com, described the sensation of driving with snow tires as a "bone-jarring'' experience.
"It's like driving on a car with square tires,'' said Paul. "It's a very uncomfortable ride.''
To be effective, Paul says, tire chains should only be used on more rural roads with several inches of snow. He says in more urban conditions, they are not needed because plows clear most snow from roadways.
"In my opinion, unless you're driving in the mountain ranges of the Midwest, tire chains are pretty archaic and have lived beyond their life around here where we do a pretty good job of plowing,'' he said.
Gene Petersen, tire program manager for Consumer Reports, agrees with this assessment. Petersen, who evaluates and tests tires for the magazine, says snow chain tires come with "a lot of negatives.''
For starters, they're a pain to attach to the car. The chains must be laid out in front of the tire and then the car must be driven over them. It can also be difficult to reach under a car's fender to fasten the chains. And to add to the hassle, drivers have to remove tire chains once they reach a clear path of road.
"Tire chains are difficult to put on [a vehicle] and are not for the faint-hearted,'' said Petersen.
Before attaching them, Petersen says consumers should check their owner's manual to see if tire chains are recommended at all. When they are in use, motorists must drive at a very low speed. And drivers should worry if they are causing harm to their vehicle.
"If a chain breaks and starts hitting the inside of the wheel well, stop immediately to prevent damage to the vehicle,'' said Petersen.
Paul points out that there are limits to when tire chains (and winter tires) can be used because they can damage roadways if they are used for too long.
"If you drive on a paved road, chances are you're going to damage the road and the chains,'' said Paul.
According to AAA, Massachusetts permits the use of tire chains during "hazardous weather or other related incidents'' as long as they don't damage highway surfaces.
A spokesperson for MassDOT pointed out that snow tire chains and other "metal studded tires'' are not permitted on public roads between May 1 and November 1. Violators could be fined up to $50.
"Studded tires (and tire chains) have the potential to cause wear in the wheel paths that resembles rutting,'' said MassDOT spokesperson Judi Riley. "If a roadway experienced heavy use of studded tires and tire chains, it's possible that the extent of the wear could lead to the need for premature rehabilitation.''
All in all, Petersen says the snow chain tires should not be a motorists "first line of defense'' especially when better options are easily available.
"People who drive in wintery conditions should really consider buying a set of winter tires,'' he said. "Put them on all four tires and they all benefit from enhanced grip.''
Paul also suggests using a snow tire sock, a tire cover that is made of different material to improve a vehicle's tire grip. But he points out these are mostly helpful to get a vehicle unstuck.
"A sock gives you a temporary solution to get you out of a situation,'' said Paul.