News and Reviews
Could a self-driving car ever work in New England's snow?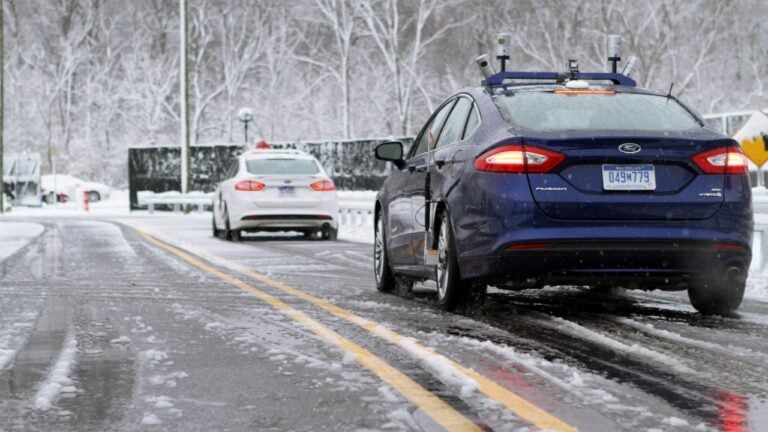 Self-driving cars have yet to become a reality. But when they do arrive, how will they handle less-than-perfect driving conditions like snow and ice? (Like, say, the kind coming to Boston this week.)
That's the question Ford Motor Company is currently investigating. Ford is putting its self-driving vehicle technology to the test in Mcity, a 32-acre artificial city environment located at the University of Michigan.
The goal is to see if autonomous vehicles understand what to do when roads are slippery and when street markings are hard to distinguish because they may be hidden by snow.
"It's one thing for a car to drive itself in perfect weather,'' Jim McBride, Ford technical leader for autonomous vehicles, said in a statement. "It's quite another to do so when the car's sensors can't see the road because it's covered in snow.''
With its winter condition tests, Ford seeks to distinguish itself from other major automakers and technology firms that have been conducting tests in dry, sunny weather.
"Weather isn't perfect, and that's why we're testing autonomous vehicles in wintry conditions – for the roughly 70 percent of U.S. residents who live in snowy regions,'' continued McBride.
To help navigate roads in wintry conditions, Ford is using LiDAR technology, a radar-like detection system that relies on pulses from laser light to create high-resolution 3D maps of its surroundings. These maps include key details like landmarks, road markings, street signs, and topography.
Ryan Eustice, an associate professor at University of Michigan College of Engineering who is working with Ford on its autonomous vehicles, explained how the system is intended to work.
"Maps developed by other companies don't always work in snow-covered landscapes,'' said Eustice in a statement. "The maps we created with Ford contain useful information about the 3D environment around the car, allowing the vehicle to localize even with a blanket of snow covering the ground.''
In other words, the vehicle first develops a map in good weather driving conditions. When the snow falls on the road, the vehicle detects above-ground markings like trees, street signs or traffic lights to correct its position. This can help the vehicle determine if it is in the correct lane "down to the centimeter,'' even if the lane markers are covered by snow.
"The vehicle's normal safety systems, like electronic stability control and traction control, which often are used on slippery winter roads, work in unison with the autonomous driving software,'' said McBride. "We eventually want our autonomous vehicles to detect deteriorating conditions, decide whether it's safe to keep driving, and if so, for how long.''
21 used cars you can get for $10,000 or less
[bdc-gallery id="1417336″]