News and Reviews
A revealing look at CEO Toyoda, Lexus —and year ahead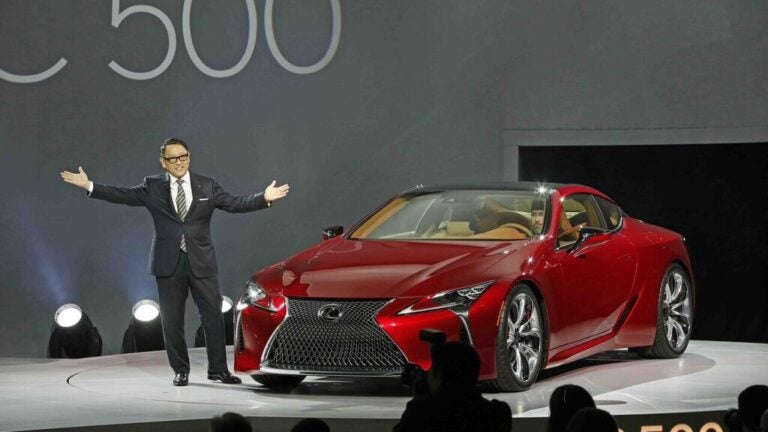 Reinventing yourself isn't easy.
That's why this is something of a shout out to Akio Toyoda, CEO and president of Toyota Motor Corporation.
English is a secondary language for him, even though he has an MBA from Babson.
What he did in making a rare appearance at Detroit's North American International Auto Show this week was impressive, showing both his car guy personality and pushing the Lexus brand's transition to a sportier image.
Toyoda could have sent any number of underlings to introduce a new Lexus. Instead, he made the trip, introduced the Lexus LC 500 coupe by himself, and turned out to be a standup guy.
Anyone who has been at a corporate press introduction (not at an auto show) for an Asian vehicle in the past knows there's a common protocol.
A North American executive starts the program, then turns it over to a series of homeland engineers and designers (exterior, interior, powertrain, design concept, infotainment).
It becomes an exercise in international politeness because very little important information is absorbed by the media because of the language barrier—unless it comes from the PowerPoint graphics.
Meanwhile, the media is waiting for the chance to actually drive the vehicle.
In Detroit, there would be no driving the vehicle, at least for the media horde.
The temptation had to be, "Let's skip this and stake out our space at the next news conference.''
That's when Mr. Toyoda took the stage alone, with a live audience, closed-circuit TV, and streaming video ready to document any mistakes.
He was informative, self-effacing, and charming.
Two of the best I've seen at coming to the U.S. and captivating us in our own language have been Red Sox Hall of Famer Pedro Martinez and Pope Francis.
Toyoda may not have been in their class, but in 12 minutes, he managed to persuade us via words and video that he really is a car guy who can drive on a test track, and that he took to heart the media's past criticism of Lexus as boring.
It would have been fascinating to be in the room with the American-Japanese culture clash as his creative team worked on both his speech and the accompanying graphics. Both were outstanding.
Toyoda's message was that he and Lexus listened when the concept LF-LC, sports coupe/hybrid was revealed in 2012 to critical acclaim.
He knew everyone said, "They'll never build it.''
He also emphasized that he listened to those comments about the Lexus brand.
The result: the LC 500 rear-wheel-drive flagship sports coupe that Lexus introduced in Detroit Monday.
It's got a 5.0-liter V-8, 10-speed automatic transmission, and cutting-edge design.
Toyoda said it was "sugoi,'' and then translated that—with a huge smile—as "awesome.''
He closed by saying that Toyoda "is my last name but Lexus now is my middle name.''
His goal now is to elevate the Lexus marque to compete with top European brands.
That may not happen in one giant leap, but it appears this is a big step forward.
The Year Ahead Colleague
Nicole Wakelin braved the weather, airlines, and media crowd to attend the Detroit show. She'll be writing about some significant introductions out there in next weekend's auto section.
Meanwhile, here are some of the vehicles we're interested in seeing, driving, and following in the coming year.
Story continues after gallery
Detroit Auto Show: The cars people are talking about
[bdc-gallery id="1429010″]
The Chrysler Pacifica: Interesting that FCA revived the Pacifica name, last used on a large SUV, for the new minivan that's somewhat disguised as an SUV. FCA design guru Ralph Gilles is an amazingly talented guy and seems to have reenergized the minivan segment.
Convertibles: Every time we head South, we're amazed at the number of Mustang and Toyota Solara convertibles on the roads. Now Buick (Cascada), Fiat (124 Spider), and Rover Evoque all will add droptops this year.
The Asian Pickup: Toyota has an impressive new Tacoma on the market but Nissan's aptly named Titan and a next-generation Honda Ridgeline are coming soon. If any can convince the American tradesman that these are acceptable, the truck landscape could change. And FCA chairman Sergio Marchionne promised a Jeep Wrangler-based pickup is "on the way.''
Hyundai's Elantra: The Honda Civic was just named North American Car of the Year, but the Hyundai people think you should look at their product, too, in the highly competitive compact segment.
The Prius: Honda captured this segment 15 years ago. Now, there are roughly 100 alt-fuel vehicles out there. They're all still taking aim at the Prius, which just took a big step forward.
Mercedes E-Class. Automakers sometimes seem to forget the vehicles that built their success. For Mercedes, the E-Class was one. The new one will be an important vehicle.
Jaguar XE and F-Pace: The Indian-owned automaker has found its high-end mojo with the F-Type coupe and convertible, two of the neatest vehicles I've ever driven. Now it tries to expand its reach by going down-market with this pair, an entry-level sedan and SUV.
Cadillac and Lincoln: They once dominated the premium market. Can the new Lincoln Continental and Cadillac CT6 recapture some of that glory?
The New Qs: What are these vehicles? Audi? Infiniti? Both, actually. Alphanumeric naming conventions sometimes remain confusing, at least in this corner. It can be hard to mentally categorize the Mercedes and BMW brands these days. As for the Qs, the Q7 is a large new Audi SUV. The Q30 is going to be a compact Infiniti hatchback, and the QX30 is a new Infiniti compact crossover.