News and Reviews
How you're supposed to navigate a traffic rotary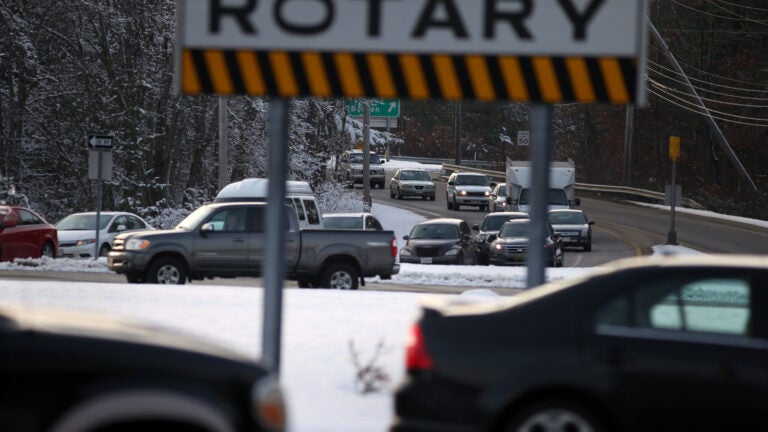 Driving around Boston can be intimidating. But every now and then you may run into a certain circular urban structure that takes scary to a whole new level.
We're talking about rotaries. In a rotary, traffic flows in a counterclockwise direction and can reach speeds of up to 35 mph.
Rotaries are one of three types of circular intersection used in the United States. The other two are roundabouts and traffic circles, both of which are normally smaller than rotaries. All of them are designed to keep traffic moving at a safe pace, without halting completely.
"In theory, traffic never has to come to a stop,'' said John Paul, senior manager for traffic safety for AAA Northeast and the "Car Doctor'' for Boston.com. Paul teaches driving technique for AAA Northeast and says he sees his students make common mistakes when they enter rotaries, usually out of panic.
"To some people it feels like they're trying to step on and off a moving carousel,'' said Paul.
But he says drivers who keep a cool head and approach the rotary delicately should be able to maneuver it just fine.
"There's no reason to be afraid of a rotary,'' said Paul. "Just be a little cautious as you enter the roadway.''
Paul recommends drivers take some simple steps in order to get in and out of rotaries with as little hassle as possible.
Yield means slow down, stop if you have to
When entering a rotary, most motorists will notice a yield sign at the entering lane.
But the drivers who don't notice or ignore the yield sign are putting themselves and other drivers at risk, says Paul.
"The biggest mistake most drivers make is they're not yielding to traffic already in the rotary,'' he said. "Always yield to traffic in a rotary. That's the definition of yield, to slow down or stop if necessary.''
Remember that vehicles that are already in the rotary have the right of way. Once they have driven by, it's your turn to enter the rotary.
Use yah blinkah!
This has become a catch phrase on Massachusetts roadways over the past year. But it's still an important piece of advice. Failing to use a blinker is the second biggest mistake a motorist can make in a rotary, says Paul.
"As people try to navigate a rotary, they forget they should be using turn signals,'' said Paul. "Turn signals help a lot because they allow people entering or leaving to know what you plan to do.''
Stay visible
Making sure your car can be seen by others is the key to staying safe, says Paul. That's why he recommends using headlights when navigating a rotary – or any other situation, for that matter.
"Your car will always be safer with the headlights on,'' said Paul. "They make the car more visible.''
Go around again if necessary
[fragment number=0]
Bear in mind, some rotaries have multiple lanes, which could put traffic on either side of your vehicle. When this happens, only move out of your lane when it is safe to do so.
Paul says it's important for motorists not to get frustrated or make aggressive moves if they're about to miss their exit. After all, it's easy enough to fix.
"If you miss it, stay in [the rotary] and go around one more time,'' said Paul. Just hope you don't end up like the Griswolds.