News and Reviews
Chrysler's 200C AWD V6 loves winter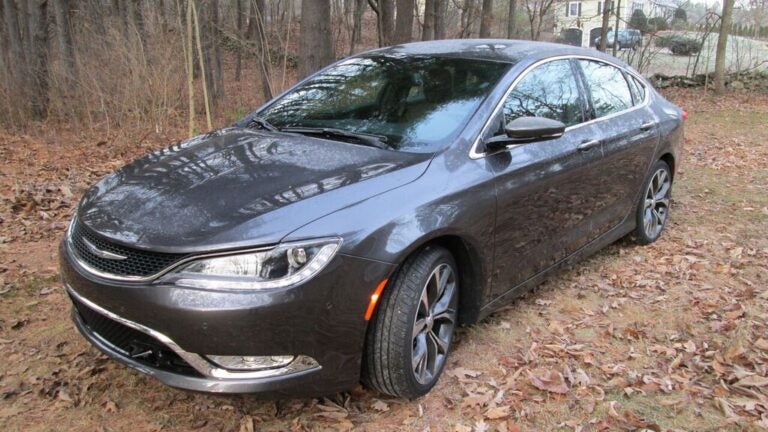 The cold has finally arrived and we are looking forward to driving cars that love winter. We recently drove one that seems to fit that category—the 2016 Chrysler 200C AWD V6 sports sedan. Until recently, I never would have thought of the Chrysler 200 as a performance automobile. That changed in 2015 when the all-new Chrysler 200 was rolled out. The 200C also taps into strong sports sedan DNA via Fiat. That's because Fiat now owns Chrysler, along with Ferrari, Alfa Romeo, Maserati, and Lancia.
Our 2016 Chrysler had a 3.6 liter V6 engine that produces 295 hp and 262 lb.-ft. of torque. The engine is mated to a 9-speed automatic transmission with steering wheel paddle shifters. Our good looking test vehicle wore a coat of Granite Crystal metallic paint. The interior was trimmed in black and a deep mocha colored premium leather.
Put your foot into the 200C's V6 and it goes. I was also pleasantly surprised with the aggressive exhaust tuning of the V6. Not too loud, just enough to make rowing through all 9-gears a lot of fun. Shifts in either manual or automatic mode were quick and precise. The 200C felt equally at home on the interstate and winding back roads. The heavy duty anti-lock 4-wheel braking system pulled the Chrysler down quickly with no drama. The ride was firm, but not harsh. Again, very European in the way it was crafted.
When the snow is flying, the 200C's AWD will keep you going. It also gets a helping assist from the standard electronic stability and traction control systems. Another welcome feature on a sub-zero morning is the remote start system. Just click the remote start button on your car's key fob, and sit back to enjoy another cup of coffee. Soon, you can walk out to a car that is toasty warm and all its windows are defrosted. Even your seat and steering wheel will be warm to the touch. Just the right way to start to a cold, snowy day.
Some of the 200C's other options can help when visibility is poor and traffic is chaotic. These include the blind spot, cross path, auto dimming headlamps, and rain sensing wipers systems. All these lessen driver distraction, and lead to better concentration on the road ahead.
The optional navigation and sound group included SiriusXM Travel Link. It provides detailed weather maps, local forecasts, and severe weather alerts that update as you drive. Part of the package was SiriusXM Traffic, which gives you accident locations, traffic flow, average speeds, road construction, and more. The information is presented verbally and on screen.
Story continues after gallery
Chrysler 200 and other safest cars of 2016
[bdc-gallery id="1431181″]
Even with all this technology, winter driving can be stressful. You never know what the other driver will do. So, some soothing music from the optional Alpine sound system with its 506-watt amplifier might be a good thing. The Chrysler's cabin had nine speakers and a subwoofer. Along with the SiriusXM satellite radio, the Alpine system is HD Radio-capable, too. Another standard feature was Chrysler's Integrated Voice Command and Bluetooth system. No need to take your eyes off the road to tune a channel or make a phone call. Also, it prevents you from getting a ticket in areas that mandate hands-free calling.
Although the Chrysler 200C has a sporty nature, it's not just for fun. The car's trunk capacity is 16 cubic feet, and the rear seat backs fold down to increase carrying capacity. This feature came in handy while helping a family member move. Also, the car's EPA-rated 22 mpg combined average is not bad for a sports sedan.
The Chrysler 200 has four trim levels, but only the 200S and 200C have AWD. Both trim packages offer a choice of either the V6 or a 2.4L I-4 engine.
This car won't out drag the Dodge Charger R/T Scat Pack. However, I found the 200C's ride smoother and quieter than the Scat Pack. The 200C takes a more balanced approach to performance. It's great for blowing off the cobwebs after a rough day at the office but well appointed and comfortable enough for a long trip. Plus, I doubt that you could tame the Scat Pack enough to drive it in the snow. Moreover, the 200C offers performance that is usable 365 days a year, even in New England.
In my fantasy garage I would have the Dodge Charger R/T Scat Pack and the Chrysler 200C. Heck, it's a fantasy garage, so I'll toss in the Viper and a 707 hp Dodge Challenger SRT Hellcat, too. It would be hard to choose which one to drive on a beautiful summer's day. But, I know which one heads out the door as the first snowflakes start to fall.
2016 Chrysler 200C AWD Sedan
THE BASICS
Base price: $31,640. As tested: $37,410, including destination. EPA estimated 18 city/29 highway/22 combined. Drivetrain: 3.6 liter, 24-valve V6, 9-speed shiftable automatic.
THE SPECIFICS
Horsepower: 295 @ 6,350 rpm. Torque: 262 lb.-ft. @ 4,250 rpm. Wheelbase: 108 in. Height: 54.9 in. Width: 73.6 in. Curb weight: 3,473 lbs.
THE GOOD
Fun to drive, AWD, and good performance-oriented DNA.
THE BAD
Not a big fan of the rotary transmission shift knob.
THE BOTTOM LINE
Fun to drive, smooth ride, good looking, nicely appointed.
ALSO CONSIDER
Many choices both domestic and foreign