News and Reviews
50th anniversary Mustang is just as good as the original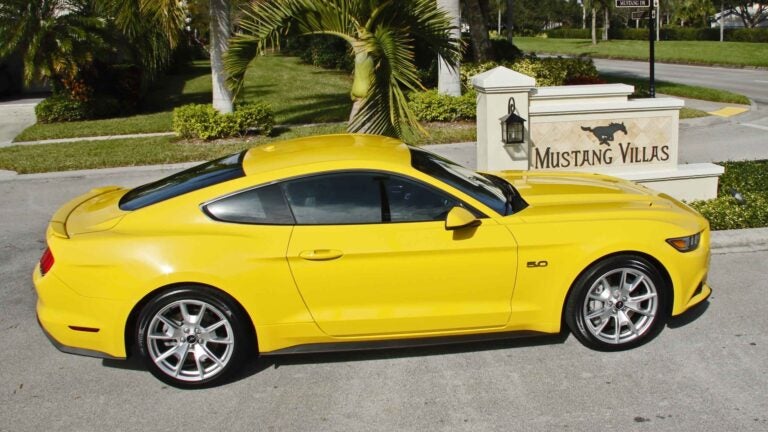 Here's a conundrum for you. Staring me in the face is a laptop screen and a deadline to write this review of the 2015 Mustang Fastback GT with a 50th anniversary package.
Just outside my window is that selfsame Mustang, one I've been driving around town for the past six days.
The temptation is overwhelming to grab the keys, shut down the laptop, and go cruising. This Mustang is THAT much fun to drive.
And that, my friends, could be a review of this Mustang in a nutshell.
Ford got it right when it built the first 1964½ Mustang, and it's gotten it right again a half-century later.
Those first Mustangs were iconic, establishing the muscle car market in the same way the Jeep Wrangler has been the standard for off-roaders and Chrysler's first minivans invented that market segment.
It was nice when Ford played on nostalgia and returned to Mustang's traditional look when it rolled out the fifth generation as a 2005 model, but the company now has upgraded that vehicle to contemporary standards with this sixth-gen version.
Our test car was about as nice as you can order at a $43,590 price (including $825 destination charge).
The starting price of $36,925 included the 5.0-liter V-8 and six-speed manual transmission. Functional features include the Ford Sync/MyFord Touch infotainment system, keyless entry with a neat start/stop push-button, selectable drive modes (normal, sport+, track, comfort), line lock (launch control), and rearview camera with backing-up guidelines.
Story continues after gallery
Get a closer look at the Ford Mustang GT Fastback Coupe
[bdc-gallery id="1423121″]
Options included the aptly named Shaker audio system ($1,795), striking triple yellow tricoat paint ($495), enhanced security system ($395), adaptive cruise control ($1,195), reverse park assist ($295), voice-activated navigation ($795), and a $1,595 50th anniversary package. That adds 19-inch nickel luster wheels and W-rated tires (168 mph-capable), and special seat, trim, and mat designations.
While there's a 50th anniversary plaque on the dashboard, the true anniversary edition vehicles are painted in the traditional Mustang Wimbledon White or Kona Blue. Our Triple Yellow, however, transformed the Mustang's head-turning looks into certified look-at-me status.
Ford has done a superb job of keeping a traditional Mustang look on the leather interior while seamlessly incorporating all the latest technology without winding up with confined-space clutter.
The Sync/MyFord touch screen at the top of the center stack takes care of audio, phone, navigation, and climate displays with a thin row of audio knobs and buttons below, a simplified climate control below that, and, at the base, the start/stop button and levers for hazard lights, steering, and performance modes.
Originally, Mustangs had an accentuated dual cockpit-style dashboard. Ford now has designed a much more modern version with chromed accents. They've even been able to integrate ambient lighting into the package with easy-to-access power outlets.
This sixth-generation Mustang is a bit lower and wider than its immediate predecessor. The shark-gill running lights, squashed version of the trapezoidal grille, and projector headlamps contribute to that horizontal look.
In back, Mustang keeps its sequential (LED) taillights, but the big news is under the body. Gone is the traditional solid rear axle in favor of rear independent suspension.
The car feels solid and predictable (and fast) on the road. The rearview camera is sharp and combines nicely with the rear parking assist to make parallel parking pretty painless. Blind spot alert, cross-traffic alert, and adaptive cruise control help with safety all around the vehicle.
More than a year ago, when Ford was introducing this Mustang, they gave me one of those difficult choices: I could take either GT or the EcoBoost version to review.
My first reaction was simple: Take the 5.0-liter GT. But, upon further thought, I opted for the EcoBoost. That review ran a year ago in December.
I liked that car a lot, and it felt lighter and more nimble than the GT.
But it didn't have the GT's growl and raw power.
Driving around town in, shall we say, a spirited fashion, the GT got 13.7 miles per gallon of the recommended premium fuel. It's rated at 15 city, 25 highway, and 19 combined.
We filled the tank for a 230-mile round trip to Sarasota with the idea of seeing if a more sedate driving style would change the fuel economy; however, we didn't reset the meter so we watched as the mpg readout—and a hypermiling driving style—gradually got the meter as high as 25.7 on the return trip.
For the full week, it wound up reading 21.7 mpg.
In our travels we stopped by the Grand Lely Resort in Naples, Floriday, because the park at its entrance has five Mustang statues with the horses in full gallop. Unfortunately, there was no positioning our Mustang amidst them for a photo op without driving through flower beds.
We'd love to see how many clowns a circus act could cram into this fastback, which is rated as a four-passenger vehicle, but in reality it has pretty much of a package shelf for a back seat.
Also, while there's plenty of room for front-seat passengers and adequate trunk space, the traditional exterior styling takes precedence over maximizing cabin roominess.
But the bottom line is that this Mustang is a joy to drive in the present and one to hold onto for the future.
2015 Mustang GT Fastback Coupe
THE BASICS
Price, base/as tested (with destination): $36,925/$43,490. Fuel economy, EPA estimated: 15 city/25 highway/19 combined. Fuel economy, Globe observed: 21.7. Drivetrain: 5.0-liter V-8, 6-speed manual transmission, rear-wheel-drive. Body: 2-door, 4-passenger coupe.
THE SPECIFICS
Horsepower: 435. Torque: 400 lb.-ft. Overall length: 188.3 in. Wheelbase: 107.1 in. Height: 54.4 in. Width: 75.4 in. Curb weight: 3,705 lbs.
THE GOOD
Head-turning styling, three solid powertrains, quality interior, built-in fun factor.
THE BAD
The rear seat is a concession to making the rest of the styling package work; front seats may not be comfortable for a long drive.
THE BOTTOM LINE
A joy to drive today; perhaps a collectible tomorrow.
ALSO CONSIDER
Normally, this is the spot to mention the Chevrolet Camaro, Dodge Challenger, and Dodge Charger, but we're adding mention of a vintage Mustang, too. However, you'll find the new one is much more fun to drive.