News and Reviews
Avoiding potholes; On dependability; Ford in Legoland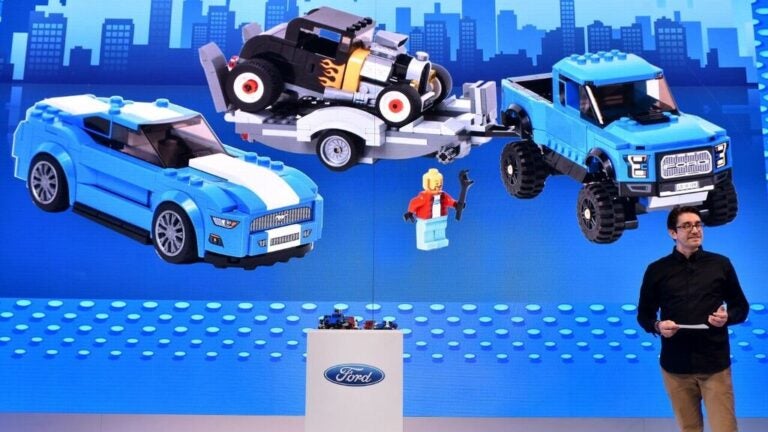 Avoiding potholes is one of those exercises that keeps you alert on our roads these days.
As an example, we were driving on a dark secondary road on the North Shore last Saturday. It was just after the four-inch dusting of snow we got the day before.
When the headlights picked up what appeared to be a medium-size puddle a few feet ahead, the computer between my ears tried to react, but that internal processor was just too slow.
I tried to swerve. Too late.
Wham! The right front tire slammed into the pothole. It felt as if we'd hit an automotive black hole—call it the La Brea Tire Pit. The experience led to two unrelated thoughts.
I made a mental note to look up a recent Ford news release that claimed it had developed a pothole avoidance technology that was available in certain new Fusions.
Second, I wondered if the coming fleets of self-driving cars would be able to drive a tightrope over Massachusetts' roads and avoid such obstacles.
We were lucky to escape our bump in the dark with no visible tire or wheel damage. Not everyone is so fortunate. Ford estimates that pothole damage costs US drivers approximately $3 million each year.
And it's not limited to northern climes. During our recent stay in Florida, pothole complaints, including wheel, tire, suspension, and body damage, were a major story on the local TV news. Imagine if the Sunshine State's roads had to deal with our freeze-melt cycles of pothole creation.
Actually, I'd rather deal with potholes than wondering if my home or car was going to be swallowed by one of their sinkholes.
In checking back with Ford, my memory wasn't quite accurate. They'd developed a pothole softening system, not an avoidance technology.
The item I'd remembered reading said, "While it's impossible to miss all potholes, Ford engineers have developed an advanced computer-controlled shock absorber system for the all-new Fusion V-6 Sport, a 2017 model year vehicle.''
"The new Fusion V-6 Sport substantially reduces the harsh impact potholes often deliver,'' says Jason Michener, who works on Ford's controlled suspension damping. "Our new pothole mitigation technology works by actually detecting potholes and catching the car's wheel before it has a chance to drop all the way into the pothole.''
Michener says Fusion's onboard computers analyze signals from 12 high-resolution sensors, adjusting the dampers every 2 milliseconds. (Side note: Is that faster than my human brain?). Because the front tire doesn't fall as far into the pothole, it doesn't strike the opposite side as harshly and the system allows the rear suspension to respond even faster to protect the rear wheel.
"We tested and tuned this system by driving over countless potholes at our Romeo (Mich.) Proving Grounds to fine tune the software,'' says Michener. "It was long hours of not very pleasant work, but he results are well worth it.''
If we want to complain about Boston's roads, we should consider Ford's Lommel Proving Ground in Belgium, which has replicated the worst road conditions from 25 countries: Brazilian speed bumps (they send you airborne), Parisian cobblestones, Russian frost heaves, Asian monsoon-season ruts, German potholes, and a variety of desert-like washboard surfaces.
Maybe those pothole patching teams causing traffic delays on our local highways each spring aren't such a bad thing after all.
Vehicle Dependability
It used to be that rating a vehicle's dependability focused on how well the engine runs, how smoothly the transmission shifts, and things like tire and brake wear, rustproofing, and wind and road noise in the cabin.
The landscape is different today. When J.D. Power released its 2016 US Vehicle Dependability Study last month, consumers' main issues were with what the company calls ACEN—audio, communication, entertainment, and navigation systems.
The issues account for 20 percent of consumer complaints and is the cause of a 3 percent increase in 2016 vehicle problems over the 2015 study.
Story continues after gallery
J.D. Power's most dependable vehicle brands
[bdc-gallery id="1429514″]
"Usability problems that consumers reported in their first 90 days of ownership still bother them three years later. At the same time, the penetration of these features has increased year over year,'' says Renee Stephens, vice president of US automotive at J.D. Power, which has been conducting the study for 27 years.
"Right now, if consumers can't rely on their vehicle to connect to their smartphone or have faith that their navigation system will route them to their destination, they're certainly not yet ready to trust that autonomous technology will keep their vehicle out of a ditch,'' she says.
The 2016 industry average is 153 problems per 100 vehicles (approximately 1.5 issues per vehicle), up from 147 last year.
Lexus (95 problems per 100 vehicles) tops the ratings for the fifth straight year. Porsche (97) is second, followed by Buick (106), Toyota (113) and GMC (120).
Magnetic Personality
A sure sign of spring: Sullivan Tire locations are offering a magnetic 2016 Red Sox schedule featuring its long-time pitchman Dustin Pedroia. They're free at Sullivan's 60-plus locations while supplies last.
Ford in Legoland
A lot of us would love to have a customized new Ford Mustang or F-150 Raptor pickup truck. Others would love a Model A hot rod. Unfortunately, they're out of our price range.
It seems even a toy version is pricey, too, as Ford and LEGO have partnered to offer a pair of kits.
A 664-piece F-150 Raptor sets sells for $49.99, with the truck, garage, trailer, Model A hot rod, a pit crew, and drag-rating Christmas tree lights.
The Mustang kit has 185 pieces with the car, a driver, and pit-crew time board.
As cool as the Ford connection is, the Lego rebound from the verge of extinction a decade ago is equally impressive.