News and Reviews
Mitsubishi Outlander Sport GT 2.4 mostly hits the target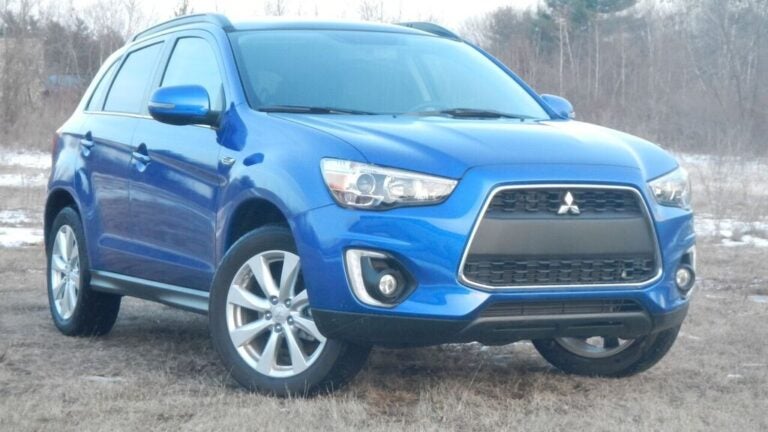 You might have heard this strategy before. A foreign automaker, looking to establish market share with a new or freshened ride, offers more standardized equipment than the field, tosses in a few more goodies, and secures a buyer's peace of mind with an iron-clad cover-everything warranty.
It is the little SUV that's a dark horse, sold on value, a 10-year warranty, and priced to make it rise above the first-shopped offerings from those other import automakers.
It's Mitsubishi, trying to regain SUV market share with the tested Outlander Sport Crossover Utility Vehicle, arguably the hottest segment in the marketplace today.
Mitsu fans will recall this isn't the automaker's first time in the compact SUV segment. They offered a rebadged Dodge Raider as a Mitsubishi Montero. (They had previously established a similar model, the Dodge Colt compact, which was a rebranded Mitsubishi, beginning in the 1970s).
The tested 2015 Mitsubishi Outlander Sport GT 2.4 is found with two new trim levels: a 2.4 ES and 2.4 GT that are powered by a beefier engine and are capable, cute, compact SUVs that have the goods but hit the mainstream on the value equation to maintain market share.
Full of all the electronic goodies one expects into today's mobilized world, it has 20 more horses over the previous 2.0 engine to beef up its MIVEC 2.4-liter, 4-cylinder engine output to 168 horsepower and almost as much torque. However, it's matched to a continuous variable transmission, or CVT, that keeps it from being sporty and having the bonafides to wear a GT badge.
Around town, the Mitsubishi performs well, with its short body, high seating position, and greenhouse, making views and parking in tight city spots a snap. With its rounded backside, four doors, and rear hatch, it's not dissimilar from many other offerings until you notice its pug-faced fascia and grille.
The engine reasonably sips gas, but there's the rub. Even though the Sport comes with F1-styled paddle shifters, when pressed to pass or assume high-speed duty on major highways, the engine doth protest too much. It's not engineered for such and its complaining reminds you quite often how hard it's laboring to amass momentum.
On the inside, the fit and finish is beyond expectations, and underscores Mitsubishi's care to upgrade the interior. The tall-backed front buckets are well-bolstered and supportive. Three can fit in the back but the middle of the 60-40 split-folding rear seat spot is similar to the one we all tried to avoid as children.
There's a raft of techno goodies and 6.1-inch touch screen, a 710 watt Rockford Fosgate stereo with nine speakers, and a subwoofer that's built into the rear sidewall as part of the GT Touring Package ($4,650), which cuts into some rear cargo room.
Credit goes to Mitsubishi's not giving all of its controls over to the touch screen experience of today's tablet. They kept large knobs for climate control, radio volume, and tuning as well as simple switches to access the most common comforts.
Despite its aerodynamic shape, the Outlander GT didn't go quietly through that good night or day. Wind and road noise were prevalent and became disconcerting given that Mitsubishi says it employed thicker glass and rear quarter panel sound insulation to quell what the industry calls noise, vibration, and harshness to create a quiet interior cabin.
In routine driving, the ride on 18-inch tires was compliant. The SUV sits upon MacPherson front struts and a rear multi-link system that both employ stabilizer bars. A ground clearance of 8.5 inches ensures you'll clear most obstacles.
Story continues after gallery
KBB's 10 best SUVs under $25,000
[bdc-gallery id="1424268″]
Safety is paramount in any vehicle, and the Outlander Sport was named a top safety pick by the Insurance Institute for Highway Safety (IIHS). The SUV has seven air bags, driver's side knee air bag, ABS braking system with Electronic Brake-force Distribution and Brake Assist, Hill Start Assist, Active Stability Control with Traction Control Logic, Tire Pressure Monitoring System, and patented Reinforced Impact Safety Evolution (RISE) body/chassis construction technology that helps absorb and/or dissipate energy in the event of a collision to protect the vehicle's occupants.
For all this, the 2015 edition got the KBB.com nod for overall value.
If you're in the market for a compact crossover SUV, you've got a lot of choices. A few years ago, this Outlander Sport would have been smack in the middle of the madness. It's well appointed and equipped but still needs to hustle to catch up to the others that have pulled ahead of the pack.
Still, based on its warranty, pricing, and dark horse nature, it could be the one for you.
2015 Mitsubishi Sport GT 2.4
THE BASICS
Base price: $24,995, as tested: $29,645. Economy: 23 city/26 combined/24 highway. Globe Observed: 27.57 mpgs.
THE SPECIFICS
Horsepower: 168 @ 6000 rpm. Torque: 167 lb.-ft. @ 4,200 rpm. Overall length: 169.1 in. Wheelbase: 105.1 in. Height: 64.2 in. Width: 69.7 in. Curb weight: 3,252 lbs.
THE GOOD
Fuel economy, styling, maneuverability, spare tire.
THE BAD
Underpowered, wind noise, slow shifting transmission, front grille.
THE BOTTOM LINE
This Outlander Sport would have been a solid contender…five years ago. Despite 20 extra horses under the hood, this offering trails mainstream competitors, but price and a great warranty make this an attractive alternative purchase.