News and Reviews
Why I love my car: Aerosmith's Joey Kramer on driving his 'outrageous' Lamborghini
After a long time on the road, he loves getting back in the saddle by driving his Lamborghini Huracán.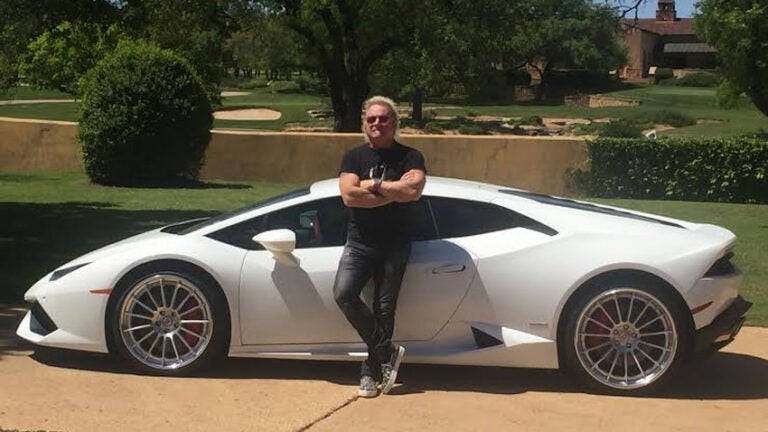 As a member of one of Boston's most iconic rock and roll bands, Aerosmith drummer Joey Kramer has spent plenty of time stuck on a tour bus. But when his time on the road wraps up, he relishes the chance to get back in the saddle and drive one of his own cars and drive himself around.
"It's the greatest thing in the world,'' Kramer told Boston.com. "After six weeks on the road it's like having the car brand new again.''
When he gets the chance to drive, Kramer has several high-end cars to choose from, including a Ferrari 458 Spider and several Mercedes-Benzes.
But Kramer told Boston.com that his favorite car to drive is a 2015 Lamborghini Huracán. Kramer says he drives the Lambo every day when he's back at his home in Texas.
In a phone interview, Kramer said his pattern is to get a new car once a year and drive it exclusively for a year. So far, he's managed to put about 10,000 miles on the Huracán and says the driving experience is as thrilling as driving his Ferrari 458.
"I love driving that car too, but there's something about the Lambo that's really exciting and that [feeling] never dies when I get in it,'' said Kramer. What does he mean by "exciting''? Kramer explained to Boston.com everything he loves about the Huracán.
"It looks, hands down, more aggressive and sexier than any other car I've seen,'' he said. "The shape is exciting to look at. On the inside, I love the interior, the detail of it. And the way it handles is incomparable to anything else.''
As someone with more than a few exotic vehicles in his collection, Kramer has a strong sense of what a supercar like the Huracán should deliver. He's previously driven a Lamborghini Gallardo and says the Huracán is a vast improvement.
"Although the Gallardo drives good, the Huracán is miles ahead of it,'' said Kramer. "It's a totally different animal. A much better car that's better built, better balanced and looks better.''
Fortunately for him, the Lone Star state offers roadways with five to six lanes that make driving a Lamborghini Huracán plenty of fun. Kramer says he can drive the Huracán at speeds of about 80 mph in Texas.
"The roads in Texas are set up to drive a car like that,'' said Kramer. "There are overpasses that go over highways that are way, way sharp left handers and right handers and are really fun to drive.''
Unfortunately, he can't say the same about driving in Boston.
"The roads in Boston suck,'' he said. "Highways included. There are potholes and bumps all over the place. It's not a fun place to drive.''
But for a musician known for "Livin' On The Edge'' Kramer said he also feels safe driving the Huracán. He's visited the Lamborghini factory in Italy and after seeing the vehicles assembled by hand he feels confident in the level of safety they offer.
"That's what's important to me,'' said Kramer. "Safety first and foremost.''
Kramer has very good reason to make safety a top priority. In 1998, he narrowly survived when a gas pump at a full-service station in Scituate came loose and his Ferrari burst into flames. He managed to escape the flaming car with second-degree burns.
Kramer emphasized that he does not blame the incident on the Ferrari. But the near-death experience stays with him every day.
"It was a very traumatic experience,'' said Kramer, who said he now avoids full-service stations. "Not a time goes by that I don't think about that.''
Despite his harrowing experience, Kramer remains deeply fond of the Ferrari brand, particularly for its racing history. He has plans to get behind the wheel of a Ferrari 488 when it becomes available. But his time behind the wheel of a Huracán has impressed him.
"I've always wished Lamborghini would build outrageous cars,'' he said. "The Huracán is the most outrageous they've come out with so far.''
Scenes from the Lamborghini Huracán's Boston debut in 2014
[bdc-gallery id="1421578″]