News and Reviews
Many cars take a bow at New York Auto Show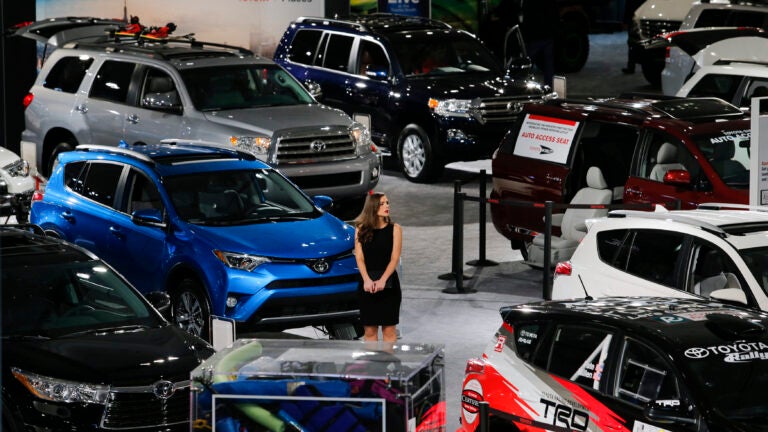 This year's New York International Auto Show featured plenty of debuts. There were small sports cars, big SUVs, and fuel-efficient hybrids to offer something for every buyer. Here are the cars that made the biggest impressions and had everyone wanting to get behind the wheel.
2017 Mazda MX-5 Miata RF
The Mazda MX-5 Miata already had stolen everyone's heart when the 4th generation of the iconic soft-top arrived for 2016. The story continues with the introduction of the 2017 Mazda MX-5 Miata RF with its retractable hardtop. Rumors had Mazda introducing a coupe for the show, but they split the difference with their hard-top convertible.
It features the same 2.0-liter SKYACTIV engine that's found in the soft-top and a choice of either a 6-speed manual or 6-speed automatic transmission. The top can be opened or closed with the press of a button at speeds up to 6 mph. Despite the hardtop, this version of the MX-5 has the same trunk space as the soft-top model and looks equally as fun.
2017 Toyota Prius Prime
The big name in hybrids has long been Toyota and the company stepped up its game with its latest Prius variant. This is an ultra-efficient, plug-in Prius with an estimated 120 mpg/e that will be available across the US. Though it's a Prius, its looks are different from the rest of the lineup.
In addition to a more efficient drivetrain than the previous plug-in Prius, the new Prius Prime has double the electric range. It can travel 22 miles at speeds up to 84 mph without using the gas engine at all. This covers the average commute of more than half of US drivers. Total driving range with a full tank and a full charge is 600 miles.
2017 Hyundai Ioniq
Hyundai introduced its own hybrid in New York, the Ioniq. It's the first car that comes with three different electric powertrains on one platform. The Ioniq is available as a hybrid, plug-in hybrid, and pure electric car. It's the eco-friendly option designed to appeal to every buyer.
The hybrid and plug-in hybrid feature a 1.6-liter direct-injected 4-cylinder engine with 104 horsepower. It was specially developed for use in hybrid applications and is paired with an electric motor that adds an additional 43 horsepower. The pure electric runs on a 28kWh lithium-ion polymer battery with a range of 110 miles. The Ioniq comes in a stylish package that looks more like an elegant sedan than a eco-friendly gas sipper.
2017 Nissan GT-R
The GT-R has legions of rabid fans and they won't be disappointed by the newest version of their beloved car. It starts with 565 horsepower, which is a 20-horsepower increase over the outgoing model. There's a new Titanium exhaust system with active noise cancellation and active sound enhancement and acoustic glass to keep the cabin quiet.
A larger grille improves engine cooling and a redesigned and reinforced hood improves stability. The interior features upgrades like Nappa leather, more comfortable seating, and a more simplified layout with fewer switches. They've even relocated the paddle shifters to the steering wheel to make it easier to change gears while turning. Updated styling and improved performance are sure to appeal to the driving enthusiast.
Audi R8 Spyder
It's not an auto show without a little supercar, so Audi brought the new R8 Spyder. It comes with a 5.2-liter V10 and a 7-speed dual-clutch transmission. That engine provides 540 horsepower to play with and a 0-62 mph time of 3.6 seconds. Top speed is 197 mph, which means it's time to find a track and let it loose.
The soft-top roof can be operated at speeds up to 31 mph and takes 20 seconds to open or close. In true supercar fashion, there are aluminum and carbon fiber components to keep the weight down and make the most of the R8 Spyder's powerful engine. Spring is just around the corner, making it the perfect time to think about dropping the top and having a little fun.
Concept Cars
Concept vehicles are special because they don't show off cars that will be produced, but rather the design elements a company is hoping to use on future models. There were two models at the show that caught our eye.
Lincoln Navigator Concept
The Lincoln Navigator concept showcased the style, elegance, and outright luxury Lincoln hopes to build into its brand.
Gull-wing doors normally come on supercars, but Lincoln was bold enough to put them on its SUV. They open to reveal a plush interior with teak accents and steps that fold out to make it easy to climb inside. It includes a 400-horsepower engine, headrest monitors for the second and third rows, and safety features like pre-collision assist and pedestrian detection. It's a beautiful vision of the automotive future.
Genesis New York Concept
The Genesis previews a new luxury brand made by Hyundai. It's risky business introducing a new car and even more so introducing a whole brand. The Genesis New York concept had to make an impression and it succeeded.
This is a hybrid sedan with an 8-speed automatic transmission and sleek, sporty styling that demands attention. The interior looks like something out of a sci-fi flick with a huge dashboard touch screen and a steering wheel lifted out of an F1 car. If this is a sign of things to come, then Genesis is the luxury brand to watch.