News and Reviews
Massachusetts drivers beat New Yorkers in a safe-driving competition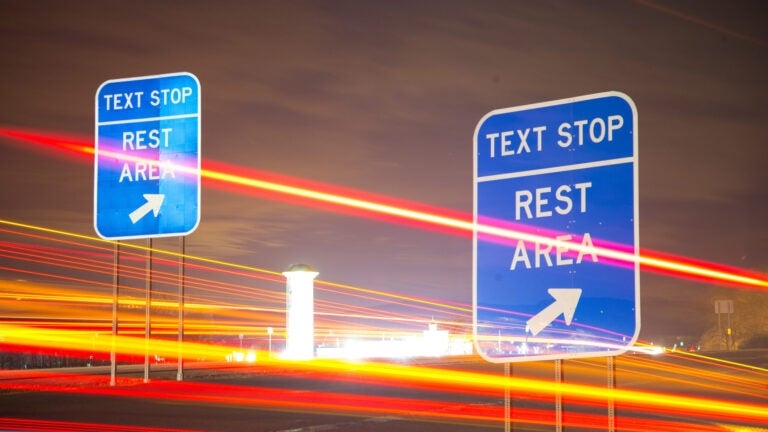 Massachusetts residents can add another victory to hold over their New York rivals.
Back in April, insurance marketplace EverQuote launched a contest to determine which state had the safer drivers. During a two-week period in June drivers in both states were asked to drive using the company's EverDrive app, which measures driving habits, for a chance to win cash prizes and bragging rights.
Now the results are in and Massachusetts motorists can officially claim victory.
According to the results of the Safe Driving Challenge, Bay State motorists have a "slight edge'' in safe driving habits over their Empire State counterparts. Massachusetts drivers averaged a score of 76, narrowly beating New York drivers, who averaged a score of 74.
According to data provided by EverQuote, North Reading is the safest Massachusetts city to drive in with an average score of 81. Meanwhile, Boston is the most dangerous city with an average score of 70.
The Safe Driving Challenge occurred from June 12 to June 25. According to a spokesperson for EverDrive, drivers in both states drove 4.5 million miles and logged 420,000 trips during this time.
The EverDrive app was developed by EverQuote and Cambridge Mobile Telematics. The app measures driving habits including speeding, braking, acceleration and phone usage while operating a vehicle.
EverQuote says consistent users saw phone use drop by 37 percent and a 30 percent improvement in speeding, braking, acceleration and cornering by the end of the competition.
Massachusetts wins, but there's room for improvement
But while Massachusetts drivers managed to pull ahead of New York drivers for safe driving habits, both states placed among the bottom 15 states nationwide.
Data from EverQuote found Massachusetts drivers have a tendency to be lead-footed and drive at least 10 or more miles per hour over the posted speed limit. Half of trips in Massachusetts during the challenge recorded speeding incidents, with an average of 2.5 speeding incidents per trip.
Thirty percent of all trips included the use of a phone, which made Massachusetts the No. 19 worst offender in the country, according to EverQuote.
Medford man wins top prize
In addition to beating New York in the state-to-state competition, Massachusetts is home to the winner of the EverDrive Safe Driving Challenge's top prize of $10,000.
David Bentley of Medford recorded a perfect score during the two-week challenge and boasts a driving score that is 30 points greater than the average driver in either state.
In a phone call with Boston.com, Bentley said he had a very good reason for downloading the app and participating in the contest. A few months ago he was involved in a fender-bender with a truck because he was distracted by his smartphone. He had to pay about $1,000 out of his own pocket for the damage.
"It was entirely my own fault because I was texting while driving,'' said Bentley in a phone call. "I needed to nip that in the bud, talking on the phone.''
In April, he first learned about the EverDrive app and downloaded it to his phone. He took special care to watch his driving habits leading up to the two-week skills-based challenge in June.
"It feels absolutely wonderful [to win],'' said Bentley. "I feel I've earned it because I was focused so intently for so long on the app.''
EverQuote also awarded smaller cash prizes to the safest drivers in several towns and cities in both states.