Politics
Massachusetts could finally pass a hands-free driving law. Here's what it would do.
Lawmakers filed a compromise bill Monday.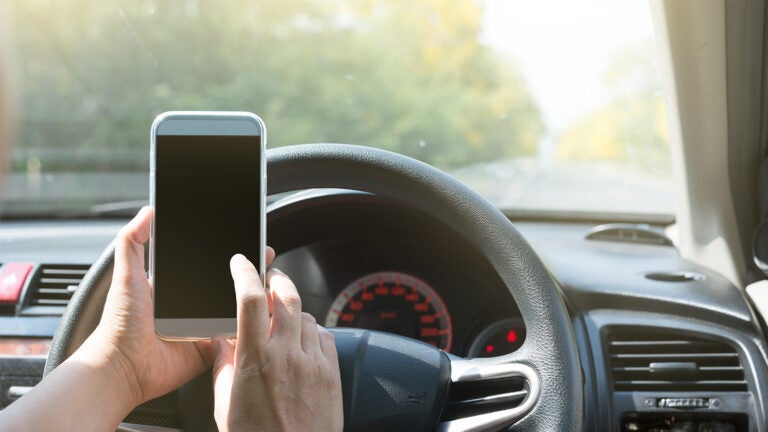 This past summer, Maine became the fifth state in New England to ban drivers from using hand-held phones, leaving Massachusetts as the only state in the region without a so-called "hands-free driving" law.
But that could soon change.
After years of stalled debate and with just a few days left in this year's legislative session, a group of state lawmakers filed a bill Monday requiring any cellphone use while driving to be hands-free in Massachusetts. Produced by a House-Senate conference committee, the compromise bill comes after the House and Senate overwhelmingly passed differing versions earlier this year, as legislators weighed concerns about both distracted driving and racial profiling.
According to the National Conference of State Legislatures, 20 other states across the country already prohibit drivers from using hand-held cellphones.
Gov. Charlie Baker — who came out in support of a hands-free law in 2017 and filed his own proposal in January — "will carefully review any legislation that reaches his desk," according to his office. With a final round of votes impending, the new bill could be there as soon as this week.
What does the legislation outlaw?
Massachusetts currently bans texting while driving and prohibits drivers under the age of 18 from using hand-held electronic devices. The new bill would extend that hand-held device ban to drivers of all ages.
The language of the bill specifically prohibits drivers from holding any electronic mobile devices and only allows them to be used in a "hands-free mode" — that includes Bluetooth or auxiliary systems, as well as voice-to-text applications. The bill would allow drivers "a single tap or swipe" to turn on a hands-free feature. But they otherwise wouldn't be allowed to touch or hold the device while driving on a public way, even if they're not moving.
In other words, individuals are allowed to briefly touch their phone to answer or hang up a call while driving, but they could be pulled over if police catch them with the device up to their ear.
The law would take effect 90 days after being signed.
It would also be a primary enforcement offense, meaning that drivers could be stopped and cited for the sole reason of using their phone while driving. Unlike the state's seatbelt law, police officers wouldn't have to pull them over for another offense first.
What are the exceptions?
While the bill generally prohibits individuals from looking at their phone while driving, it does say they can use maps and navigation applications, if the device is mounted to the "windshield, dashboard or center console in a manner that does not impede the operation of the motor vehicle."
The bill also has an exemption for emergency situations, such as reporting a breakdown or accident, calling for medical assistance, or alerting authorities about some other public safety-related matter. On-duty public safety and emergency officials are also exempt from the law.
What is the penalty?
The legislation calls for a $100 fine for first offenses, a $250 fine for second offenses, and a $500 fine for third and any subsequent offenses. After a second offense, drivers would also be required to take a program on distracted driving.
Law enforcement would be prohibited from using the law to seize anyone's cellphone or mobile electronic device.
Why has this taken so long?
The primary reason lawmakers couldn't reach an agreement were concerns about racial profiling. Some feared that, without certain provisions, giving police another reason to pull drivers over could perpetuate the effects of racial bias, since the hands-free law would be enforced as a primary offense.
Activists and legislators have proposed collecting data on all types of traffic stops to monitor enforcement.
"We cannot manage what we don't measure, and without transparent data collection the problem will persist," Juan Cofield, president of the NAACP New England Area Conference, said at a rally last month.
The Senate's version would require police to record the "perceived race and ethnicity" of each driver stopped, while the House proposed only collecting data when a warning or citation is issued.
The bill filed Monday is more similar to the House version, requiring officers to collect data to be studied by state officials in the event of an arrest, citation, or warning. They would be required to document identifying characteristics including the age, race, and gender of the individual; details of the alleged offense; and whether a search was initiated during stop.
However, the bill also directs state officials to study the possibility of expanding the data collection to all traffic stops and submit a report to lawmakers by next April.