Traffic
Here's when experts expect the worst traffic this Labor Day weekend
What you need to know before hitting the road for the unofficial final weekend of summer.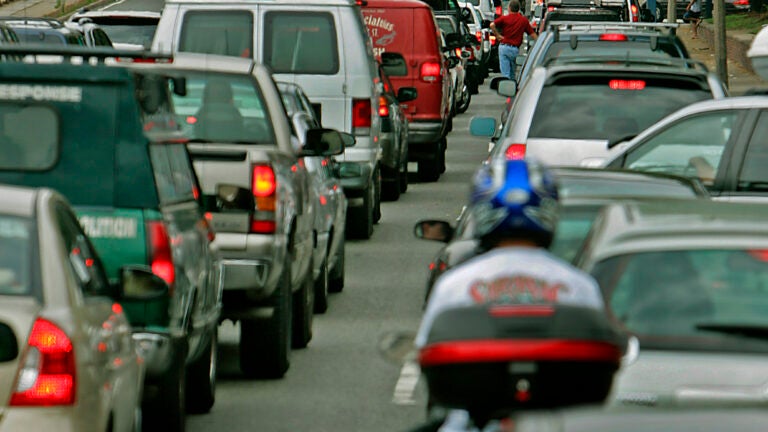 Labor Day weekend is coming, gas prices are dropping, and the sun is expected to be shining. The only bad news? That's a foolproof recipe for traffic backups and delays.
Eighty-five percent of travelers are planning to drive to their Labor Day destinations, according to a AAA Northeast survey of more than 400 Massachusetts travelers.
"Most people were leaving Friday and returning Monday, which certainly is no surprise," said Mary Maguire, a spokesperson for AAA Massachusetts. "However, we did see that there were a significant number of people who were going to try to stagger their departure time or their return time."
Maguire said heading home as early as possible on Monday or traveling late Sunday night could be key to beating frustrating traffic jams.
Nationally, a spokesperson from traffic-tracking company INRIX said the worst time to travel this holiday weekend will be between 4 and 6 p.m. Thursday, citing a combination of everyday commuters and vacationers trying to get a jump on the long weekend.
AAA's survey showed Cape Cod, Martha's Vineyard, and Nantucket are the top destinations for Massachusetts travelers, but Boston and the Berkshires aren't far behind. Maine is the top out-of-state vacation spot, trailed by New Hampshire, New York, Vermont, Connecticut, and Florida.
To help with the busy travel weekend, the Massachusetts Department of Transportation is making a few adjustments: All non-fixed construction will shutter from Friday to Tuesday, and the High Occupancy Vehicle lane on I-93 between Boston and Quincy will open early for afternoon commutes toward the end of the week. The lane will open at 2 p.m. on Thursday, 1 p.m. on Friday, and then be closed Monday.
Maguire recommended using real-time travel apps such as Waze or the AAA app to decide when to hit the road. Logging on to mass511.com or dialing 511 will also provide information on roadway conditions.
MassDOT advised using its own app, GoTime, which allows users to view real-time traffic conditions before heading out.
The weather around Boston is expected to be mostly sunny and clear through the long weekend, and Maguire said that means spontaneous plans are likely on the horizon for many.
"I always say that weather trumps everything," she said.