How Massachusetts ranks in terms of average speed limit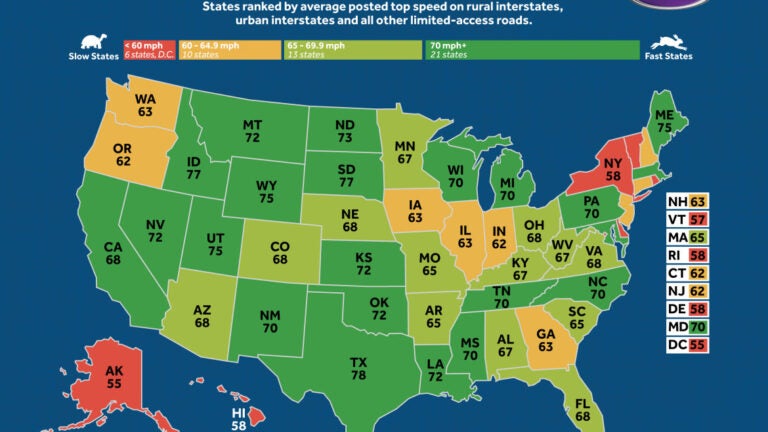 Boston.com Cars is your go-to resource for coverage of local car news, events, and reviews. In the market for a car or truck? Check out our new car specials and used car specials curated by our local dealer network.
From the looks of commute times in the nation's major metropolitan areas, it's a wonder anyone ever gets their car up to highway speeds these days. Be that as it may, compared to two decades ago, when the federally mandated national speed limit was 55 mph, Americans are living life in the fast lane as speed limits continue to increase.
In the two years since cars.com last ranked the speediest and slowest states in the US, seven states increased their speed limits, taking the proportion of states with limits of 70 mph or faster from two-thirds to about 80 percent. We determined the average top speed for all 50 states and the District of Columbia using the maximum allowable speeds on each state's rural interstates, urban interstates, and all other types of limited access roads, as compiled by the Governors Highway Safety Association (GHSA).
It may come as no surprise that Texas retains its title as the speediest state, as it continues to lay claim to the nation's highest speed limit, 85 mph. The Lone Star State became the first to post an 85-mph limit four years ago on a 91-mile stretch of toll road between San Antonio and Austin. Texas also holds the highest average top speed in the nation at 78 mph across its rural and urban interstates and other limited access roads.
Texas is one of seven states that have posted speed limits of 80 mph or higher. Two years ago, it was just four, but since then Montana, Nevada, and South Dakota have sped up significantly, according to GHSA figures, with each adopting an 80-mph top speed on at least some of its roadways.
Other states have also put the pedal to the metal since cars.com's last report in 2014. The average top speed across the three types of highways increased in seven states. Arkansas' average top speed rose to 65 mph from 62, Maryland's to 70 from 65, Montana's and Nevada's to 72 from 70, South Dakota's to 77 from 73, Utah's to 75 from 73, and Wisconsin's to 70 from 65. Massachusetts sits in the middle with an average speed of 65 mph.
The top 10 speediest states, followed by their average top speed limit, are:
10. Kansas/Louisiana/Oklahoma (tie), 72 mph
9. Montana, 72 mph
8. Nevada, 72 mph
7. North Dakota, 73 mph
6. Maine, 75 mph
5. Utah, 75 mph
4. Wyoming, 75 mph
3. Idaho, 77 mph
2. South Dakota, 77 mph
1. Texas, 78 mph
At the opposite end of the speed spectrum, Alaska remains the slowest state, with an average top speed of just 55 mph. The GHSA notes that Alaska's official limit is 55 mph, though 65 mph is allowed on some highways on a case-by-case basis.
The top 10 slowest states are:
10. New Jersey, 62 mph
9. Indiana, 62 mph
8. Connecticut, 62 mph
7. Oregon, 62 mph
6. Delaware, 58 mph
5. Hawaii, 58 mph
4. New York, 58 mph
3. Rhode Island, 58 mph
2. Vermont, 57 mph
1. Alaska, 55 mph
For many, rising top speeds may send their hearts racing with joy, especially if they lived through roughly 20 years of the 55-mph national limit starting in 1974. While that limit, which inspired rocker Sammy Hagar's signature song, "I Can't Drive 55,'' was set to help fend off an oil crisis as opposed to being a safety measure, there is plenty of evidence to show that lower limits also save lives.
A recent state-by-state analysis by the Insurance Institute for Highway Safety concluded that since the repeal of the National Maximum Speed Limit in 1995, some 33,000 additional deaths have occurred as a result of higher speeds. The 1,900 additional deaths that occurred in 2013 alone, IIHS said, canceled out the number of lives saved by frontal airbags.