Will rearview mirrors be replaced with cameras soon?
In this week's Auto Notes, columnist Bill Griffith dives into safety cameras, Honda's birthday, fuel cells and upcoming events like Herb Chambers's Cars 'n' Coffee.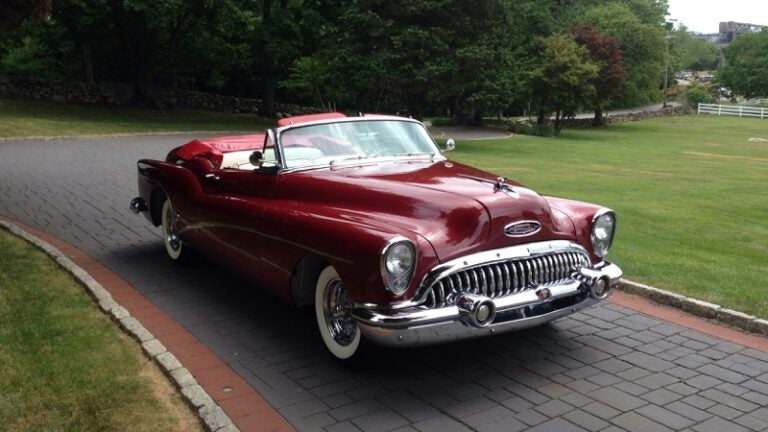 Boston.com Cars is your go-to resource for coverage of local car news, events, and reviews. In the market for a car or truck? Check out our new car specials and used car specials curated by our local dealer network.
My friend Chris Jones does a lot of business travel. He usually drives 30 to 40 different cars each year, mostly airport rentals.
Chris has a set routine for each rental, starting by visually checking the tires, adjusting the seat, then the rearview mirror. He gets out of car and aligns the passenger and driver's side mirrors. He then saves his favorite stations if the car has satellite radio, reviews dashboard/controls, fastens his seat belt, starts the car, pairs his phone to Bluetooth, plugs in his phone charger, and then checks for a sunglass hideaway. "Then off I go,'' he says.
Technology may be about to change some of that routine. Blame it on (or credit it to) the movement towards building the self-driving automobile.
The current issue of Automotive News has a story out of Japan about a change in Japanese laws, which now allow automakers to replace mirrors with cameras.
The European Union is expected to follow soon, and automaker Tesla and US supplier Continental are pushing for the United States to allow the change even before an anticipated 2018 date.
Proponents like the camera-based systems because:
1. Cameras can see a wider angle, fill in blind spots, and digitally compensate for glare, darkness, and even rain.
2. The camera-based systems weigh less than exterior mirrors and allow for a more streamlined (and fuel-efficient) body shape.
That observation seems to be at odds with a recent Tesla fatal accident that was the result of a camera system not being able to distinguish a white truck in glare light.
Japanese automakers say they'll phase in the systems and, in some cases, have a switch to toggle between mirrors and cameras.
A US test driver says that, while the photos were impressively clear and wide angled, it was difficult for a driver to judge distances because of the different perspective between the camera and a driver's normal glancing back and forth at mirrors.
Call it an interesting development.
However, you have to wonder if automakers can incorporate all these cameras into security systems and leave them on 24/7, making for some interesting neighborhood watch situations.
Accord Turns 40
Years ago (back in the 1950s), my mom loved Nash Metropolitans. They ranked high on the cuteness scale, but were at the bottom of the drivability scale.
So when my dad started driving a Honda Civic in the mid-'70s, I was dubious. However, he was a car guy, and really thought Honda was onto something. He was right—as usual.
That was about the time that Honda introduced its larger vehicle, the 1976 Accord.
Now, 40 years down the road, the Accord has sold more than 12.7 million units, giving Honda grounds to claim it's America's most popular and best-selling car through nine generations.
Honda, not necessarily known for a corporate sense of humor, has a funny video celebrating the milestone. You can find it by searching YouTube for Accord 40th anniversary.
The Accord not only was the first Honda to be built in the United States but also the first Honda to be exported from the United States.
Production has grown over the years. The first Accord was a hatchback with a wheelbase shorter than today's subcompact Honda Fit.
And it's lived up to the intent of its name, to achieve an accord between people and the automobile via advanced technology.
Fuel Cells (cont.)
We're at a point where fuel cell vehicles are not only viable, they are also at the stage where they can become economically competitive once a hydrogen refueling infrastructure is in place.
If you're a fleet headquarters, it's possible to have your own refueling station at the home office.
The same goes for the military.
So it was interesting to read that General Motors and the US Navy are collaborating on a project that will incorporate fuel cell systems to power a coming generation of unmanned undersea vehicles.
Fuel cells offer promise for less petroleum use, reduced carbon dioxide emissions, and the possibility of creating renewable hydrogen refueling sources.
That would float my boat.
Etc.
Today, the micro cars take over the lawn at Larz Anderson Auto Museum in Brookline (1-4 p.m.) for their 19th annual show.
You also can take in the Bay State Antique Auto Club show at the Endicott Estates, 656 East St., Dedham, from 7 a.m.-2 p.m. or the Steve Varney Memorial Show at the Georgetown VFW from 10 a.m.-3 p.m.
Next Friday (4-7 p.m.), Ipswich Ford has its annual show, one that brings out a lot of cars for their only showing of the season.
Also next Friday, my beloved El Caminos are guests of honor for a show, parade laps, and burnout contest at LeeUSA Speedway in Lee, NH, then become the feature guests at Skip's MegaCruise in Merrimac on Saturday afternoon and evening. Contact [email protected].
If you're up early next Sunday, July 17, Herb Chambers has his Cars 'n Coffee series at Flagship Motors on Rte. 1 in Lynnfield from 7-10 a.m. He's planning to display his own 1953 Buick Skylark convertible at the event.