Boston hits pause on its plan to issue special 'free-floating' parking permits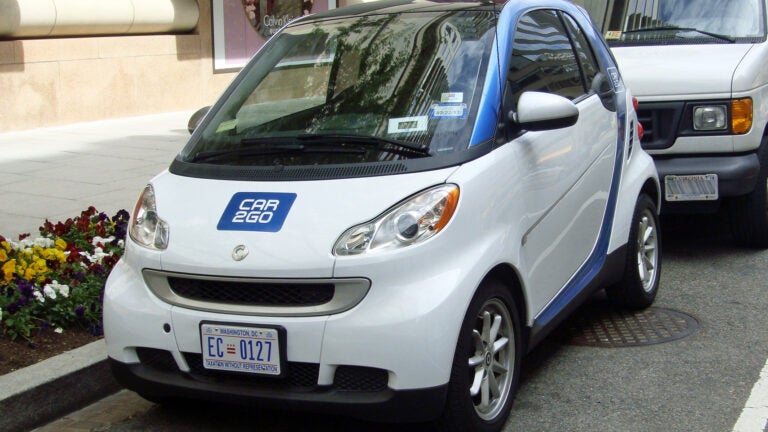 Boston.com Cars is your go-to resource for coverage of local car news, events, and reviews. In the market for a car or truck? Check out our new car specials and used car specials curated by our local dealer network.
The city of Boston has put on hold plans to introduce a new form of car-sharing service that would allow a fleet of cars to park in any city-owned spot without paying at meters or worrying about resident permits.
The idea was first introduced in early 2015 as part of DriveBoston, an 18-month pilot program aimed at broadening the scope of car-sharing services in the city with the eventual hope of decreasing individual car ownership.
The background
One part of the DriveBoston pilot featured 150 "free-floating'' parking permits, which would allow a car-share company's fleet to park in any municipal spot (excluding those at Logan Airport) without the usual concerns about meters and permits. All time limits over two hours would also be waived for those vehicles.
When Boston invited private companies to submit proposals for the DriveBoston program, however, no one applied for the free-floating permits.
Car2go, a car-sharing company that pioneered the free-floating model in U.S. cities like Seattle and Washington, D.C., had expressed interest in expanding into Boston, but said the 150 permits offered were not enough to adequately serve drivers in a city of Boston's size.
Stuck in neutral
Now, more than a year later, the city is not actively working to make that portion of the DriveBoston program a reality on the streets of Boston, according to emails a city official sent to Car2go.
"As I mentioned to you at the end of February, the City isn't moving forward with 'free-floating' at this point in time,'' Kristopher Carter of the Mayor's Office of New Urban Mechanics wrote to Josh Moskowitz, Car2go's regional director, on July 1.
"If we do choose to move forward, it would either be with a vendor who replied to the [Request for Proposal] for the program, or through a new RFP process,'' Carter's email continued. "Our thinking about what would be best in Boston has not changed much from the RFP we put out last year.''
The vendors Carter is referring to are Zipcar and Enterprise CarShare, the two companies who applied to a separate portion of the 2015 DriveBoston program and were each awarded 40 city-owned parking spots to house cars as part of traditional round-trip car-sharing models.
Neither Zipcar nor Enterprise CarShare applied for DriveBoston's free-floating permits in 2015, but Zipcar indicated it was willing to give the new model a shot in Boston if it helped the city, where Zipcar has operated for more than 15 years.
Both companies now say they are not building a free-floating car-sharing service in Boston.
Downshifting on car ownership
This all comes at a time when research is beginning to back up the idea that a free-floating car-sharing service like Car2go can reduce overall car ownership and the number of miles driven in a city.
On Tuesday, researchers at the University of California, Berkeley released a working paper on the impact a Car2go membership has on a person's driving and car-buying behavior.
They found each Car2go vehicle available in a city removed between one and 11 other vehicles from the road by encouraging people to sell their personal cars, or forgo buying them in the first place.
Overall, the researchers estimated that between 20 million and 37.5 million fewer miles are driven nationwide each year due to Car2go, leading to a sizeable decrease in greenhouse gas emissions.
Looking for an explanation
Car2go is still interested in bringing the free-floating model to Boston, but feels it is "operating under a cloud as to what the city is thinking,'' said Moskowitz.
"If they're not even running Zipcar's quote-unquote 'new version' of car sharing, then what are they doing?'' Moskowitz said. "This doesn't seem to be very innovative. It doesn't seem to be expanding transportation options in Boston.''
Another paragraph of Carter's July email to Car2go could hold a clue to the city's reticence – fear that a car-sharing service based on free-floating permits would end up concentrating vehicles in busy, wealthy downtown neighborhoods, leaving out lower-income areas on Boston's outskirts.
"I've been seeing lots of news of scaling back Car2go operations in low-income communities these days,'' Carter wrote. "Do you have any data to show about how you are addressing equity issues in those locations that would be interesting for us to ponder?''
Car2go denied that it was cutting service specifically in low-income neighborhoods in other cities. But the company has tightened the geographic area around a city's core where its cars are available in a number of markets over the past year, including in San Diego; Portland, Oregon; and Austin, Texas.
"The model works best when cars are in frequent circulation rather than sitting for hours or days at a time in a street parking space,'' Michael Silverman, Car2go's communications director for North America, wrote in an email. "The data we have from operating our flexible one-way model enables us to see where the cars are requested and used most and we make adjustments based in-large part on those factors.''
In a statement, the Mayor's office reiterated its commitment to expanding Boston's transportation options through programs like car-sharing and the Hubway bike-sharing service.
"Right now the city is in the process of collecting data from the first round of 80 DriveBoston car-share spaces with our partners Zipcar and Enterprise Carshare,'' Bonnie McGilpin, Mayor Walsh's press secretary, said, "that will provide insight into how the service is being used before moving forward with additional components of a car-share program.''