Arts
Meet 'RuPaul's' Jujubee, performing in 'Cinderella' this summer
The drag queen will play the role of Madame in the North Shore Music Theatre production.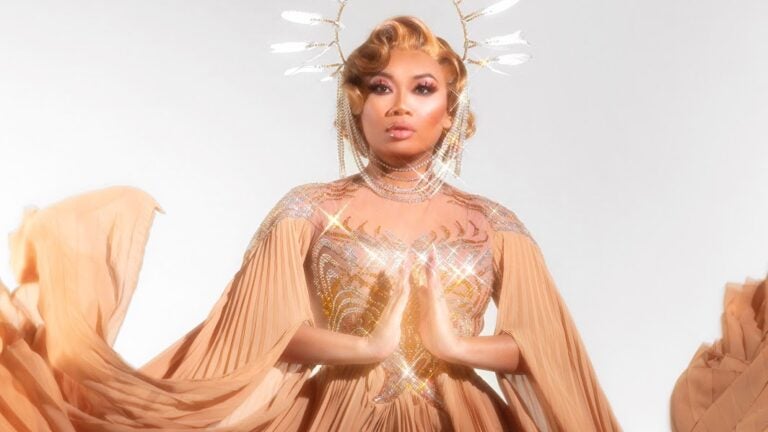 This summer, drag queen Jujubee will be proving that anything is possible. The veteran of "RuPaul's Drag Race" will be starring in North Shore Music Theatre's production of Richard Rogers and Oscar Hammerstein's "Cinderella," playing the role of Madame, the wicked stepmother. Jujubee, born Airline Inthyrath, spent much of her upbringing in Massachusetts, living in Lowell and eventually studying theatre arts at the University of Massachusetts, Amherst.
We talked to Jujubee about why she is excited to be performing in "Cinderella," how she got her start in drag, and what it was like to be a part of "RuPaul." With Pride Month coming to a close, we asked Jujubee about what it means to be part of the LGBTQ community. Below, find the Q&A with her, and learn about her journey.
This interview has been lightly edited for clarity.
Tell us about your role in "Cinderella." Why are you excited for this show?
First of all, theater has been my first love forever. It's the only reason I actually found drag. It was magic when I realized that both drag and theater are the same exact things, just in different forms. And now that I get to play Madame, in "Cinderella," in drag, it's like this full circle moment. I'm so excited because I get to work with a really great group of actors. They're all so talented. Rehearsals just started yesterday, and it was so exciting to be in the same space.
Here's the funniest thing: I have realized that perhaps my drag persona lends itself to my being able to play a funny villain. I just finished "Death Drop" in London," in the West End, and I played the funny villain there. I feel like, with the role of Madame, she takes herself very seriously. But "Cinderella," it's a beautiful fairytale story, and we all know it — but Madame gets to play this really crazy character who is larger than life. I'm also really excited to show my face in the North Shore, because I think everybody knows that I'm from Boston, so this is like being home again.
How did you get your start in theater?
I grew up in Fresno, California. The first time I took theater class, I said to myself, "This is it. This is my love." When I moved back to Massachusetts, I was in show choir at Lowell High. I did theater there, and I went to UMass Amherst for theater.
What was it like to be on "RuPaul"?
Honestly, it's been amazing. It's been very instrumental in my career and my work. "RuPaul" has given me so many opportunities, and it's actually taught me a lot about the entertainment business in itself, and as a queer person of color, how to navigate. It's been magic. It's changed my life, and it's continuing to change my life, even after a decade. The first time I was on was Season Two, and I just recently did "RuPaul's Drag Race: UK vs. the World," which has the same kind of format and competition, but completely different because drag has been so expansive in the past decade.
[The name] Jujubee was given to me by what the community would call a drag mother, so I have a drag mother who is basically a mentor. I didn't really have a choice in it. I love it now; it rolls off the tongue. My character is essentially an extension of myself, but I've collected every really intriguing and strong idea from the women in my family, my aunties, my sisters, my grandma. My drag celebrates the power of femininity, which I find historically has been pushed away and degraded. So I try to celebrate femininity and the power of it because I believe it is the strongest force out there.
Do you have a favorite memory from the show?
One of the things that stands out the most and that will always stand out is [from the finale]. RuPaul asked me about my name, and my name is Airline. And RuPaul described my name as this beautiful mistake, where it described air, which is something that we need, and line, which describes the name as being like a spout of life. Before we went to the finale, she said, "Fly high, Airline. Fly high." And I've never let that go.
Do you have a favorite musical?
I'll say the musical that has special meaning to me is "Aida." It was the first musical I saw on Broadway. … It was the whole package. It was the representation of people I felt really connected to; the story is about struggle.
What does Pride mean to you? Is there anything you would want to say to the LGBTQ community if you could?
Pride to me means living out loud and being unapologetically yourself. Also, minding yourself and giving yourself grace when you make mistakes because nobody is perfect. And the message I have for the LGBTQ community in Boston is that I love you. I know we didn't get to celebrate Pride this year, which is terrible, but I want them to all know that we're still here together, and we just have to be strong together. Right now, the world is on fire, but we can still find moments of love and tenderness to support each other.
Performances of "Cinderella" are July 12–July 24, and tickets can be purchased here.
Boston.com Today
Sign up to receive the latest headlines in your inbox each morning.