Book Club
46 of the best books set in Mass., according to Boston.com readers
Readers shared fiction and non-fiction titles set in a number of local cities and towns.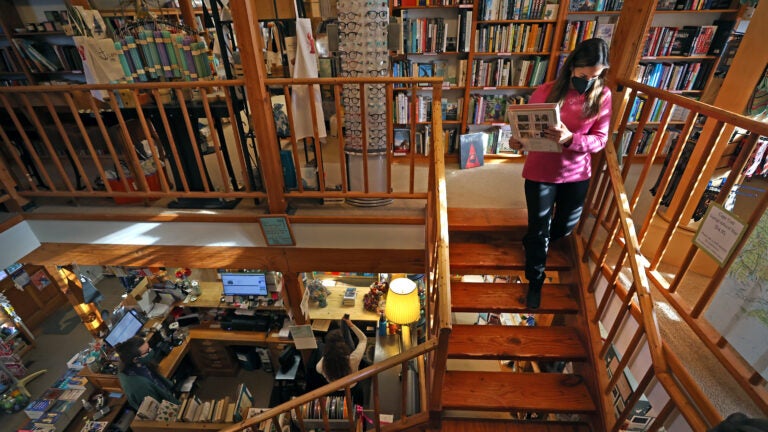 Looking for your next read? Boston.com readers have you covered with some selections that are sure to hit close to home.
This month, the Boston.com Book Club is reading "Dirtbag, Massachusetts," a memoir written by Massachusetts native Isaac Fitzgerald, chronicling the formative years he spent living in the state — and how it shaped him even after he'd left. Like Fitzgerald, there's no shortage of writers who've been inspired to tell stories about Massachusetts.
We asked readers to share their favorite reads set in the Bay State, and they helped us create a long list of books of different genres set in Boston, Cape Cod, Springfield, Lexington, Gloucester, and many more Massachusetts towns.
Ahead, you'll find 46 fiction and non-fiction books set in Massachusetts that Boston.com readers think you should add to your reading list.
Fiction
"This was such a clear picture of the events of the Battle of Lexington that made me, as a young reader at the time, understand the historical significance and empathize with those involved in those historical events at the time. It started my love for history and appreciation of where we live and its historical significance!" — W. Thomas, Lexington
"A multi-generational thriller that uncovers family secrets while chasing down Paul Revere's treasure. And the most fun is that Martin makes Boston — both past and present — the star of this book. Published way back in 1979, this was the first, and best, of the Peter Fallon series." — Neil R., South Boston
This novel sets the stage in Massachusetts and takes you through a treasure-hunting mystery tied back to 1398.
"A great series where the author writes a story that you can visualize as your reading. Hard to put down once you start. I have read and own everyone in the series and I have read them multiple times and enjoyed them just as if I started the series for the first time." — James I., Leominster
For lovers of historical fiction and mystery, this is a read highly recommended by our readers. Follow along with two families from their arrival in America on the Mayflower to present-day Massachusetts.
"Mayflower, Pilgrims, history, and mystery…what more do you want? Great summer book!" — Jack M., Reading
"Years before the movie was made (not as good as the book) the book tells a tale of the death of a boy in Newton. The author brilliantly pulls you into the heart of a destroyed family, and the secrets and twists are shocking." — Elizabeth K., Needham
"The novel is a revisionist historical look at a part of Cape Ann I have driven through many times going to Rockport. It is fascinating to imagine Cape Ann wild and barely settled with hardscrabble characters." — Susan, Westford
"If you loved Cape Cod summers when you were younger and crave a fun, beach read full of memories from your youth, a few bad guys, and a treasure hunt, Dying to Sea will not disappoint! Takes place in Chatham, MA." — Whitney H., Chatham
"The story takes the reader on a wild ride through life's emotions, struggles, and disappointments during a search for happiness, and how all of these powers can collide in an instant and leave a lasting and unexpected impact on the lives of so many." — Jerry U., Pembroke
"With all the troubling things going on in the world these days, I can still find some distraction and comic relief by reading a humorous book like this one. Almost all of the action takes place in Boston or the South Shore area. Set in 2008, the story is a hilarious send-up of the literary/publishing world, with fictional characters standing in for Nora Roberts, Lee Childs, Tom Clancy, and several others. This is actually one of the funniest books I've ever read." — John E., Gorham, Maine
"It's a great ghost story set on Martha's Vineyard which takes place in both the nineteenth and late twentieth century. If you love Martha's Vineyard, you love this book — I couldn't put it down!" — Ruslana McEachern, Plymouth
"It is a vivid coming-of-age story about the brewing of the Revolutionary War in Boston as seen through the eyes of a teenager, told in a way that he grows with the country. As Boston grows from an oppressed enclave to a bastion of independence, Johnny grows from a tied-down apprentice to a champion of freedom from the positive social example of a newspaper printer, Rab Silsbee, and those of historical leaders like Paul Revere and Joseph Warren, who inspire him to the revolutionary cause, weaning him away from the Tory strongholds in his life, namely Ephraim Lapham and his relative Jonathan Lyte. A rich historical read that captures the spirit of Boston and Massachusetts at their core." — Todd Larson, Watertown
"Perhaps one of the most important books for all girls, Little Women is the quintessential coming-of-age tale. Because Little Women chronicles the four March sisters, readers not only get to enjoy their unique stories but also their diverse journeys. For me, Little Women is one of the most meaningful books ever written. I read it when I was 10 years old. At the time, I never would have imagined that I would end up living in the same town as Jo March, but being able to see Massachusetts history on the page has long been a true joy." — Anonymous, Concord
"It's a story set in the Combat Zone in the '70s as told through the eyes of a very naive college freshman who ends up managing a boarding house for women who teach night school — or so he thinks. From laughing my arse off to getting to experience a part of Boston history that predates me, I loved every minute of this story." — Kelly, Dorchester
This classic children's book is set in Boston and has been commemorated with a statue in Boston Public Garden. It came to mind as one of the best books set in the area by a number of readers.
There are more than a dozen books in this series where a former Boston cop now retired on Martha's Vineyard solves a new set of murders and mysteries.
"Well-written stories, interesting characters, and good whodunits." — Karen
"This was a really moving and fascinating novel based in Boston and about a woman that works at a women's health clinic, and her story intersects with other characters in this book. I appreciate the frank discussion surrounding abortion." — Solange, Newton
"The pacing is like a snowball down a mountain. You can't put it down. It captures the struggle of the white poor in Boston to escape the cycle of abuse they are subjected to on a daily basis. Some get out. Some don't make it. I live in Oak Square in Brighton (for 22 years) and Mr. Lehane did also. He used to stop into the Castlebar and sip a beer. I always thought he got some of his great dialogue from just listening in to the people around him there." — Mike, Oak Square Brighton
"Definitely written by a true Bostonian, which makes it feel like you're right at home while you read it. The book is a fun, casual read that takes on some uniquely Boston problems, while also managing to be a beach read." — Ali S., Quincy
"A story that is both hysterical and touching about a woman whose marriage is ending. Living on Cape Cod, Lillie is a nurse midwife whose husband leaves her for a new (much younger) woman. Lillie's son has just moved across the country for his first year in college, which leaves her alone for the first time in 20 years. In between cooking amazing meals, Lillie draws strength from her friends and (dysfunctional) family members. I laughed so much that I cried. Highly recommend this book! Kristan Higgins lives in New England and captures life on Cape Cod perfectly! My (new) favorite book…and it is so good that I'm giving copies to my mother and sister for Christmas gifts!" — Laura F., Northborough
This novel tells the story of a Native American and British family torn apart by the politics and social mores of pre-Revolutionary Massachusetts.
"Everything a good novel needs..romance, deceit, honor, intrigue." — Roberta L.M., Osterville
"Almost all of his detective novels were set in and around Boston, and I'm at times surprised that they gained the national popularity they did because they're the most quintessentially Bostonian books ever written. Steeped in the details and minutiae of Bostonian life at the time they were written (from the 1970s to Parker's death 10 years ago), you can easily picture pubs, restaurants, attractions, neighborhood dives, corner stores — still-extant and long forgotten alike." — Robert T., Northampton
This novel, set in Fall River during the early 1900s, follows the story of a young man who goes from the son of a mill worker to a life of privilege after a factory fire upends the town.
"This is a heartfelt book about the tragic nature of Alzheimer's, especially in younger folks. It provides a fictionalized first account of the disease as well as the tragic implications on family, friends, colleagues, etc. Although the movie of the same name is different, the book provides tidbits of Harvard Square and Cambridge. I remember specifically a passage about Alice running through Harvard Square, a place she knew by heart, and then realizing she's lost. It's a heartbreaking story but I enjoyed reading about the streets described and knowing where it was. It felt like I was reading about a neighbor." — Meghan O., Quincy
Hilderbrand crafts a story about a family scattered across Massachusetts during the summer of 1969 who navigate their personal lives as historic events happen around them.
"It's a beautiful location and talks about things that were happening at that time." — Terri, Nantucket
"One of the greatest American novels. Its settings are, incredibly, almost the same as they were in Plath's college years — the white clapboard house in Wellesley, the cemetery and the view of Logan from Winthrop, Boston Common, Lynn Shore Drive, the hospitals around Boston, and, of course, the one in Belmont — giving this increasingly relevant work a timeless realism." — Marion, Salem
"A beautifully written history of a family and its years of enjoyment of a Cape Cod summer home." — Anne K., Milton native, now in Rhode Island
"This book brings you back in time. It starts around 1913 and chronicles a Jewish girl who lives in poverty and overcomes adversity. It is a page-turner and well written." — Beverly D., Southborough
"The novel takes place in a very different Boston (mid-1800s) from the one we live and work in, and yet this is recognizably Boston, even without today's Back Bay neighborhood. While one might think the book is dense and hard work to get through, it pays off many times over. The story — which moves to Cambridge, to the South End, to the Cape — is funny and acute. The novel is quite suspenseful as Olive Chancellor and Basil Ransom battle over young Verena Tarrant, and the reader does not know until the last page what the story's ambiguous conclusion will be." — Jeff, Brookline
"Technically it's a play, not a novel, about the Salem witch trials but it shows the dangers of political group think — something that everyone seems to me to be susceptible to these days." — Mac, Magnolia
"The perfect crime novel and the perfect Boston novel. The impeccable dialogue and mundane details never let you forget where or when it's set, but the themes, plot, and tragic characters make it timeless and endlessly re-readable." — S. McCarthy, Boston
"I love how it's a historical fiction book that interweaves so many different stories together so well while also giving color to the historical events of the time — the Great Molasses spill to the start of Prohibition." — M, Boston
Seton's novel gives you a look at life in colonial Massachusetts through the eyes of its heroine Hesper Honeywood.
"Gives a very relatable description of what Marblehead was like in colonial days." — Andrea L., Marblehead
"It's a fictional story of two young boys in the early 1900s who steal money in the alleyways of Boston, then hide at an all-boys school on Thompson Island with new identities after they accidentally kill someone. It was difficult to put this book down, very well written with a few twists. I'd also recommend any book club since there is so much discussion to be had about the upbringing of the boys and the backgrounds of the school administrators. Also, love that the author lives the next town over from me!" — Beth, Stoughton
The action of this mystery thriller takes place in Springfield, where a recent widow discovers that her late husband has been reincarnated into the body of a man who's been suffering from visions of his past life.
This classic American novel has become required reading in many high school classrooms, but readers say people of all ages can enjoy the tale of Hester Prynne, who is disgraced after having a child out of wedlock in Puritan Boston.
"It has everything a modern-day soap opera has: sex, sin, betrayal, and redemption, to name a few. What else could a reader want in a novel?!" — John S., South End
Benjamin's novel is a coming-of-age story about a young woman coping with the death of her best friend.
"It's really good and definitely a page-turner. They go to the Boston Aquarium on a field trip AND a girl has a Red Sox sweatshirt which is good because the Red Sox are good." — Isla B., Cohasset
"An eccentric, Poe-loving philanthropist's death kicks off a treasure hunt around Boston to find his inheritance, embroiling three unforgettable point-of-view characters in a caper with increasingly high stakes. This novel is absolutely saturated with its very real Boston-area settings, whether that be pizza in a Somerville apartment, brunch in a Louisburg Square mansion, a flashback at Salem's Derby Wharf, or a great funeral masque on Boston Common, or other events in other locations best left unspoiled. To a non-Bostonian, this won't mean much, but to those of us who know the city, it adds a layer of texture and richness to an already delightful plot. When our heroes sneak past the end of the Park St. Green Line platform and into the tunnel following a clue, we know EXACTLY where they are." — Matthias F., Cambridge
This novel follows protagonist Casey Peabody, who makes a return to her native Massachusetts after her romantic and personal life are upended in the summer of 1997. There, she attempts to hold onto the creativity that drove her through her 20s and in the process falls for two different men at the same time.
"While the book is definitely set in the 80s, complete with Wade Boggs and Spectacle 'trash dump' Island, the opening scene detailing the truth of riding a bike from Brighton, down Comm. Ave. through Kenmore Square, Back Bay, and over to Kendall Square is the greatest and most truthful discussion of biking in the city ever." — Muerl, Brighton
Non-fiction
In this memoir, author Nick Flynn shares with readers how he reconnected with his estranged father while working as a caseworker at a homeless shelter in Boston.
"Nick Flynn's artful and emotional memoir captures real life in Massachusetts and captures the grittiness of late 20th century Boston." — Jamie M., Randolph.
This non-fiction book chronicles the molasses flood that left 21 people dead.
"A true page-turner, meticulously researched. A can't-put-down book that will be re-read." — Annmarie P., East Bridgewater
"Annie Fields was the wife of publisher James T. Fields, co-founder of Ticknor and Fields Publishing Co., which eventually became Houghton-Mifflin. This book, taken from her diary and edited by Julia Ward Howe's son, DeWolfe, brings to life the writers and intellectuals who made up the "Athens of America" in Boston in the 19th century.
"The home she entertained in once stood at the end of Charles Street, near where the T station now stands. Longfellow, Julia Ward Howe, Dickens, Oliver Wendell Holmes, John Greenleaf Whittier, and Sarah Orne Jewett are but a few of the literary "lions" who often spent their evenings in food and conversation in her home. The excerpts from her diary give one an unusual glimpse into the lives of these people who lived and worked, in Massachusetts more than 100 years ago. I enjoy walking down Charles Street imagining these talented artists walking to and from the Fields' home." — Anabel G., Lexington
"This book goes into great (or excruciating!) detail about not only the founding of Plymouth Plantation but of the travails the Pilgrims experienced just getting here. I'm up to 1622 and so far I've learned: 1. The pilgrims had a second ship but had to abandon it and sold it for a song due to an elaborate deception by its master and crew. 2. The Mayflower was initially thought to be a revenge ship due to a previous killing of a French crew by the Indians. 3. There was a bully who was a member of the ship's crew who constantly threatened to throw people overboard. As fate would have it, he was struck with a grievous disease. Upon his passing, it was actually he who was the first thrown overboard." — M.C., Lexington
"As a person who remembers her mom talking about the apple cart man, this book has a lot to offer readers of many generations. It is one woman's struggle to save her family's apple orchard in the face of The Great Depression. It shows the grit, spirit, and strength of a determined woman. The best part is that the manuscript was found after she passed away, so it is a story with a story. It would make a great movie, and serve as an interesting history lesson of a time that deserves more recognition than a few multiple choice questions on an American history quiz." — Mary M., formerly of Hopkinton
This creative non-fiction book tells the true story of the crew of fishermen from Gloucester who were lost at sea in 1991.
"He writes his memoir with such great poignant and memorable prose. He takes his reader deep into his feelings as he describes growing up in multiple towns on the North Shore during difficult economic times. Whenever I go near the Merrimac River and those old mill towns I think of his books." — Monique, Quincy
---
Join Isaac Fitzgerald and Nicole Brinkley on Monday, August 22 at 6 p.m., as they discuss his new memoir.
Buy "Dirtbag, Massachusetts" from: Bookshop | Oblong Books