Book Club
Book Club's next read is 'A Fractured Infinity' by Nathan Tavares
Join the live author discussion with Brookline Booksmith's Alex Schaffner, on Jan. 31 at 6 p.m.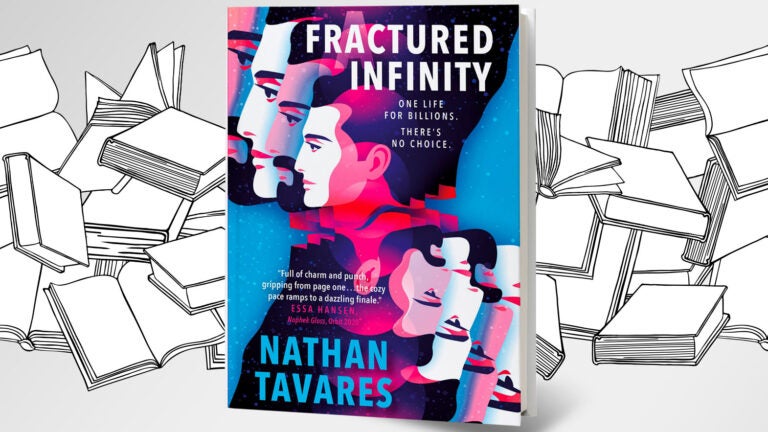 We're kicking off 2023 by launching head and heart-first into the multiverse, with the sci-fi adventure novel, "A Fractured Infinity." The novel is the debut book from Boston-based author and editor Nathan Tavares.
If you're someone who keeps up with arts and culture in our fair city over the past decade, there's a decent chance you've read Nathan's work. Nathan was an editor at The Improper Bostonian until it sadly closed in 2019, and has written here at Boston.com, as well as Boston magazine, WBUR, Eater Boston, and Boston Home magazine, as well as national outlets like Travel + Leisure, Out magazine, and GQ.
Nathan is no stranger to fiction either. He's published more than a dozen short pieces and stories in the decade preceding "A Fractured Infinity." Tavares' self-described recipe for the book starts with: "Sci-fi flicks Arrival and Contact but real gay." According to Tavares, other ingredients in the recipe include parts of Robyn's "Dancing on My Own," theoretical physics by way of "Drunk History," and Tavares' "laugh through it" voice. Those elements have added up to what we believe will be a sleeper hit.
The novel follows filmmaker Hayes Figueiredo. Hayes is struggling to finish his documentary when a handsome physicist named Yusuf Hassan shows up and tells him he is the key to understanding a mysterious device named The Envisioner. Why? Well, because in an alternate universe a different Hayes Figueiredo invented it and sent it to this universe. As he falls into trying to solve this mystery, he also falls in love with Yusuf. When disaster strikes, Hayes leads Yusuf into the multiverse to try to save him, but eventually, he will have to decide how much he's willing to sacrifice to save the life of his love.
The New York Times called the book "a very beautiful, tender portrait of a romance," and "a delightful, spiraling, idiosyncratic book." Publishers Weekly said, "the epic love story forms an intense emotional core and Hayes's conversational narration charms." And prominent British newspaper The Times called the book "a powerful and touching love story." Finally, New Scientist magazine says the book is "some of the best sci-fi has to offer."
Joining Tavares for this discussion will be Alex Schaffner, events director at the local institution Brookline Booksmith. Schaffner has been in books and literature most of her adult life. She has worked at Booksmith since 2014, and has been the events director since 2017. Before joining the Booksmith staff, Schaffner worked at prestigious publisher Farrar, Straus, and Giroux, as well as the Horn Book. She has maintained her Horn Book ties and works as a reviewer for the well-known publication. Before that, Schaffner worked in libraries as a teenager and earned a graduate degree in 18th-century English literature to boot. Basically, books are in her blood, and the proof is in the killer events schedule that she organizes each year for the Booksmith. Whether hosted in the Booksmith's history-filled basement, across the street in the Coolidge Corner Theatre, or at other points throughout the city, you can count on Brookline Booksmith bringing some of the best authors in the country in for great book talks, and that is thanks to Schaffner.
Brookline Booksmith itself has had great success in the past few years, as evidenced by the recent expansion of its footprint on Harvard St. in Brookline's iconic Coolidge Corner. To merely survive the pandemic was a goal for most independent retailers. Brookline Booksmith stepped it up by not just surviving, but thriving enough to be able to expand!
The store has been there since 1961 and was founded by bookselling and retail legend Marshall J. Smith, who sadly passed away earlier this year. The store he built remains in good hands and on a healthy footing. Brookline keeps changing around them, but Brookline Booksmith stands firm, a pillar of the community.
Join Nathan and Alex on Tuesday, January 31st, as they discuss Nathan's dynamic new novel!
Buy "A Fractured Infinity" from: Bookshop | Brookline Booksmith

---
Prior Boston.com Book Club picks: