Book Club
Book Club's next read is 'Dirtbag, Massachusetts' by Isaac Fitzgerald
Join the live virtual author discussion with Oblong Books' Nicole Brinkley on August 22 at 6 p.m.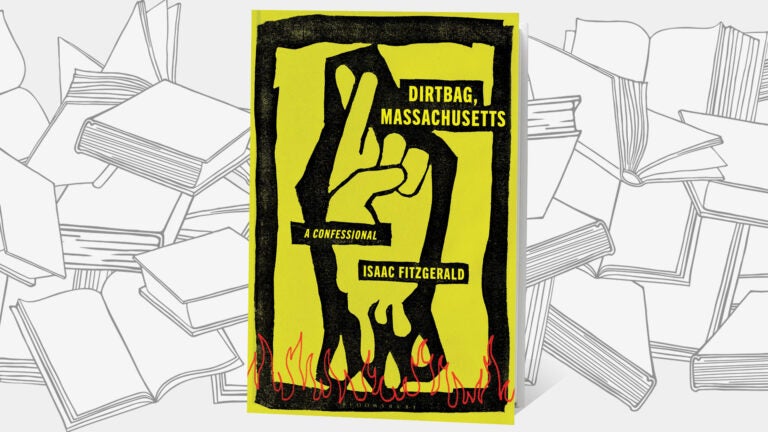 One of the year's most widely applauded books came out in July, and it is one that will be of great interest to Boston.com readers. So we're particularly excited that it will be our August pick for the Boston.com Book Club.
"Dirtbag, Massachusetts," by Isaac Fitzgerald is a memoir labeled as "a confessional," and that is no marketing gimmick. Fitzgerald, who grew up in Mass., confesses to myriad misdeeds, family drama, and things that could be charitably described as "learning experiences" that 99 percent of people would never admit to privately, let alone publicly in a book widely available for purchase.
Fitzgerald is a frequent guest on "The Today Show," the founding editor of BuzzFeed Books, an author of three previous books — including the bestselling children's book "How To Be a Pirate"— and also writes the "Walk It Off" newsletter, where he interviews people he knows while taking walks with them. Think "Comedians In Cars Getting Coffee," but with fewer rich and famous people, and, you know, no cars. Oh, also, one time a king gave him a sword. Simply put, Fitzgerald is an extremely eclectic person whose magnetism shines through in this memoir.
The book covers Fitzgerald's time growing up in the Catholic church in Boston, where his mother worked for the disgraced Cardinal Bernard Law; the real fight club he and his friends formed after watching "Fight Club" when he was living in what he calls "North Central, Mass."; and his experiences hustling to keep up with the kids in his private boarding school as a teenager.
While there are plenty of interesting stories after he leaves Massachusetts' gravitational pull, most notably in San Francisco and later Burma, the book's center is Fitzgerald's Massachusetts-based childhood.
The book has found its name in bright lights since people first learned about it. Indie booksellers made it an Indie Next pick, it received a starred review from Publishers Weekly, a glowing review from Michael Ian Black in The New York Times, and it was praised or landed on a "best of" list at publications like Esquire, TIME, Rolling Stone, Chicago Tribune, Los Angeles Times, and here at Boston.com. This tsunami of great buzz was met with immediate results when the book became an instant New York Times bestseller, landing at No. 2 on the adult non-fiction bestseller list.
Joining Isaac for our virtual event is legendary bookseller and manager of Oblong Books in Rhinebeck, N.Y., Nicole Brinkley. One of the best and most outspoken leaders in the indie bookstore community, Brinkley has helped run New England Independent Bookseller Association by being a part of the association's advisory council, and also served for two years as the chairperson for the New England Children's Bookseller's Advisory Council). Self-described as a "queer bookseller extraordinaire," Brinkley has also been named to Publishers Weekly's Star Watch, a very prestigious recognition for booksellers, and has written for publications like Tor.com, Book Riot, and Publishers Weekly, among others.
Currently, Brinkley hosts her own podcast, Misshelved, where she pairs authors and booksellers for fun conversations about books and life. She also has a newsletter, where she occasionally writes deep-dive essays on the state of the publishing industry. She served on this year's summer/fall Indies Introduce panel and sits on the American Bookseller's Association advisory council for general booksellers. And all of that is in addition to her exemplary work at Oblong Books, where she is a font of book recommendation wisdom.
Just as legendary in the indie bookstore world is Oblong Books & Music. Oblong has two locations in the Hudson Valley, one in Rhinebeck, and one in Millerton. They are co-owned by Suzanna Hermans, and her father, Dick, who co-founded the Millerton store in 1975 and Rhinebeck in 2001. They have been one of the shining beacons of independent light that has shepherded indies through the rise of big box stores and Amazon, and they're still alive and well.
In a February 2011 USA Today cover story that featured a picture of Suzanna and a full write-up of the store, a publishing consultant predicted the demise of independent bookstores, saying, "that shelf space devoted to print books in physical stores will decline by 50% during the next five years and 90% during the next decade." More than a decade later, we know that prediction has turned out to be wildly inaccurate and stores like Oblong's are a big reason why.
Join Isaac and Nicole on Monday, August 22 at 6 p.m., as they discuss this impressive memoir.
Buy "Dirtbag, Massachusetts" from: Bookshop | Oblong Books

---
Prior Boston.com Book Club picks: