Book Club
Book Club's next read is 'Things Have Gotten Worse Since We Last Spoke and Other Misfortunes' by Eric LaRocca
Join the live author discussion with Trident bookseller Geoffrey Raywood on Oct. 24 at 6 p.m.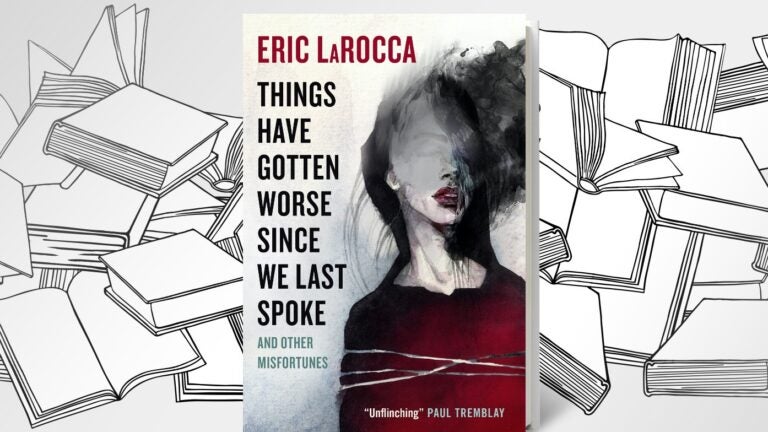 Lean into the dark, twisted, and gory with the Boston.com Book Club this month as we read "Things Have Gotten Worse Since We Last Spoke and Other Misfortunes" by horror author Eric LaRocca.
The novella at the center of this horror collection was a viral sensation when it first published in 2021. "Things Have Gotten Worse Since We Last Spoke" is told through online communication between two women who meet in a chat room in the early 2000s. What starts as a budding friendship between two lonely people twists into something sinister as their desires turn obsessive.
After the success of the original story, LaRocca published a collection with two new short stories, each as spine-chilling as the first. In the second story, a couple devolves into madness on a remote island while trying to recover from the recent death of their teenage son. And in the last, an unsuspecting man is pulled into an "ever-more dangerous game" after confronting his neighbors about a strange discovery in his backyard.
This collection is newly out in paperback, just in time for spooky season. Boston.com readers love a good horror story, and they let us know with a list of 20 horror reads that left them sleeping with the lights on. From Stephen King to Iain Reid, we can't get enough of how writers spin our deepest fears into compelling stories.
If you're a fan of the genre, LaRocca is an author to watch. A fan of the genre since childhood, the Boston-based writer has short stories, novellas, and a novel, "Everything the Darkness Eats," all about the things that keep us up at night. His work has won him the Splatterpunk Award and was nominated for the Horror Writers Association's Bram Stoker Award.
"For me, horror is a hugely cathartic genre," the author told This Is Horror. "Horror affords us the privilege of examining our fears, our anxieties, our worries in a controlled environment."
"Things Have Gotten Worse Since We Last Spoke and Other Misfortunes" has won praise in and out of the horror community and was voted one of the best horror books of all time by both Esquire and Cosmopolitan.
"The author's strong prose does an impressive job anchoring everything on solid ground even as the stories spiral into surrealist grotesquerie. LaRocca is a writer to watch," said Publisher's Weekly.
And your favorite horror writers love his work, too. Paul Tremblay, author of "A Head Full of Ghosts," "The Cabin at the End of the World," and "Survivor Song" said this "unflinching" novel will "crawl inside you, move stuff around, and make you see the world differently, like all great stories do."
Stephen Graham Jones, author of "The Only Good Indians" and "My Heart is a Chainsaw" heaped on the praise the way only a horror writer can.
"Some horror walks you down a dark corridor, where there's whispers and laughter, sobs and screams. Other horror starts down at the end of that corridor, where there's a door that opens on to you don't know what. Read this, and then decide where Eric LaRocca has left you," he said. "Not that it matters. There's no way out."
LaRocca will discuss his writing with Geoffrey Raywood, manager of Trident Booksellers and Cafe. This is the first time our Book Club has featured a bookseller from the beloved Boston bookshop, and it's been a long time coming. Readers and lovers of independent bookstores love Trident its great selection of books, cozy atmosphere, and all-day breakfast cafe. You can find Trident at 338 Newbury St., near Copley Square. The store was opened in 1984 and nearly 40 years later, it still exists as a "third place" for people to gather and share in a love of literature.
Raywood, the store's current manager, has been at Trident since May 2020. Before that, he worked for nearly a decade as a bookseller at former bookshops The Book Rack in Newburyport and The Spirit of '76 Bookstore in Marblehead.
Join Eric LaRocca and Geoffrey Raywood as they discuss "Things Have Gotten Worse Since We Last Spoke and Other Misfortunes" on Oct. 24 at 6 p.m.

Buy "Things Have Gotten Worse Since We Last Spoke and Other Misfortunes" from: Bookshop | Trident Booksellers & Cafe
---
Prior Boston.com Book Club picks