Book Club
Book Club's next read is 'Kaikeyi' by Vaishnavi Patel
Join the live virtual author discussion with Belmont Books' Audrey Huang on June 28 at 6 p.m.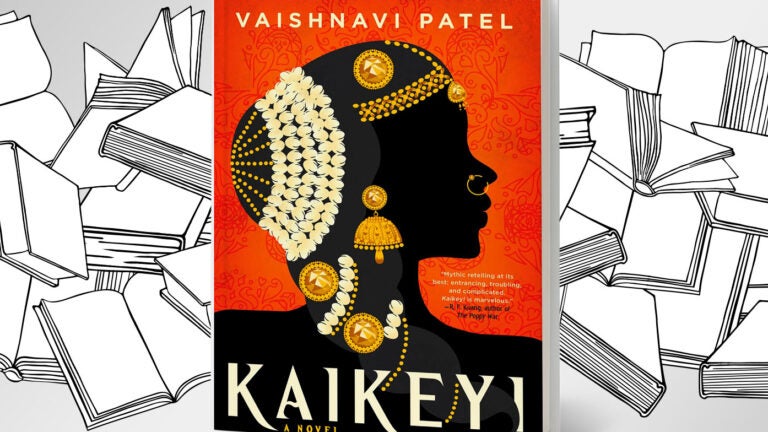 The Boston.com Book Club choice for June is "Kaikeyi" by Vaishnavi Patel. The novel, a mythic retelling of the Indian myth of Ramayama, is a mixture of historical fiction and fantasy, and has been comped to heavyweight novels like "Ariadne" by Jennifer Saint, "Gods of Jade and Shadow" by Silvia Moreno-Garcia, and "Circe" by Madeline Miller.
The only daughter of the kingdom of Kekaya, Kaikeyi is raised on the tales of the gods, but when she grows up, she learns her life is valued only insomuch as she can bring favor to her family through whom she marries. She sees her mother cast aside by her father. She learns that gods don't answer prayers. But then she learns that the magic described in those tales of the gods that she read with her mother is hers to possess, and hers alone. How she uses that magic to transform both herself and the world around her will change everything.
The book is Patel's debut novel, and it has landed with a bang. It landed on the Indie Next list, has three starred reviews, and the list of celebrated authors who have lined up to praise it is a mile long — Roshani Chokshi, Genevieve Gornichec, Lucy Holland, S.A. Chakraborty, and R.F. Kuang, among others. Kuang, the award-winning author of the "Poppy" trilogy, said it succinctly: "Mythic retelling at its best: entrancing, troubling and complicated. 'Kaikeyi' is marvelous." Readers have overwhelmingly agreed. The book, which debuted on April 26, was an instant New York Times bestseller.
Joining Vaishnavi for our live discussion will be bookseller Audrey Huang from Belmont Books. Here's what Huang had to say about the book in her review: "Consistently villainized in Indian mythology, this is Kaikeyi's story from her perspective. Ignored and not valued throughout her childhood, she convinces her twin brother to teach her warrior skills and also discovers a magic in hidden texts. The gods haven't touched her and it's unclear whether this is a blessing or a curse. After saving her husband's life in wartime, she's determined to uplift women and girls to give them the voice she never had, and is the consummate ambassador to other lands. Soon, she finds that the gods are tricky and she makes moral choices that forever damn her in history. Kaikeyi is fascinating and complex and this read won't lead you any time soon."
One of the most voracious readers and reviewers in the region, if not the entire country, Huang has done a great deal to promote BIPOC, disabled, and LGBTQIA+ authors. In the fall of 2020, she devised the NEIBA (New England Independent Booksellers Association) Reading Challenge, a program that encourages booksellers to read from as diverse a pool of authors as possible. "Growing up, there were so few books with Asian Americans that weren't harmful stereotypes," she told Publishers Weekly at the time. "I was always an avid reader, but I can list, on one hand, books that I read as a child with Asians/Asian Americans characters."
In February of last year, Huang also joined the ABA's (American Booksellers Association) Diversity, Equity, & Inclusion Committee, a very select committee of 12 booksellers from around the country that serves in an advisory capacity to the ABA's main office.
Join Patel and Huang on Tuesday, June 28 at 6 p.m., as they discuss this awesome debut novel. Register here.
Buy "Kaikeyi" from: Bookshop | Belmont Books

---
Boston.com Book Club picks