Book Club
Meet the bookseller: 'Any way you can get a kid to read is huge'
Megan Birch-McMichael, general manager at The Silver Unicorn Bookstore, joins us for the Boston.com Book Club.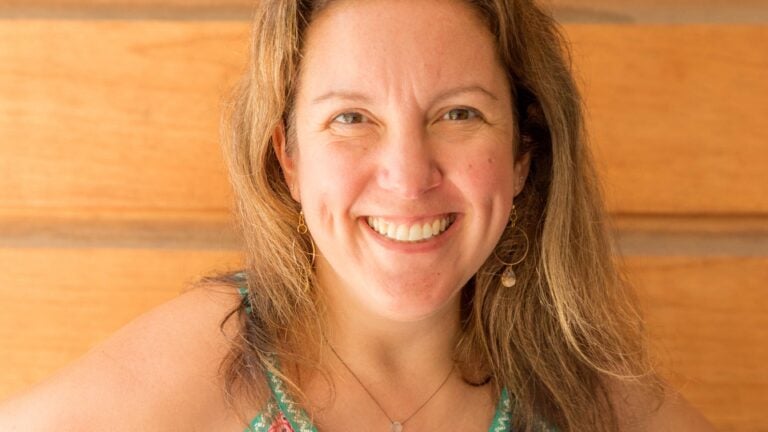 One of the things that drew general manager Megan Birch-McMichael to The Silver Unicorn Bookstore was its emphasis on community. The Acton bookstore makes positive engagement a priority, and when visitors, especially from nearby schools, come in, there's a sense of belonging.
"We'll always have the kids come in, and the parents know that this is a safe space for them to come and congregate," Birch-McMichael said. "We really aim to be welcoming. We may not have something for everyone, but at least we're going to try."
The Silver Unicorn has held elementary school book fairs, partnered with a temple, and hosted family nights. This effort to make an impact, Birch-McMichael said, is just one way that the shop goes beyond the typical work of selling a book. The store's mission resonates with her on a personal level because she knows the importance of giving back in her own life. The bookseller has been a foster parent, done work with immigration groups, and volunteered at her town's food pantry.
The bookstore is approaching its fifth anniversary and has a robust children's section, manga, and staff recommendations that are shared every month. Birch-McMichael said the shop, which is housed in a building that used to be a carwash, is meant to feel like a meeting place for the community. One event that the shop is holding for the first time this spring is the Kids Graphic Novel Festival, which Birch-McMichael is especially excited about. The festival will feature a number of authors who will be available for book sales, presentations, and drawing demonstrations. There will also be an opportunity for children to design their own graphic novel cover.
"We sell a lot of graphic novels — kids are always looking for them," she said. "Unfortunately, sometimes graphic novels get a bad rap because they're pictures. I think they're so exciting. Any way you can get a kid to read is huge. The idea [is] that we're showcasing this and saying, 'no, this is a perfectly acceptable, fun, great way to do it.'"
In addition to being a bookseller, Birch-McMichael is also a writer and is working on her debut novel. As a writer, she said that an important task is just finding time for yourself. Every Friday, she sits at her desk to write for four hours instead of coming to the bookstore. Over time, she has grown dedicated to the work of learning who her characters are.
"I have always read a lot of people who have written fiction, who have said, 'My character is talking to me.' And I've said, 'That's crazy,'" she told us. But when she sits down at her computer now, she questions what her characters would do in different situations. "What if I put this in front of them? What's going to happen? It's just fun."
Birch-McMichael said she is very excited about this month's Book Club pick, "Small World" by Laura Zigman, because its depiction of disability resonated with her on a personal level. In Zigman's novel, two sisters move in together following their divorces, and they must reckon with their shared past: their other sister was disabled and died when they were children.
Birch-McMichael said that she found the novel's themes to be relatable because she has an aunt with a developmental disability.
"It's [about] sisterhood [and] also finding oneself. That was a huge part of it too," Birch-McMichael said. "It's figuring out who you are after this relationship, who you are in your life when you're tied to someone. When you have a sibling, you've got that sibling through all parts of your life."
As an adult, a person has to sort out who they are now, versus who they were in childhood, a theme that's played out in the book.
"She really does an amazing job with character," she said. "Not everything is sunshine and roses. She's very real, very relatable. … There are parts of her characters who can be unlikeable. That's part of her gift; it's a 'warts and all' character that she puts forward."
Birch-McMichael will speak with Zigman on Feb. 22 at 6 p.m. about the new novel, which the bookseller said "has a way of drawing you in and centering you in the story."
---
Join the virtual book discussion
Stay up-to-date on the Book Club
Stay up-to-date on the Book Club