Book Club
8 takeaways from the 'Mercy Street' discussion with author Jennifer Haigh
"You don't judge your characters, you become your characters," the author said.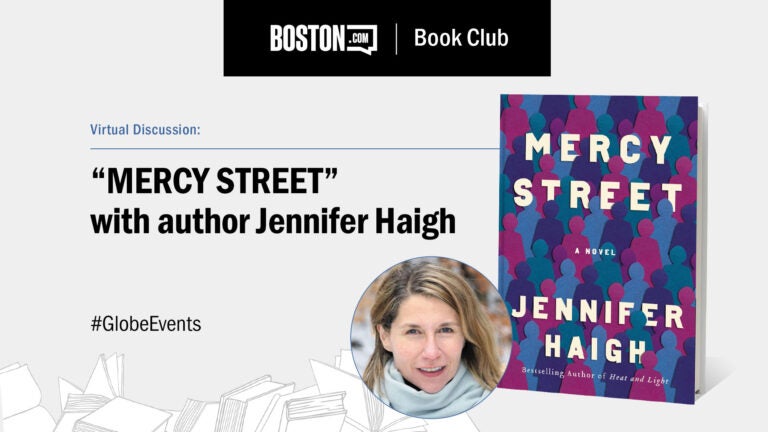 Editor's note: This article contains spoilers for "Mercy Street."
With seven books under her belt, author Jennifer Haigh is no stranger to composing a novel that captures a reader's attention with rich narratives and realistic characters. Many have been sparked by a landscape or a place, but her latest, "Mercy Street," is the only novel she wrote from her own experience. Haigh had been volunteering at a women's health clinic that provides general care, and also offers abortions. She had done this work with no intention of writing about it, but simply felt called to lend a hand and support the clinic's mission. After being involved for sometime, Haigh felt compelled to write about her time there.
"For the character in this book, Claudia—a counselor in this clinic—it's a daily occurrence to just show up to work and have to deal with these protestors who are sometimes angry and who sometimes get in her face," said Haigh. "It's an experience that becomes routine for her, but it never really becomes normal. And that's part of what I wanted to convey in the novel—what it is like to encounter so much resistance just in the process of doing your work."
On Wednesday, the Boston.com Book Club hosted a discussion with Haigh about the novel. Moderated by Casey Gerken, owner of New Hampshire's Innisfree Bookshop, the talk covered the key to well-developed characters, how she views fiction, how her reading influences her writing, and more.
This is the first time Haigh began writing a novel at its beginning.
"Mercy Street" opens with the protagonist, Claudia, peering out the window of the clinic and counting protesters lining the sidewalk on Ash Wednesday. It was the first scene the author composed. She typically works out of order and doesn't find the opening chapter until she's reviewed the story at least once, but in this case it was clear to her where to begin.
The author feels fiction is an "exercise in extreme empathy."
"I think being a novelist is kind of like being an actor, you're really trying to inhabit each of these characters, whether or not you share their beliefs," said Haigh. "You don't judge your characters, you become your characters. And in writing 'Mercy Street," I had to do that with all of them. The process is the same whether the character shares your beliefs or not, you're writing the character how he would describe himself."
The character of Victor Prime is loosely modeled after people Haigh encountered growing up in western Pennsylvania and attending Catholic school.
The author chose a more complex reason for Victor's beliefs than religion, though. He is a character who buys into the twisted theories presented in niche online communities that are concerned with white people becoming the minority who position abortion as part of the "problem." Haigh selected this route for Victor to depict how restricting abortion is rooted in controlling women and society.
Haigh spends years developing her characters—discovering their personal histories and unique perspectives.
The writer feels like you can't write a complex character unless you spend the time to get to know them, where they came from and what they want. "You live with these characters for so long they seem as real to you as anyone you've met in your real life," said Haigh. "I do not feel like I created them, I feel like they exist in the world and I just reported it. And of course that's completely untrue, they came out of my imagination."
Haigh's writing process is simultaneously strict and fluid.
Before breaking into chapter one, she spends the first six months or so writing notes about her characters and the book itself. Much of this work will not make it into the novel, but is Haigh's tried-and-true process in getting to know her characters. The author can only work on one book at a time so she can stay steeped in the world she's creating. She won't outline a book before she begins. And she never will speak aloud about work-in-progress novels, as it can feel too definite and doesn't leave room for imagination and letting the story change shape as she goes. When it's time to finish a book, Haigh struggles with every ending—it's always a suspenseful thing for her as she writes, to find out where the story will lead.
The author was intentional about setting when creating "Mercy Street."
Set in Boston in the winter of 2015, every detail was accurate, from the weather to what days of the week holidays fell. And it was no accident that she chose the city for this novel centered on abortion. Boston is one of the most Catholic cities in America. "'Mercy Street' is very much set in Boston as a post-Catholic city," said the writer. "Church attendance in Boston has plummeted and it has never come back up….it has happened in a very pronounced way here and it is not accidental that this novel is set in Boston. I find it very interesting that the protest outside of the clinic was led by Catholic priests and brothers, even at the point where the church's moral authority on sexual matters is dubious at best. There are loads of Catholics who are conflicted about abortions and there are loads of Catholics who are pro choice."
Haigh wrote what she "felt most strongly about" when it came to abortion, but was aware of divisive nature of the topic
"I did have this very precarious feeling in writing it," said the author. "Lots and lots of people are alienated by this subject, and yet, I find it incredibly important and meaningful and I'm glad I wrote the book," she said.
The writer never stops reading, even while she's working on a book.
Haigh says reading is like her food and if a writer stops reading, they stop growing. Though she must be careful what books she chooses to read as she's composing first drafts. She steers clear of contemporary literary fiction or anything that might get too close to the novel she's working on so she doesn't subconsciously mimic it. Her favorite time in the process? When she's just finished writing a book, she can read whatever genre she chooses.
Buy "Mercy Street" from: Bookshop | Innisfree Bookshop
---
Join our next virtual Book Club discussion