Book Club
How this New Hampshire bookseller is building a 'beautiful kingdom of books'
"[I]t's been really lovely to recognize all of our local talent and commune together over the written word," said Water Street Bookstore's Stefanie Kiper Schmidt.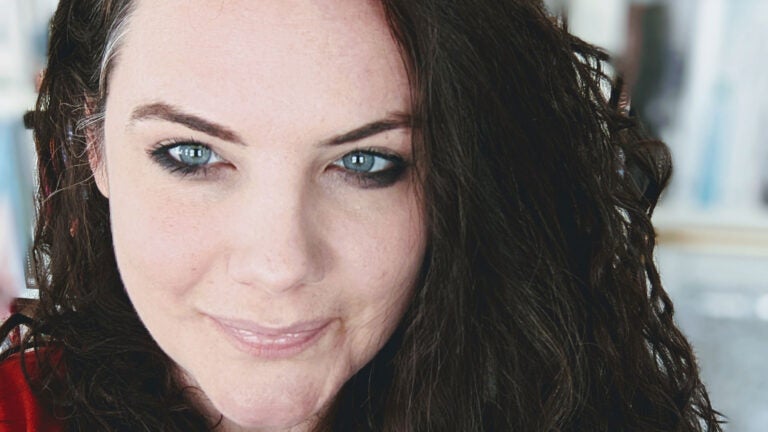 For Stefanie Kiper Schmidt, the best way to dive into a new book is to crack open its spine with hours to spare—preferably while floating in a tube on a lake in the summertime with her children under someone else's watch for the afternoon. "Uninterrupted reading time is so precious," said Kiper Schmidt, who has been working her way up at Water Street Books in Exeter, New Hampshire since she graduated. Now the bookstore's manager, Kiper Schmidt is a true fixture at Water Street and in the local literary community.
"I really lucked into a career in bookselling," said the book buff. "I was an English major but didn't know what I wanted to do with my life. I moved back home after college and sort of stumbled into a job at Water Street. Pretty quickly, I knew I had found my place. Soon I was running our events and then I became buyer and manager. I love being a buyer—being able to curate the titles, building this beautiful kingdom of books in my store season after season, it's a wonderful feeling."
Kiper Schmidt's "kingdom of books" at Water Street also includes unique fixtures that help make it a popular gathering spot for locals, like a back counter where customers can settle in to do work, mingle with one another, or get lost in their latest book purchase. Someone even started a community journal at the back counter years ago that's currently going on its 14th volume. Customers will leave everything from drawings to personal entries in its pages and, according to Kiper Schmidt, it's little details like those that will make a local bookstore a true hub.
"From curating books to hosting events to donating books and money to local organizations, indie bookstores do so much to bring flavor and life to communities," said Kiper Schmidt. But Water Street goes that extra step: The shop helped establish the Exeter Literary Festival in 2018, which highlights the rich range of writers—past and present—in the area.
"I'm sure every bookstore thinks their local writers are the best! We've been so honored to be present for the launch of so many great writers into the world," said Kiper Schmidt. "From John Irving to Dan Brown to tons of wonderful novelists, poets, and non-fiction writers, it's been really lovely to recognize all of our local talent and commune together over the written word."
And the bookstore's connections with writers extend beyond just those who are already published. Kiper Schmidt loves mingling with Water Street's wonderful "friends of the store," who regularly swing by to chat, often toting a fresh platter of cookies for the staff. "If any of them ever asked me to read their manuscript or help launch their book, I would do everything I could for them," she said.
When she's not supporting local writers, Kiper Schmidt is typically reading literary fiction, speculative fiction, titles focused on current events or social justice issues, or memoir. "I read for amazing writing–nothing much has to happen as long as the sentences are gorgeous," she said. The literature lover is especially enjoying the spate of climate fiction and environmental books cropping up lately, including our latest Boston.com Book Club pick, "Paradise Falls" by New Hampshire native Keith O'Brien. The story is a work of investigative reporting that follows a group of suburban mothers in the 1970s who discover an underground canal filled with toxic waste that was on the brink of causing an environmental disaster.
"I was absolutely brought to tears by this book, especially the thread about Jon Allen, Luella Kenny's little boy who just keeps getting sicker and sicker from the pollution in his backyard," said Kiper Schmidt. "I have little boys myself, so reading about her fear and helplessness really affected me. But all along, these women don't stop fighting. Luella forces herself to do something with her grief over Jon Allen, and that moment when she steps up to speak to the shareholders at the chemical company that polluted her neighborhood. I was just dumbfounded by her courage." She was especially inspired by the way O'Brien seamlessly depicted the way the protagonists worked together, despite repeatedly facing off against men in power. "They each took their individual expertise and experience and used it for the good of the cause," said Kiper Schmidt. "How easy it would have been for them to give up!"
Speaking of gathering together, Kiper Schmidt feels the best way for a fellow bibliophile to get involved in their local literary community is to get in touch with their neighborhood indie and swing by a few of their events to meet like-minded people and discover emerging voices. But most importantly, she said: "Be genuine!"
Buy "Paradise Falls" from: Bookshop | Water Street Bookstore
Editor's note: A previous version of this article referred to "Paradise Falls" as a climate novel. It is nonfiction. Boston.com regrets the error.
---
Join our next virtual discussion
Join the Boston.com Book Club on Friday, April 22 at 12 p.m. for a virtual discussion with Water Street Bookstore's Stefanie Kiper Schmidt and author Keith O'Brien on "Paradise Falls."