Books
5 books to read this October, according to local booksellers
Short stories, poetry, horror fiction, and more.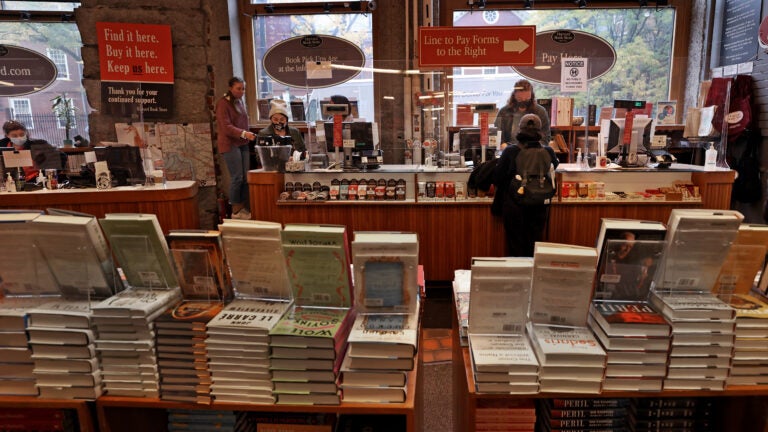 This October, make your next read one recommended by the booksellers at Harvard Book Store, Trident Booksellers & Cafe, and Papercuts Bookshop.
For fans of horror, you can be sure there are some frightening titles to match the spooky season. But even if you're not looking for a scary read, local booksellers have you covered.
The list below includes fiction, nonfiction, and poetry books that you'll want to add to your reading list before the end of the month.
Trident Booksellers & Cafe bookseller Noah Willette recommends this short story collection that spans the genres of psychological realism, science fiction, comedy, horror, and fantasy. In eight stories, Machado explores women's lives and the "violence visited upon their bodies."
"In her debut collection of short stories Carmen Maria Machado rips the human body apart with a shout and sews it back together with a whisper," Willette said. "These stories about women, violence, and existing as a woman in general will stain your skin and stick with you forever."
Buy it at Trident Booksellers & Cafe
The newest book by Cambridge writer Celeste Ng was one of last month's Boston.com Book Club picks and a favorite of Papercuts Bookshop owner Kate Layte. "Our Missing Hearts" is set in a dystopian America where the government has passed laws to protect American culture against Chinese influence. Twelve-year-old Bird Gardner's Chinese-American mother is a fugitive because of her poetry, but after he receives a mysterious letter in the mail, he sets out to find her.
"If one book could change the future, here it is. You're in the hands of, I'll argue, one of our finest living novelists. With this book, Celeste Ng has proved herself a master, and this is a visionary and prophetic book. Here's a page-turner with the capacity to change the world. Read this remarkable novel and buy one for everyone you know," Layte said.
Dive into poetry from some of the best poets of our time with the latest installment of the "Best American Poetry" series. The poems in this anthology are beautifully written and innovative while tackling social, political and environmental issues. Hannah Wolfe from Harvard Book Store called the collection "timely and timeless."
"This striking, deft and fully realized collection chronicles a wide range of experiences by dynamic and exciting voices. From Dianne Seuss to Terrance Hayes and everyone in between, this is an anthology to which you can return over and over again," she said.
If you're looking for a modern horror story to read before Halloween, look no further than "The Only Good Indians." Stephen Graham Jones is one of the genre's most respected writers. In this novel, four friends from a Blackfeet reservation face the deadly consequences of an elk hunt gone wrong. This recommendation comes from Geoff Raywood, manager at Trident Booksellers & Cafe and the featured bookseller at this month's Boston.com Book Club event.
"A slow-burning tale of pure dread!" Raywood said. "How many friends and relations will fall into the net woven with the broken threads of tradition?"
Buy it at Trident Booksellers & Cafe
This pick is not only great for a fun personal read, but also as a gag gift, according to Harvard Book Store's Brad Lennon. Julian Montague has created a classification system for abandoned shopping carts, complete with photographs of stray cart sightings across Eastern North America. The book was originally published in 2006 and is finally back in print.
"We've all seen them; stuck in a pond, at the bottom of a quarry, in the middle of the woods. I bet you didn't realize there's a whole system of classification for them. Well, there isn't really, but if there was this would be the definitive text," Lennon said.
Share your book recommendations with Boston.com