Books
5 books you should read this September, according to local booksellers
These fiction and nonfiction titles belong on your reading list.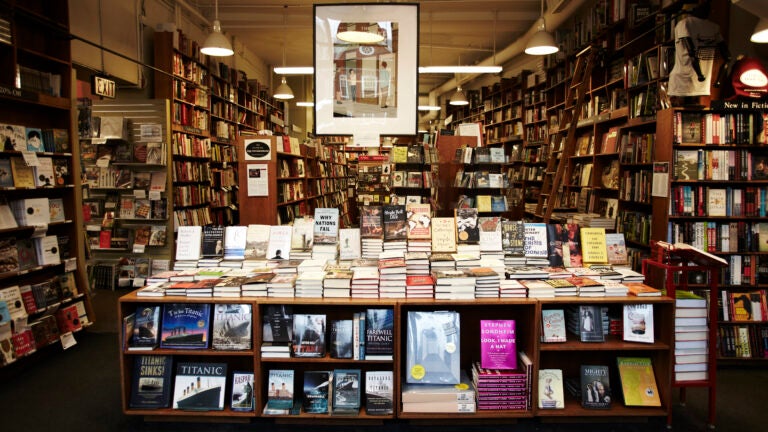 Start your September right with a book that will capture your imagination all month long.
Local booksellers at Brookline Booksmith, Harvard Book Store, Trident Booksellers & Cafe, and Porter Square Books have the best recommendations for your reading list, including a love story about a man turning into a shark, a pirate adventure, a true story about an 18th-century ship mutiny, and more.
Fiction
This book is sure to surprise and move you. In it, a couple's marriage is cut short when the husband receives a rare diagnosis that he will turn into a shark in a year's time.
"I know it sounds a little crazy to say that a story about a man transforming into a great white shark is actually a moving love story — but it is. It is not a weird fantasy about marine anatomy, but rather a compelling story about change, heartbreak, passion, and connection," said Dina Mardell of Porter Square Books. "I've never read such a moving novel based on such an unlikely premise."
For fans of "The City of Brass" and general lovers of fantasy-adventure novels, this book should be your next read. Amina al-Sirafi, one of the Indian Ocean's most respected pirates, takes on a mission to rescue a young girl but finds that there's more to the disappearance than she realizes.
"A pirate legend is forced to come out of retirement to save her [friend's] daughter and must battle an evil crusader on the 13th century Arabian sea. Perfect for anyone who likes a good pirate yarn," said Brad Lennon of Harvard Book Store.
In this novel, three seemingly disconnected storylines blend together through friendship and secrets. Each story focuses on the bonds between characters and how those relationships shape our individual lives.
"Beautifully written, honest, and moving, Bill Clegg manages to embody each character he writes about with both unflinching honesty and love," said Trident bookseller Courtney Flynn. "The writing is exquisite. Tiny moments made clear and sharp under Clegg's pen. With unexpected twists, we learn about the ways small moments in our lives can shape us forever."
Buy it at Trident Booksellers & Cafe
Non-fiction
In 1742, a group of shipwrecked men washed up on the coast of Brazil claiming to be survivors of a shipwrecked English vessel. Two years later, another group of survivors arrived with accusations that the first group were mutineers who had abandoned their fellow sailors. This is the story of the court martial that was convened to find the truth.
"You show up for the 18th century and maritime lore, Grann's exemplary research and deft, remarkable storytelling, and the story that seems almost too good to be true," said Harvard Book Store's Hannah Wolfe. "But you stay for the spectacle of the aftermath that you truly have to read to believe. Grann's account of these some 30-odd castaways and their unfathomable journey is breathtaking. An absolute tour-de-force in every sense of the word, 'The Wager' is a book worth saving for a weekend or a day off. Set yourself up in your favorite spot and dive in head first. You will devour this thing."
If you're looking to be inspired by a real-life story, pick up this biography about the little-known musician and polymath Connie Converse.
"Connie Converse is the best folk musician you've never heard of, and 'To Anyone Who Ever Asks' is the best music biography you haven't read. YET! [She] was a talented polymath unheard of in her time, but in Howard Fishman's capable hands and lyrical prose, the woman and her work are finally knowable. Her story is incredible, and so is this book," Brookline Booksmith bookseller Meaghan O'Brien shared.
Share your book recommendations with Boston.com